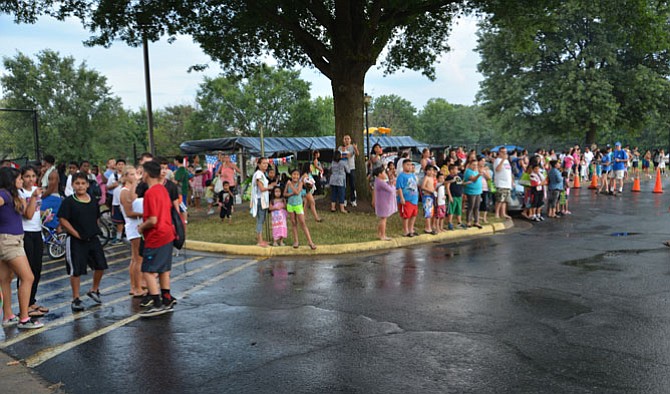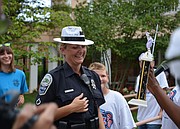 Neither intermittent downpours, nor recent confrontations that have sparked tensions and even violence between communities and law enforcement nationwide seemed to dampen the positive spirits of the hundreds of diverse Herndon residents who participated in the town's August 5 National Night Out events. It wasn't that those in attendance at activities held all around the town were unaware or ignoring the news. They just chose to "celebrate the positives" in the words of K. Gupta, who joined his friends at the Stuart Woods Apartment on Tuesday night when the motorcade of police officers and town officials arrived at the complex as part of their National Night Out outreach efforts. "Of course there are problems," said Gupta, who works as a computer engineer in Reston, "but this is the right way to solve them and maybe even prevent them. Let the community see the police as people who they can talk to. Have the police see us as people who just want to live peacefully and safely. I hope they feel appreciated by things like this." Gupta and others at the Stuart Woods event shared that the National Night Out gathering was also proving to be a great way to meet their own neighbors and "just have a little family fun together."
The Herndon contingent began their neighborhood visits at 5:20 p.m. at Herndon Harbor House, a senior living community, where they were enthusiastically greeted with a feast of food, and cheerfully participated in games like "Recipe Race" that had officers scurrying around the Harbor House Courtyard pushing grocery carts and seeking out the ingredients to recipes that they were given. After the Harbor House visit, ("one of our favorites" admitted Senior Police Officer Denise Randles, "they always make us feel so welcome") the officers, officials, family members and volunteers split up into two motorcades in order to cover more ground. "We want to get to as many National Night Out gatherings as we can," said Town of Herndon Mayor, Lisa Merkel.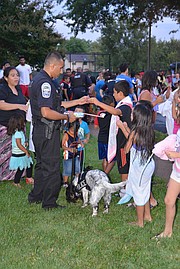 BOTH MOTORCADES made impressive sights as they wandered the streets of Herndon with motorcycle escorts and all lights flashing. Motorcade A made stops at Crestview Townhomes, Stuart Woods Apartments, the Villages of Herndon Mills, Haley Smith Park, Calhoun Court and the Worldgate Condominiums before joining their colleagues again at the Four Seasons Recreation Association center on Herndon Parkway. Motorcade B went from Harbor House to a stop on Vine at Grace Street, the Berkdale Apartments, a neighborhood get-together on Oaktrail Court, the Tralee Community, and Dominion Ridge and Barker Hill Community on their way to Four Seasons.
At several of the stops, the visitors were treated to barbecues and baked goods prepared by the neighbors, and the chance to meet and greet and get involved with some of the games and activities organized for the younger crowd. The officers brought along their own offerings, as well, handing out National Night Out T-shirts and other goodies. At some locations, it was obvious that the residents were already familiar with many of the police and town officials. "I like it when people know each other!" said Town Councilmember Grace Wolf at the Oaktrail Court block party. "I think we do a good job of getting out there, trying to see and be seen." Mayor Merkel, who was also at this Motorcade B stop, agreed. "I love the strong sense of community in Herndon and our ability to blend so many different kinds of neighborhoods," she said. "This is the kind of policing that is needed, especially in our four square miles where you can walk to everyone's home."
THE LARGEST CROWD awaited the reunited outreach group at the Four Seasons complex. As dusk settled over the pool and playing fields, the attendees, who had braved another sudden shower, were treated to a demonstration of motorcycle skills, as first one, then two, then a quartet of motorcycle officers revved their engines as they negotiated an orange cone course set up in the parking lot. Herndon's National Night Out 2015 ended with a whir and a whoosh as a Fairfax County Police Helicopter slowly circled above, then landed to the delight of all. Once the engines were cut and the rotors came to a halt, the "All Clear!" was given and the crowd rushed to the craft for a peek inside and lots of selfies.
Part of the National Association of Town Watch, the National Night Out is an annual community-building campaign. Their mission is "to promote police-community partnerships and neighborhood camaraderie to make our neighborhoods safer, better places to live…bringing back a true sense of community and providing a great opportunity to bring police and neighbors together under positive circumstances." Watching the Herndon Night Out in action shows a town and its residents making that mission their own.