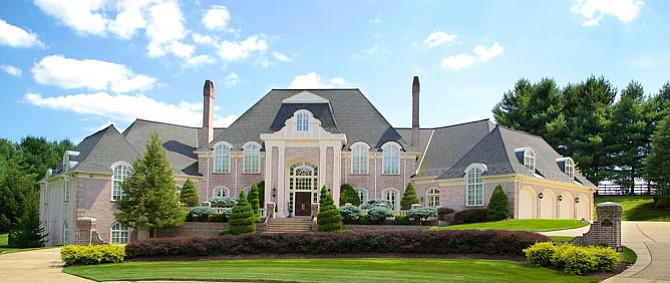 A French provincial home, often used for elegant entertaining, will be open to the public for a few days this fall.
Philanthropist, socialite and Hillary Clinton fundraiser Annie Totah will open her home in Round Hill, Hye Land House, for the 59th Annual Potomac Country House Tour this fall. Sponsored by St. Francis Episcopal Church in Potomac, the event raises money for local homelessness, hunger, children and women's issues, and elder care.
"I'm happy that I decided ... to help with St. Francis' charitable work," Totah said in an email. "I'm also happy to share my home with my family, friends and neighbors."
Hye Land House is one of four houses that will be featured on the tour. After climbing the steps to the landscaped terrace, visitors are welcomed into the home by the light-filled grand foyer. Light from vast Palladian windows and a Schonbek chandelier reflect on the white marble flooring and center staircase, creating an airy lightness in the home's entrance.
"This remarkably beautiful home represents so many things we hope to offer on the house tour," said Barbara Heywood, the tour's publicity chair: "subtle elegance, innovative use of materials, and a rich, warm personality."
With an ornate 150-year-old mirror, handmade in Lebanon with mother-of-pearl inlays, and a collection of blue stone amulets, coffee servers, perfume bottles and cigarette boxes, the living room is a nod to Middle Eastern culture. The floors are mahogany with a parquet border of maple and cherry and the fireplace is marble.
The dining room features crown molding created to match the apron of the custom Italian dining table, which sits under a Schonbek chandelier.
The family room's ceilings soar more than 20 feet, and light streams into the space from grand mullioned windows. Woodwork is bleached almond and the granite on the bar is blue pearl. The painting over the fireplace depicts a formal gathering in the home and is based on a photograph.