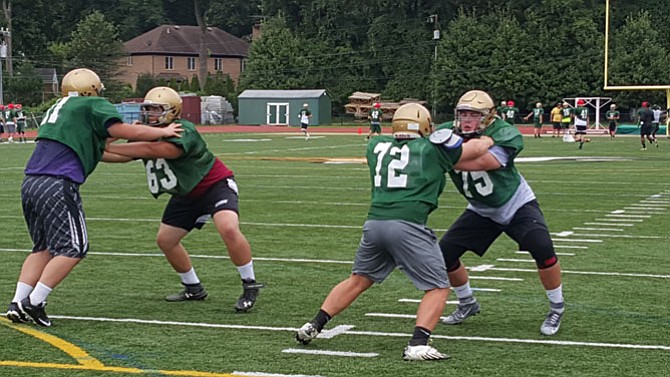 Tyler West put up some impressive numbers during his Langley football career, graduating in 2015 as the program's all-time leading rusher.
West, a two-time first-team all-region selection, totaled 4,373 yards on the ground and scored more than 50 touchdowns, the majority of which came during his two seasons as the Saxons' starting running back.
How does the 2015 Langley football team plan to cope with the loss of West's record-setting production?
Look no further than some impressive numbers along an experienced offensive line.
Langley returns four of five starters up front ­­­ a group that averages 6 feet 3 and 284 pounds. Rising senior left tackle Xavier Henschel (6-4, 275), rising senior left guard MJ Johnson (6-0, 265), rising junior right guard Tyler Howerton (6-3, 280) and rising senior right tackle Ben Culmer (6-6, 315) figure to open holes no matter who starts at running back.
"I think we have a pretty decent offensive line this year; we're really big up front," Culmer said. "I think we'll be able to dominate the line, open up holes and I think we'll make it real easy for whoever our running back ends up being."
THREE PLAYERS are competing for the starting center spot.
"It gives us a lot of confidence knowing if we work together and go hard," said Howerton, whose father, John, is the Saxons' head coach, "we can out-match and out-play anybody we go up against."
A strong offensive line is the norm for Langley under head coach John Howerton, who is entering his 13th season with the Saxons. Along with head coaching duties, Howerton, who played at Fort Hunt High School and Shepherd University, coaches the Saxon linemen. He said Langley has produced a 1,000-yard rusher every season he's been at Langley.
"Pretty much every kid benches at least 300 pounds [and] I've got three or four kids that squat over 500 pounds," Howerton said of this year's O-line.
"We're big and strong and experienced. ... They walk out there in pads, that's going to be pretty ... intimidating for some of these high school teams that play with the classic 5-9 kid."
Why are Langley lines consistently strong?
"Coach Howerton is a great coach," Culmer said. "He's always pushing us to be in the weight room, he's always giving us one-on-one instructions, showing us what to do, how to do it. If we're doing something wrong, he's always correcting us. He's always pushing us in all the right directions.
"He knows how to make linemen."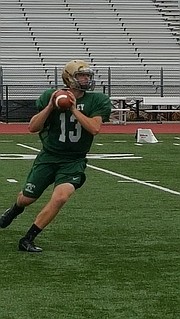 Getting the first chance to run behind Langley's massive offensive line will be rising junior Aaron Feldman.
"He's got a lot of potential," Coach Howerton said. "He's worked really hard in the offseason. This is his chance to really do something."
The Saxon passing game will be led by rising senior quarterback Jack Anderson, who returns for his second season as a starter.
"He's gotten much better, much improved in the offseason," Coach Howerton said. "[He] goes to camps, he's worked hard in the weight room, he's looked good in the 7-on-7 stuff."
Anderson helped keep Langley's playoff hopes alive in 2014, leading the Saxons on a game-winning drive in the closing moments of a 21-20 victory over Madison.
"It's a lot different," Anderson said about having a year of experience under his belt. "Last year, it was definitely more nerve-wracking not knowing what you're going into, not really having played a varsity game. Now it's like, 'All right, we've already been through this, let's just get to the games and get it rolling.'"
Anderson will have several talented receiving targets at his disposal, including rising junior tight end Lachlan Pitts (6­5, 230) and receivers Daniel White, a rising junior, and Daniel Salamone, a rising senior.
Rising senior linebackers Chris Rossberg and Trevor Stup are standouts on defense.
LANGLEY'S QUEST for a sixth consecutive playoff berth will begin with a home game against West Potomac on Thursday, Sept. 3.
"If my dad weren't coaching here, [West Potomac is] where I'd be playing, so I feel like I kind of have a little rivalry with some community friends," Tyler Howerton said. "I feel like that's a game we definitely need to win."