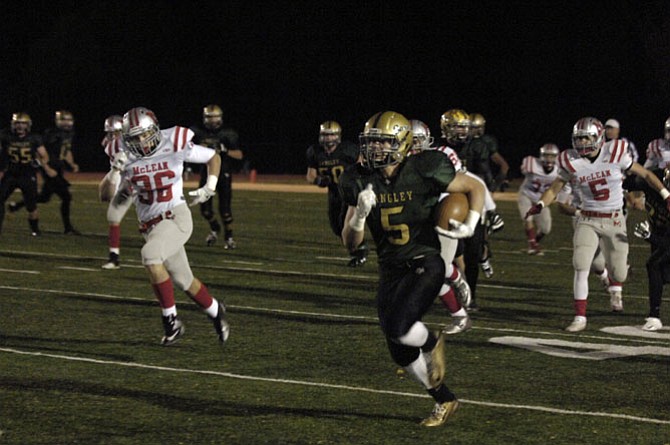 Langley fans groaned as running back Tyler West laid on the turf and reached for his leg during the fourth quarter of the Saxons' regular-season finale against rival McLean on Nov. 7.
"That's our team!" one person yelled from the stands.
As it turned out, West was OK and later raced into the end zone for a 35-yard touchdown, extending an already healthy Langley lead.
While West has had some help along the way, his importance to the Langley football team is undeniable. On Friday, he reached a career milestone and helped keep the Saxons' season alive.
West carried 38 times for 276 yards and four touchdowns, leading Langley to a 36-13 win over McLean at Langley High School. West's performance propelled him to the top of the Saxons' all-time rushing list with 4,198 yards, surpassing Phil Mun's total of 4,053. With the victory, Langley secured a spot in the 6A North region playoffs.
"He's a phenomenal player, a phenomenal athlete," sophomore right guard Tyler Howerton said about West. "... He's one of our most important players. There's no way we could be where we are without him."
WEST, a 5-foot-11, 205-pound senior, did most of his damage in just two seasons. He carried nine times for 62 yards as a sophomore, when Mun was a senior. West took over the starting role in 2013 and rushed for 2,230 yards and 26 touchdowns behind a big, experienced offensive line anchored by all-region guard Brooks Norris, who now plays for William & Mary. The Saxons averaged 40.1 points per contest that season, a program record, finished 9-3 and won a playoff game.
In 2014, the Saxons entered the season with a younger offensive line, which became even less experienced when 6-foot-6, 265-pound senior tackle Connor Halm suffered a knee injury early in the year.
Langley opened the season with lopsided losses to Yorktown and Stone Bridge as the Saxons' running game started slowly.
"It's a young group that we had this year," West said. "We kind of knew it would take a little while and it did. We started slow and [head] coach [John] Howerton and everyone worked together. ... Probably around the time of the Fairfax game is when the line started to get everything going."
West rushed for 165 yards against Fairfax on Oct. 10, but Langley lost, 35-28, dropping the Saxons' record to 2-4.
That would be Langley's last regular season defeat.
The Saxons have won four straight, including a 21-20 victory over Madison on Oct. 31, which Langley pulled out in the final minute. West rushed for 220 yards against the Warhawks.
"I'd say it started about midseason," John Howerton said when asked about when his offensive line started to jell. "I missed a couple games with an illness, and I wasn't able to work with the kids. When I came back, I tried to crash-course them and really get them going. But I think half the year is usually about right for younger kids. We've had three sophomores starting in and out on the line. We had to switch a couple kids around. We lost the big kid, Connor Halm, early, and that really hurt us. He was [an] experienced, big, scholarship-level tackle. ... When that happened, the cards had to be pulled out and shuffled around."
Sophomore Lachlan Pitts, junior Ben Culmer and junior Xavier Henschel have played tackle for Langley. Junior MJ Johnson and sophomore Tyler Howerton have played guard and senior Ben So is one of multiple Saxons who have played center.
Against McLean, the Langley offensive line helped West put forth a dominant performance.
No. 5's first touchdown, a 5-yard run, gave the Saxons a 7-0 advantage in the opening quarter. Early in the second quarter, West took the snap out of Langley's "Ram" formation and scored on a 6-yard run. Sixty-seven seconds later, West's 7-yard scamper extended the Saxons' lead to 21-0.
West's final carry was a 35-yard touchdown run with 6:33 left in the fourth quarter, giving Langley a 36-7 advantage. The Saxons defeated the Highlanders for the third straight time and qualified for the playoffs for the fifth consecutive season.
John Howerton said the senior running back isn't much of talker, but his performance speaks volumes.
"For as quiet as he is, he's more a role model through his actions," Howerton said. "I'd much rather have a kid lead by example than be a big talker. He's always been a great kid, and he just has abilities that other kids don't have."
WEST'S PERFORMANCE against McLean gave him 1,906 yards and 25 touchdowns this season. He's 94 yards shy of his second 2,000-yard season and needs 459 yards to catch Langley's single-season rushing leader, Trevor Bacon, who amassed 2,365 during the 2004 season.
West said he would like to reach the 2,000-yard mark.
"That would be huge for me," West said. "I'm definitely going to try to get that last 100 yards and hopefully I can get more. That's definitely a milestone for me right now."
Getting at least 94 yards on the ground will be a tough task for West and the Saxons (6-4), who enter the playoffs as the region's No. 15 seed and will travel to face No. 2 Westfield (9-1) at 7:30 p.m. on Friday, Nov. 14. The Bulldogs have reached the region final each of the last three seasons, and this year defeated defending state champion and No. 1 seed Centreville 42-41 in double overtime.
"I know that they're going to be tough," West said, "and we're going to have to practice really hard to get to where we need to be."
West enters Friday's playoff game with 548 carries for 4,198 yards and 51 touchdowns in his Langley career. If the Saxons are going to pull off an upset of Westfield, it will be West leading the way.
"It feels good to be able to have a running back like him behind me," Tyler Howerton said. "A good block will lead to a good run ... [but] I know that even if there's a mistake [up front], he'll still be able to pick up some yards."