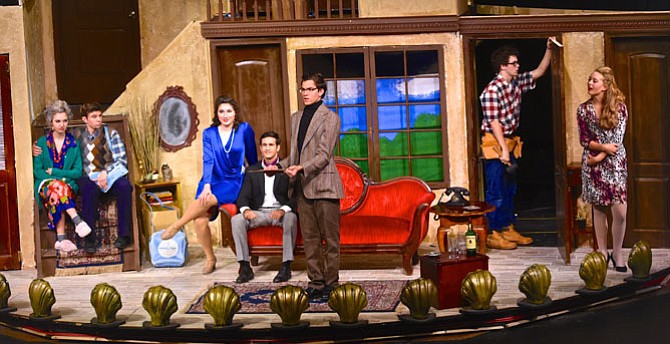 Sardines fell from above and squelched underfoot. The set rocked as actors fell down stairs and broke through windows. Clothes were lost, secrets were spilled, and hearts were crushed. Through mishap after disastrous mishap, Rambunctious Theatre Company's production of "Noises off" at Robinson Secondary School was a smashing hit.
Written by Michael Frayn in 1982, this British farce follows a cast of six actors along with their director and stage managers as they try to produce their own play, "Noises On." Unfortunately, messy personal relationships, lack of rehearsal, and an overabundance of emotion prevent the dress rehearsal and subsequent performances from going quite as planned. The popular show opened on Broadway in 1983, was adapted into a film in 1992, returned to Broadway in 2001, and is scheduled for another Broadway revival in January of 2016.
Trying tenaciously to orchestrate a calamitous dress rehearsal, Director Lloyd Dallas (Matthew Cook) soon lost his cool sense of authority. Dallas's frustration exponentiated as the actors forgot props, confused their cues, and peppered him with questions, resulting at first in sarcastic derision and eventually in volcanic outbursts. Storming with exasperation throughout the auditorium, Cook's hyperbolic portrayal of a director at his wit's end was flawless.
Dotty Otley (Hannah Kornell), a rather dense older woman playing a housekeeper in "Noises On," was the first to experience Dallas's wrath. Backstage, Otley tried with only middling results to mother the other actors, while onstage she remained befuddled by the timing and frequency of her prop changes. Otley's reactions as she grew increasingly frustrated were thoroughly entertaining.
Owner of the house Otley kept, Frederick Fellowes (Matthew Ross) was comedic gold. What he had hoped would be a romantic afternoon quickly turned disastrous as he stumbled about the stage with tax forms glued to one hand, a plate of sardines stuck to the other, and his pants caught around his ankles. When not in character, Fellowes portrayed a dopey yet apologetic actor who was frequently consoled by Belinda (Madyson Hanton), his wife in the staged show. Hanton's genuine nature among fellow cast members and distinct personality when playing Fellowes' wife made her a favorite performer.
When the Fellowes' stumble home from travels abroad, they are unaware that another couple is already in the house with the same idea. Garry Lejeune (RJ Pratt), a house agent when acting and a passionately emotional yet ineptly inarticulate actor when out of character, has brought his lover, Brooke Ashton (Alex Lane), to the house. Lane ranged from seductive to ditzy, but her confident movement and suggestive interactions were hilarious no matter what sentiment she was conveying.
Among the most beloved characters was Selsdon (Daniel Williams), an absent-minded elderly actor with a drinking problem. His committed physicality demonstrated his age superbly, and his oblivious comments and telling facial expressions frequently left the audience in peals of laughter.
Props are essential to the plot of the show, but Robinson's tech crew exceeded expectations with the amount and level of detail of their props. The multilevel set was well-constructed to show a distinct, appealing onstage and an unfinished offstage.
Somewhat paradoxically, Robinson Secondary School produced an excellent performance regarding a terrible play. The vacillating emotions, raging hormones, anxious stress, and unfortunate circumstances displayed onstage were all too familiar to audience members who have been involved in theatrical productions. Nothing quite epitomizes the feeling at the end of a cataclysmic run like Selsdon's remark, "When all around you is strife and uncertainty, there's nothing like an old-fashioned plate of...curtain!"