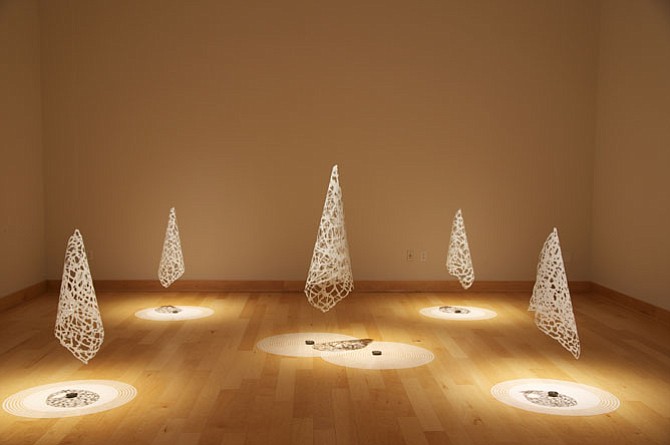 Ongoing
Ethereal and Natural Reactions. Through Sunday, Dec. 6. ArtSpace Herndon, 750 Center St., Herndon. Ethereal is series of abstract, contemporary art paintings by artist Anne Cherubim. In Natural Reaction, sculptor Brian Kirk reshapes and twists steel into new forms using blacksmithing techniques that focus on the beauty of rust as a surface treatment. Free. http://www.artspaceherndon.com/ethereal-and-natural-reaction. 703-956-6590.
Seussical the Musical. Dec. 4-20. Times vary by performance. NextStop Theatre, 269 Sunset Park Drive, Herndon. Bring the whole family along for this musical spectacular featuring all your favorite Dr. Seuss characters! The cast of Seussical features local young actors in 3rd through 11th grades. $25. 866-811-4111. boxoffice@nextstoptheatre.org.
Gingerbread Village at Hyatt Regency Reston. Saturday, Dec. 5 through Thursday, Dec. 31. The Hyatt Gingerbread Village is a holiday tradition presented annually since the hotel's opening in 1990. The sweet, whimsical, classic holiday village scene is on display in the main lobby. reston.hyatt.com.
Horse-Drawn Carriage Rides. Saturdays, Dec. 5, 12 and 19. 4-9 p.m. Departures on Market Street in front of Talbots at Reston Town Center. $5 per person; children 5 and under ride free. All proceeds benefit local charities. www.restontowncenter.com/holidays.
Mini-Train Rides. Sundays, Dec. 6, 13, 20. Noon-4 p.m. Pick up on Market Street in front of Talbots at Reston Town Center. Donated proceeds benefit local charities. www.restontowncenter.com/holidays.
Holiday Gift Wrapping. Dec. 19-22, Noon-6 p.m. Dec. 23, 10 a.m.-6 p.m. Dec. 24, 10 a.m.-4 p.m. Hyatt Regency Reston, 1800 Presidents St., Reston. Gifts will be beautifully wrapped while you shop or work, same-day service. Donations benefit 22,000 needy kids with school supplies. Presented by Kids R First with support from the Hyatt Regency and Appalachian Spring. kidsrfirst.org. appalachianspring.com.
Rebecca Kamen: Continuum. Dec. 1-Feb. 13. Greater Reston Arts Center, 12001 Market St., Suite 103, Reston. Kamen. Informed by research into cosmology, neuroscience, history of science, and philosophy, Kamen's abstract sculptures and paintings connect common threads across various scientific fields to capture and re-imagine what scientists see. restonarts.org. 703-471-9242.
Thursday-Sunday/Dec. 3-6
2015 Annual Holiday Mini Sale. Thursday, 10 a.m.-8 p.m. Friday, 10 a.m.-5 p.m. Saturday, 10 a.m.-4 p.m. Sunday, 1-4 p.m. Reston Regional Library, 11925 Bowman Towne Drive, Reston. Gift-quality books, gifts, and surprises to delight readers of all ages. Cash or checks only.
Narnia at Herndon High School. 7:30-9:45 p.m. Sunday, 2 p.m. Herndon High School, 700 Bennett St., Herndon. CS Lewis' "The Lion, The Witch and The Wardrobe," dramatized by Joseph Robinette. $10, $12. 703-401-0428. www.herndondrama.org.
Friday/Dec. 4
Community Holiday Performances. 6 p.m. Fountain Square, 11900 Market St., Reston. Musical performances by community group from River Bend Middle School, Raven Jazz, River Bend Jazz and River Bend Chamber Music.
TGIF-Free Fridays at Greater Reston Arts Center. 5-7 p.m. An evening of family art-making and storytelling. 703-471-9242. restonarts.org.
Saturday/Dec. 5
Jingle on Lake Anne. 8 a.m.-6:30 p.m. Lake Anne Plaza (Waterfront), 1609 Washington Plaza, Reston. Variety of festive activities ranging from the ever popular special visit from Santa (arriving on a lake barge), strolling carolers, music, wine tastings, merchant specials, children's crafts, cookie and ornament decorating, holiday arts and crafts market, holiday entertainment and much more. Santa arrives at noon. Tree lighting at 6:30 p.m. Free. www.lakeanneplaza.com.
Community Holiday Performances. 2 p.m. Fountain Square, 11900 Market St., Reston. Musical performances by Rhythm Street Dance.
Yule Log Tasting at Edibles Incredible. All day. Free tastes of holiday yule log and pre-order promotion. Free gift with purchase. 703-709-8200. ediblesincredible.com.
Handmade Holiday Ornaments Workshop. 9:30-11 a.m. Greater Reston Arts Center, 12001 Market St., #103, Reston. Sign up the whole family for this fun workshop led by GRACE staff to make some fun, creative ornaments. Children must be accompanied by a participating adult. 703-471-9242. Register at restoncommunitycenter.org.
Mystery Authors Extravaganza. 1 p.m. Reston Regional Library, 11925 Bowman Towne Drive, Reston. Seventeen authors from Sisters in Crime will discuss their latest books and short stories. Books will be available for sale and signing. Adults. 703-689-2700.
The Wonder of the Season: Around the World. 4:30 and 7:30 p.m. Reston Community Center, 213 Colts Neck Road, Reston. Celebrate the holidays with beloved carols from around the globe, plus Daniel Pinkham's Christmas Cantata, featuring the Washington Symphonic Brass Quintet. Adults/$25, Seniors/$20, Military/Free and Youth 17 and under/Free (with adult/senior ticketholder). www.restonchorale.org.
Alternative Gift Market. 10 a.m.-2 p.m. Unitarian Universalist Church of Reston, 1625 Wiehle Ave., Reston. The 2015 Alternative Gift Market and Craft Fair offers more than 60 gift opportunities from nearly 30 local and international organizations. Details and a complete list of available gifts can be found at http://www.uureston.org/agm. Free.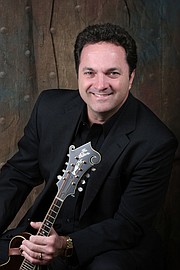 The Larry Stephenson Band. 7:30 p.m. Holy Cross Lutheran Church, 1090 Sterling Road, Herndon. Multi-award winning bluegrass vocalist with one of the finest high tenor voices in the busness. He has been entertaining folks for well over two decades with the very best in traditional bluegrass and bluegrass gospel music. His band has also been a multi-award winning group over the years and the harmonies they attain are absolutely stellar. $15. Free to children 12 and under. For information or to reserve 703-435-8377.

Pet Photos with Santa. 2-4 p.m. 11412 Washington Plaza West, Reston. Appointments recommended but not required. www.petmac.org/arl. 571-325-2099.
Saturday-Sunday/Dec. 5-6
Movies and Mimosa-"White Christmas." 11 a.m. Bow Tie Cinemas, 11940 Market St., Reston. See the classics how they were meant to be see-on the big screen. $5.50, $1 for Loyalty members. bowtiecinemas.com. 703-318-1801.
Sunday/Dec. 6
Holiday Arts and Crafts Show. 10 a.m.-4 p.m. Herndon Community Center, 814 Ferndale Avenue, Herndon. A variety of handcrafted items and fine art will be on sale including wreaths, quilts, jewelry, Christmas ornaments, decorations, original artwork, photography, stained glass and more. Visit www.herndon-va.gov.
Run with Santa 5K. 8:30 a.m. Reston Town Center, 11911 Democracy Drive, Reston. Word on the street is he's been training like a champion. Are you ready to Run with Santa? Register at http://www.prraces.com/runwithsanta.
Holiday Caroling in the Closet. 4-6 p.m. The Closet, 845 Station St., Herndon. Listen to carolers, shop, enjoy free hot chocolate and cookies, and more. Santa will pose for pictures with kids of all ages. Please join the fun and bring a canned or boxed nonperishable food item to support the Western Fairfax Christian Ministries Food Bank. Free. www.theclosetofgreaterherndon.org. www.dranesville.org.
"Holiday Sparkle." 2-4 p.m. Reston Art Gallery, 11400 Washington Plaza W # B, Reston. Group show, artist made jewelry, cards and ornaments. www.restonartgallery.com. 703-481-8156.
Sundays/Dec. 6, 13
Christmas at the Farm. 11:30 a.m., 1:30 p.m. and 3:30 p.m. Frying Pan Farm Park, 2709 West Ox Road, Herndon. Enjoy a special holiday visit and take a wagon ride with Santa through the woods and fields.Activities include a holiday craft, cookie decorating and puppet show. Children must be accompanied by a registered adult. Tickets: $8-$10. 703-437-9101.
Sundays/December 6, 13, 20
Mini-Train Rides. 12 p.m. – 4 p.m. 11900 Market Street, Reston. All aboard for rides up and down Market Street, departing in front of Talbots beside Fountain Square. Donated fee benefits local charities and the event is presented by Reston Town Center. For more information, visit http://restontowncenter.com/index.php.