The Fairfax County Board of Supervisors recently approved a developer's plan for the Trinity Centre in Centreville. As a result, 355 apartments will be built there, amenities will be added around the lake and the county will receive financial contributions.
Once envisioned as the heart of Centreville — a place where people would gather for various events and special occasions — Trinity Centre was originally approved for 1.8 million square feet of office space. Also planned was 250,000 square feet of retail uses, plus 336 homes.
But what's actually been built there so far — besides the homes — are two office buildings totaling 576,000 square feet, three restaurants, a hotel, a fitness center and an 11,000-square-foot office building. So, in light of the stagnant office market, JLB Partners submitted its own proposal for this site off Route 29.
JLB will replace the two office buildings (within what's called Land Unit J) with the 355 apartments. There'll be a six-story parking structure in the middle; and because of the site's topography, the residences will be within a building that's four stories in front and five stories in back.
The building will be constructed adjacent to the existing lake and will have two internal courtyards. There'll be an outdoor pool, and the lower-level units would be walk-outs. In addition, the builder will seek LEED certification.
With the lake seen as an integral part of the project, amenities will be added there so residents from other communities, too, may use the lake for fishing or passive recreation. Planned are a fenced-in, off-leash, dog area; benches, chairs and a climbing structure for young children.
Senior citizens may also use the outdoor area for games such as chess and bocce ball. Trails will connect it to the office development, and other trail and pedestrian connections to Trinity Center will be improved, as well.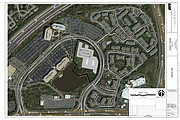 "Visually, this is better than the 8-10-story buildings that could have been built there [and now won't be]," said Supervisor Michael R. Frey (R-Sully). "And having the residential development there will provide some amenities for the community, and I think it'll be nice. There'll also be public spaces and the ability for people to walk around the lake."
The homes' pitched roofs will hide the parking structure from view. JLB expects them to take 16-18 months to build and 18-24 months to lease. They're projected to yield 500-550 residents.
"Since the area was rezoned in 1987, roughly half of the approved office/commercial use has been built, said attorney Mark Looney, representing the applicant. "So this project fills in the residential gap." He was addressing a meeting of the West Fairfax County Citizens Association (WFCCA) Land-Use Committee.
And although WFCCA's Carol Hawn would prefer to have more businesses and office uses in Centreville, fellow panel member Jim Neighbors said they're not moving to the Trinity Center.
Concurring, Looney said, "There's a change in the type of office environment employees want today. Offices in a sea of concrete isolated from amenities are dinosaurs. No one wants to work in them anymore. There's a tremendous surplus of unused office space, plus tens of millions of square feet of office space that is going unbuilt."
"I think Trinity Centre has always been a moving target; nothing's ever been set in stone," said At-Large Planning Commissioner Jim Hart. "Things change over time. And we're seeing this everywhere — people saying the office market is dead and is never coming back. There are very little upscale apartments nearby, and I think this is about the first building that could be like this."
Looney said the new apartments will be 1,000-square-foot units renting for $1,600-$1,750/month. "They'll be quality apartments and the amenities will also be appealing," said Looney. "And we're trying to make the lake more vibrant than it is today and to add a sense of place."
"The kitchens will have granite countertops, and the apartments will have LED lights and be energy-efficient," said Marty Mankowski, JLB's pre-development manager. "They'll be something different from what's already here. We have a myriad of architectural details, and the building's rooflines are varied in angles and appearances, so you don't just have a solid mass."
The WFCCA ended up approving the plan, as did the county Planning Commission, before it headed to the supervisors for its final OK. In return, the applicant will contribute $250,000 toward improving Trinity Parkway, the main road through Trinity Centre. "It never became a state road, so the money will be used to bring Trinity Parkway up to current VDOT standards so it can be accepted into the state road system," said Hart.
JLB will also contribute $50,000, instead of the $25,000 it initially planned, to the county Park Authority for historic signage within the Centreville Historic District. Frey called the infusion of cash "a huge jump-start" for the signage program there.
"That's what's intended to tie the Historic District together, explaining the buildings and [Civil War] earthworks people are seeing and their historic significance," he said. "The standard historic sign is $2,000, so we'll be able to do a pretty nice batch of signs for $50,000."
In addition, the developer will contribute nearly $1,200 per apartment toward capital improvements to the schools serving the property. And it'll donate

$893 per resident toward improving public parks in the vicinity.
Overall, said Frey, "Trinity Centre was zoned 30 years ago and, for a variety of reasons, didn't work out as originally intended, as a town center and community gathering place. But in the end, it makes sense to go ahead and finish it up."
"It's not necessarily a destination point," he continued. "But if people have an early dinner and it's a nice summer evening, they could walk around the lake. Or, they could bike from Centre Ridge, for example, and go to the Saturday-night summer drive-in movies at Trinity Centre. So I do think it'll be a place for the community to enjoy."