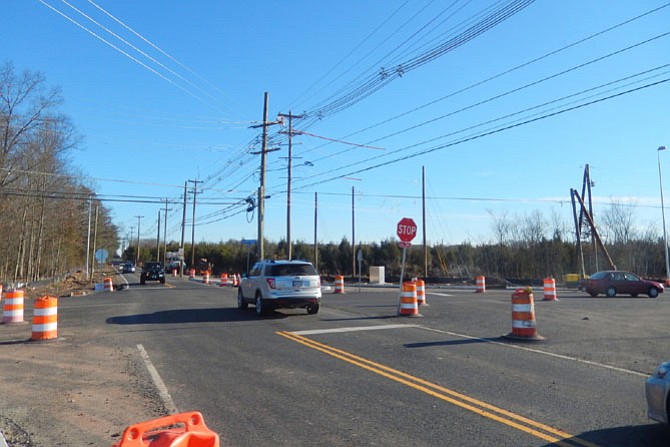 With the downturn in the office market, developers are instead planning to build residential and commercial uses on vacant parcels of land in the Westfields area of Chantilly. Below are details about what's on the horizon, including plans for a memory-care facility off of Route 50 west.
Wegmans
The Commonwealth Centre is along Westfield Boulevard, across Route 28 and just northeast of the Akridge site. And that's where a Wegmans grocery store will be built in Chantilly.
It will go inside the Newbrook Drive loop road and will be part of a commercial complex including shops and two, free-standing restaurants. To pave the way, Fairfax County approved a Comprehensive Plan amendment for that 21-acre site, as well as a rezoning. Those actions enabled the developer, Regency Centers, to replace the currently approved 338,400 square feet of hotel, office and retail uses with 183,000 square feet of retail.
"County staff commented in its report that we're creating a more vibrant mix of uses there," said attorney Frank McDermott, representing the developer. "This will also enhance the road intersections, and there'll be sidewalks connecting to everything."
The centerpiece will be a 140,000-square-foot Wegmans similar to the one in Fair Oaks and containing the same amenities, but not the parking garage. It will, instead, have surface parking. Also planned are 32,500 square feet of retail shops, and one of the restaurants will be a 10,500-square-foot sit-down, full-service restaurant.
This project will also come with walking trails, an exercise park near the Flatlick stream valley, outdoor seating outside the Wegmans café and a number of proffered pedestrian and road improvements for safety plus better traffic flow.
"There's also substantial tree preservation along Westfield Boulevard — oak, willow and cherry trees — and we'll add to it," said McDermott. "Among our road improvements is the extension of Newbrook Drive, and county staff said it's pleased with our transportation plan."
"One of the benefits from this change of use from office and hotel to grocery and retail is that you don't have a.m. and p.m. peak traffic," he added. "And 56 percent of the traffic coming to Wegmans will already be out and about on the roads, including Route 28, Westfield Boulevard and Walney Road."
Former Sully District Supervisor Michael Frey said construction should start in mid-2017 and take about 18 months. "People have been asking me when the Wegmans is coming in," he said. "From what I've heard, the community is totally supportive of it and anxious to see it get built and open."
Residences at Government Center
With an eye toward providing workforce housing in the local area, Fairfax County dignitaries broke ground in May 2015 on a 270-unit apartment complex in Fair Oaks. The apartments are being built on county-owned land off Monument Drive, on the Government Center's perimeter, so they're named Residences at the Government Center.
On some 9 acres across from the Fairfax Corner shopping center, they'll offer a 5,800-square-foot amenity space including an outdoor pool, fenced playground, two courtyards and connections to walking trails. The apartments will have green and energy-saving features and will be available to people making up to 60 percent of the area median income (AMI).
In addition, at least 20 percent of the units are geared for households at or below 50 percent AMI. Paradigm Construction Co. is the general contractor and will build studio, plus one-, two- and three-bedroom apartments. Site work began in April, and the first apartment is expected to be available for occupancy by October 2016.
Because the developer was able to lease land from the county, and federal low-income, tax credits were obtained, said Board of Supervisors Chairman Sharon Bulova, "This is being done at no cost to the county. By providing workforce housing, many young people, low-income families and those having long commutes to jobs here will be able to live here."
Preserve at Westfields
There's a plan to transform 50 acres of vacant land along Route 28 and Stonecroft and Westfield Boulevards in Chantilly. Being proposed for what would be called The Preserve at Westfields are 155 townhouses, 650 apartments, plus retail and other amenities.
Fairfax County already approved a rezoning for that site and also amended its Comprehensive Plan for that area so that high-density, residential uses may be built there. Akridge owns the land and would build the apartment and retail components; Elm Street Development would construct the townhouses.
Included would be an amenity area with walking paths, a pavilion/performing and gathering area, plus a lake that's currently not accessible. Proffer highlights include almost $6 million in recreation improvements and more than $5.5 million in road improvements.
"If we do this right, we're ultimately making the Route 28 Corridor stronger by providing amenities and a live, work and play environment," said attorney Greg Riegle, representing the developer. "And that's the philosophy the Westfields Business Owners Association has endorsed."
Trinity Centre
The Fairfax County Board of Supervisors recently approved a developer's plan for the Trinity Centre, off Route 29 in Centreville. As a result, apartments will be constructed there, amenities will be added around the lake and the county will receive financial contributions.
Trinity Centre was initially approved for 1.8 million square feet of office space. Also planned was 250,000 square feet of retail uses, plus 336 homes.
But besides the houses, only two office buildings totaling 576,000 square feet, three restaurants, a hotel, a fitness center and a small office building have been built.
So, with the downturn in the office market, JLB Partners submitted its own proposal for this site. It will construct 355 apartments around a six-story parking structure. Because of the site's topography, the residences will be within a building that's four stories in front and five stories in back.
The building will be constructed adjacent to the existing lake and will have two internal courtyards. There'll be an outdoor pool, and the lower-level units would be walk-outs. In addition, the builder will seek LEED certification.
With the lake seen as an integral part of the project, amenities will be added there so residents from other communities, too, may use the lake for fishing or passive recreation. Planned are a fenced-in, off-leash, dog area; benches, chairs and a climbing structure for young children.
Senior citizens may also use the outdoor area for games such as chess and bocce ball. Trails will connect it to the office development, and other trail and pedestrian connections to Trinity Center will be improved, as well.
JLB expects the apartments to take 16-18 months to build and 18-24 months to lease. They're projected to yield 500-550 residents. The new apartments will be 1,000-square-foot units expected to rent for $1,600-$1,750/month.
In addition to making other contributions to the county, JLB will donate $250,000 toward improving Trinity Parkway, the main road through Trinity Centre.
Arbors of Chantilly
As the number of senior citizens in Fairfax County continues to rise, so does the need for assisted-living facilities — and especially those focusing on people with Alzheimer's and dementia. Enter Artisan Land Group LLC.
It's already received Fairfax County's approval to build The Arbors of Chantilly at 13622 Lee Jackson Memorial Highway, off Downs Drive. The six-and-one-half-acre site, zoned residential, is currently a vacant lot. Planned is a one-story, 37,000-square-foot, 48-unit, residential-looking building facing Route 50.
Considered a "memory-care home," the 35,000-square-foot facility will be architecturally compatible with the surrounding land uses, plus the abutting residential area. It'll also have a large rain garden and fencing all around the property. Construction — which has not yet started — is anticipated to take about 10 months.
Roundabout Construction
VDOT is building a 90-foot-wide roundabout to improve traffic flow at the Braddock/Pleasant Valley roads intersection by Cox Farms in Centreville. Fort Myer Construction Corp. is doing the work. Estimated project cost is $5.8 million, with completion anticipated by this spring.
It's being done in five phases. In phase four, Pleasant Valley traffic will be on a shifted alignment. But motorists on Braddock will have been shifted to the south. Phase five will feature the actual, roundabout construction. The project also involves a trail connection to the intersection. There'll be a crosswalk across Braddock Road and a sidewalk along the Cox Farms property.