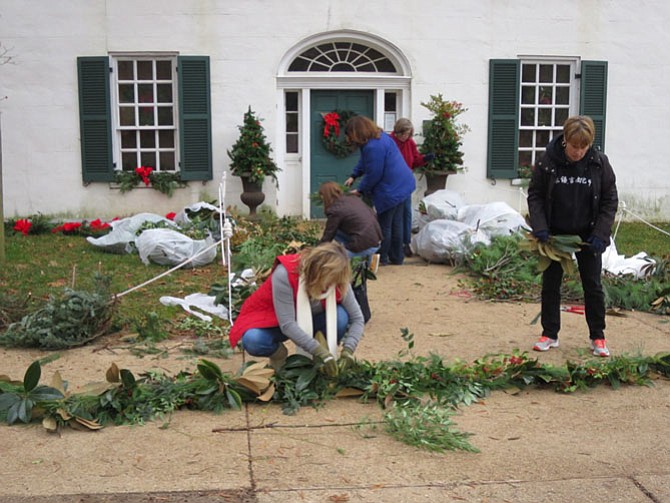 See more Garden Club photos on Facebook.
The Christmas Spirit descended on the Great Falls Tavern in the C&O Canal Park on Monday, Nov. 30 with 40 members of the Little Farms Garden Club volunteering their time and talents. Fresh live greens, red bows, Christmas wreaths, and holiday garlands provided the joy of the season to the historic Tavern.
For 38 years, the members of the Little Farms Garden Club have decorated the Great Falls Tavern for Christmas. The greenery and ribbon are donated by local businesses and members of the club spend the morning making the Tavern a holiday delight. They are assisted by staff member Mark Meyers who helps by climbing tall ladders and carrying the heavy bags of greens and boxes of decorations.
The Little Farms Garden Club was established 53 years ago by Potomac housewives. At the time, many of Potomac residents lived on farms and the group decided to name it after the "little farms" where many resided. The club has continued to flourish — membership is by invitation and the club has 50 members — all who are Potomac residents.
"I'm very fortunate to be a member," said Joan Armstrong. "Not only do we learn and volunteer, but we have are so supportive of one another — and we have formed wonderful lifelong friendships."
"Fifty percent of our mission as a club is community service," said Trish Elliott, who serves as president of the club. "We meet once a month at a member's home and listen to a professional speaker who is an expert on nature, gardens, flowers, techniques for gardening — anything that has to do with planting and maintaining gorgeous gardens or landscaping. But the highlight of our club is the service that we perform for others."
Ever wonder where the gazebo came from in Potomac Village? The Little Farms Garden Club donated it to the community. Each year, they host an accredited flower show for 100 garden clubs who enter their prize flowers and plants, artistic floral arrangements and more into the show. The club also volunteers to make crafts and arrangements with Potomac Community Resources, an organization that works with people who are developmentally handicapped. "The young men and women who participate just love it," said Elliott. "We also redesigned and planted the landscaping at the Rockland House in Rockville, a transitional home for women in need. In addition, we donate clothing and gift certificates to them."
Member Deb McDonald said, "We are a very active group of women ages 30 - 80s. We are extremely involved with the Rockland House — a home to five women who were coping with homelessness. We renovated their gardens and gave them gift certificates — but that wasn't enough. We also help the women in many other ways and all of us are committed to this service."
Edie Perry is happy because her daughter Amy Michallas has chosen to become a second generation in the Little Farms Garden Club. "I'm pleased that we can continue the tradition," said Perry. "It's a wonderful organization that is committed to helping others as well as beautifying the world."
Next Sunday from 1-4 p.m. is a 19th century music program at the Tavern presented by the Friends of the Historic Great Falls Tavern.