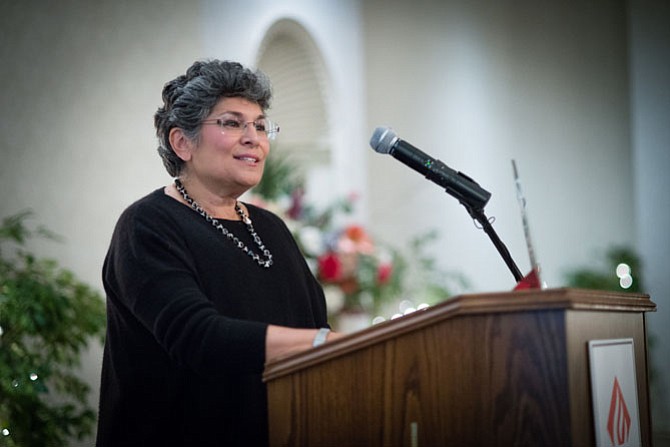 Leadership Fairfax, Inc. (LFI) honored Leila Gordon, Executive Director of Reston Community Center as the recipient of the 2015 Northern Virginia Regional Leadership Award. The award, presented Thursday, Dec. 3 at LFI's annual Northern Virginia Leadership Awards luncheon at the Waterford Fair Oaks, recognized Gordon's dedication and leadership in the Northern Virginia community.
Leadership Fairfax highlighted Gordon's significant career-long service to Reston and her leadership that focuses on enhancing the quality of life for everyone. Her recent notable accomplishments include her role as Chair of the Fairfax County Master Arts Plan Task Force. The Task Force will provide Fairfax County with a plan that guides development of cultural facilities and public art across the County's many different communities. The Task Force envisions the results will reflect the County's diversity, consider existing facilities, and respond to future growth.
"Thank you all so much for this extraordinary honor and for the inspiration and joy of working with you," Gordon said. "Leadership Fairfax helps make all of our communities places where everyone – regardless of their identity, religion, roots or circumstances – can dream big. I am humbled and touched to be recognized by this remarkable group of leaders."
Leila Gordon has been leading RCC since April 2008. She is active in a variety of civic and cultural organizations including the Arts Council of Fairfax County, Initiative for Public Art – Reston, Greater Reston Arts Center, Reston Historic Trust, Cornerstones and Greater Reston Chamber of Commerce among others. Gordon is a graduate of Virginia Tech University and earned her Master's Degree from Florida State University. She is married to Robert Gordon and they have three children and three grandchildren.