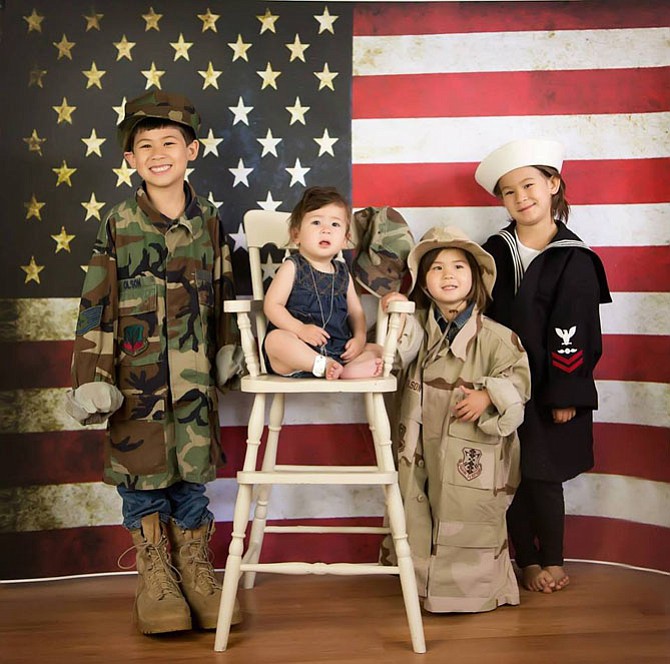 McLean's Linda Davidson co-founded Our Military Kids with 11 grants in 2004.
"When I started, it was a volunteer program offering to support families in Virginia, Maryland and Washington, D.C.," she said.
The vision, she said, was to operate for a few years.
"The need was great and we received calls from all over the country," said Davidson.
She remembers a service member once saying, "Please don't send cookies, care packages or socks. Just take care of our children."
Helping one family at a time, one child at a time, Our Military Kids has now provided more than 52,000 grants to support and recognize military children of the National Guard and Reserve and children of wounded and fallen warriors from all branches of service.
"We should support those families that continue to make sacrifices," she said. "I feel it is our duty to support them even more now."
The grants to children can pay for fees associated with athletic, fine arts, and tutoring programs. In 2014, Our Military Kids provided 3,360 grants, including 17 grants to families of "fallen service members."
"We cater to the children's needs and interests. The families identify what is important," she said.
KAYLA'S FATHER was redeployed to the war zone when she was in first grade.
The Winchester student couldn't focus and she failed first grade.
Our Military Kids provided her a grant for tutoring based on Kayla's mother's request.
"In the fall, her mother called back to say her first report card was all As and one C-plus," Davidson said. "Kayla was upset that she was failing, but the truth was she missed her Dad."
Kayla is now an honor roll seventh grader.
"We have provided gifts for children who have attempted suicide because Dad came back with post traumatic stress disorder. The person that came back is not the same person who left," said Davidson.
Alex, a teenager from Indiana, began withdrawing when his father returned home.
Our Military Kids provided the funding he needed to pay for football camp. He received his own recognition from Davidson's organization that thanked him for his service, and Davidson says the teenager now says, "I'm proud to be serving with my Dad."
The most famous example is Gabby Douglas, born in Newport News, Va., who won the gold medal for gymnastics in London in 2012. She received a grant years ago when she was identified as a having immense talent, but her family needed help paying for her to travel for training.
"It's just being there at the moment when a child needs that outside influence," said Davidson. "I could entertain you all weekend with stories that keep us passionate about this."
AT THE OLD BROGUE in Great Falls, Bob Nelson operates a monthly appreciation military dinner.
Nelson, of Keller Williams Realty in Great Falls, has teamed up with Our Military Kids and its Christmas Gift Wish List project the last seven years to make the holiday season "a bit brighter," he said.
"It's my way as a civilian to say thank you," said Nelson. "It isn't charity, it's our way of saying, 'Thank you for your service to our country, for what you've done.'"
The Christmas List project, for families of wounded warriors and fallen heroes, has grown from 63 families to more than 330 this year.
"We were hearing that it was a challenge to have Christmas gifts for the children," said Davidson. "One family didn't want to put up a tree because they didn't want their children to be disappointed that they weren't going to get presents."
A single-father who serves with the Marines first refused help, said Nelson. "He said, 'We're okay, we don't need help,' but when we insisted, he broke down and cried,"
Norma Bozell has been involved for three years. "There is such an incredibly deep need for our citizens to pay attention to these families," she said. "These people have sacrificed for us."
Gil Lunsford got involved with the program after attending Nelson's military appreciation dinners. "He works his butt off," he said, of Nelson.
"When I call, I say, 'Hello, Santa's calling,'" said Lunsford, of McLean Mortgage. "You hear it all.
"It's got me all jacked up," he said. "I told my family, we had a great life, we are going to have a great life, I want to do something different this year."
He now brings military members to his acreage for different programs, including hunting expeditions. He also started a therapeutic riding program.
"Giving back means everything," said Lunsford.