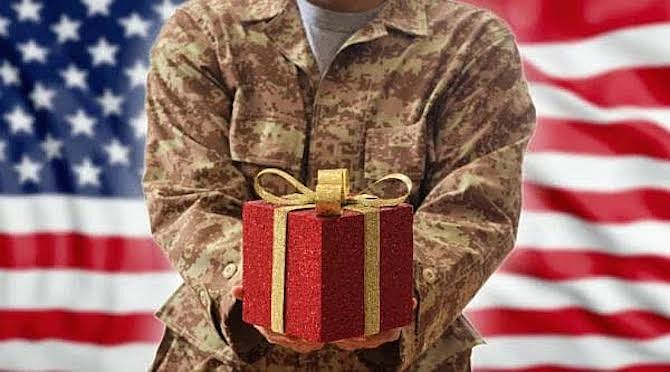 For over ten years, long-time Great Falls resident and businessman Bob Nelson hosted his Military Appreciation Monday dinners at the Old Brogue, raising funds to support various United States military organizations at the twice-monthly events. During the first or second week of December each year, Nelson could be found in the Irish pub's back room thanking a hundred plus people for their generous assistance in providing holiday gifts to families of American fallen and injured service members.
Not this year, not 2020. The coronavirus halted all dinners, and Nelson asks if community members would step forward for the annual Christmas Gift Wish List, updated regularly by the Code of Support Foundation in Alexandria. He said, "It's my understanding that many of these families are in a tough position due to the pandemic."
According to Nelson, "The concept is that supporters choose the family of an injured or fallen service member and commit to spending a minimum of $150 per child." He said, "Once you've done so, Santa will send you the contact information for the family. You then reach out and speak directly to your 'adopted' family. This personal interaction has meant so much to the veterans, their families, and those serving as Santa."
On Saturday, Dec. 5, Nelson received news from one of his newest santas. "Bob, After you and I spoke this morning....I called Veronica, one of our Military families, for Christmas. She is a single mom with two children... After going over what the kids wanted for Christmas, I asked her what they were doing for their Christmas meal. Her family is close by, but they are elderly, and she said they would not be getting together as a family... I told her that we would be sending a Honey Baked Ham with all trimmings to her for Christmas Day....She immediately broke down in tears and was overwhelmed," she wrote (name withheld).
Nelson founded his Military Appreciation Monday dinners in the memory of Sgt. 1st Class Nathan R. Chapman, a Special Forces Communications Sergeant assigned to 3rd Battalion, 1st Special Forces Group (Airborne). Chapman was killed in action during Operation Enduring Freedom on Jan. 4, 2002, near the town of Khost in Afghanistan, leaving behind his wife and two children, a daughter and son.
For more information on the project, email Santa@bobnelsonteam.com.