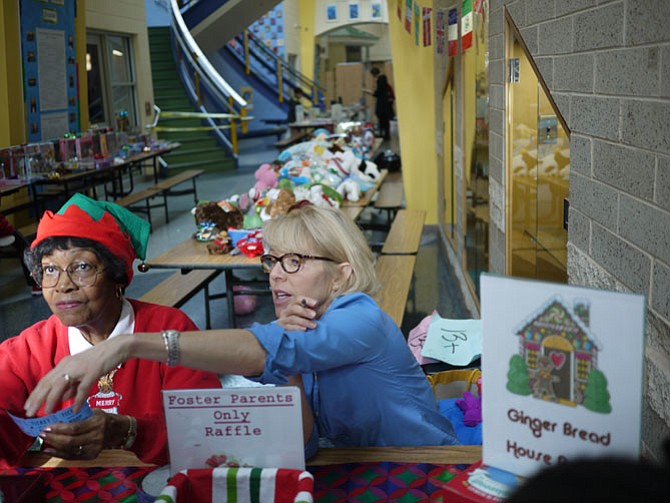 They came in the door of Carlin Springs Elementary School holding hands. One "50-ish" woman and one "10-ish" girl, the latter in black patent leather shoes and a silk party dress in Christmas colors. They were chatting, like any mother and daughter out for a party. The girl's face was lit up with anticipation; the woman's face was full of patience and attention.
Patty and Tom Downie's Christmases have included foster children for four years. In that time, they have sponsored four long-term stays in their home, and seven or eight "respite stays" of short duration. They started when the last of their four children was still at home; three had gone off to college. They felt their home in Arlington had room for children and their hearts did as well. They, and their daughter Heather, who took the sponsoring course with them, were ready to start fostering when they got the first call: would they take three siblings who needed a home, that night?
"Oh my gosh!", Patty Downie remembered, "We had dinner plans ... so … we cancelled them." The children arrived, and they thought: this is great: we are three sponsors and three children. We aren't outnumbered. But it took a while for the children to settle, and it was a learning experience. Patty Downie had forgotten how hard it was to get three children out of the house in the morning to school or how to get dinner on the table for six. How tough it was on children to adjust. Those children stayed a year. And other children stayed a year.
Now the Downies have settled into a routine where fostering is part of their lives, something they do because it needs to be done, and because they enjoy it. Patty Downie said the children are fostered for a variety of reasons, but each of them has had a rough period of time when a parent was either unable to take care of them, or sick, or otherwise taken out of the child's life temporarily. Although privacy is strictly protected, and Downie could not reveal information about "her kids," she said her goal is not to replace the parents, but to care for the child in a way that offers the least amount of disruption to their lives. She said she makes a point of having their current foster child call her mother every night, so the mother-daughter bond can be strong despite the separation. They love watching the families come back together again. And Heather, who has since married, will start fostering once more as soon as her husband finishes the sponsoring course, which involves 30 hours of training, done in the evening or Saturdays.
Eighty-seven children, of the 105 Arlington County has in care, attended the holiday program at the Carlin Springs Elementary School and received a gift. All other children in the program will receive their holiday gifts before next week. Many of the children came with birth parents, many came with foster parents, and some came with both. Some would be reunited with their parents for the holidays. They received lunch and entertainment, in addition to gifts, and spent the time decorating plates or coloring.
Erica Serrano, the resource parent recruiter for Arlington's Child and Family Services' foster family program, said she is always looking for help with foster children, whether to donate time or gifts, or to locate people who can parent for the short or long term.
Pattie Downie says she started doing this because her dad was raised in foster care. It means a lot to her to give back to a system that gave him a family he otherwise would not have had. "And Arlington County makes it so simple," she said. They offer support, they know how to help foster parents be good at fostering, and they are always there when needed. "Arlington really knows how to do foster care," she said.
Serrano said she could not stress enough the need for foster families here in Arlington so that they can help keep the children in foster care connected to their community. There is always a need for sponsors. Arlington County's next information session on fostering will be Saturday, Jan. 9 at 10 a.m. Interested individuals can e mail: openheartsopenhomes@arlingtonva.us or call 703-228-1559 for more information. See also www.arlingtonva.us/fostercare.
Details
Arlington County's next information session on fostering will be Saturday, Jan. 9 at 10 a.m.-noon at the Department of Human Services, 2100 Washington Blvd, Lower Level. Interested individuals can e mail: openheartsopenhomes@arlingtonva.us or call 703-228-1559 for more information. See also www.arlingtonva.us/fostercare