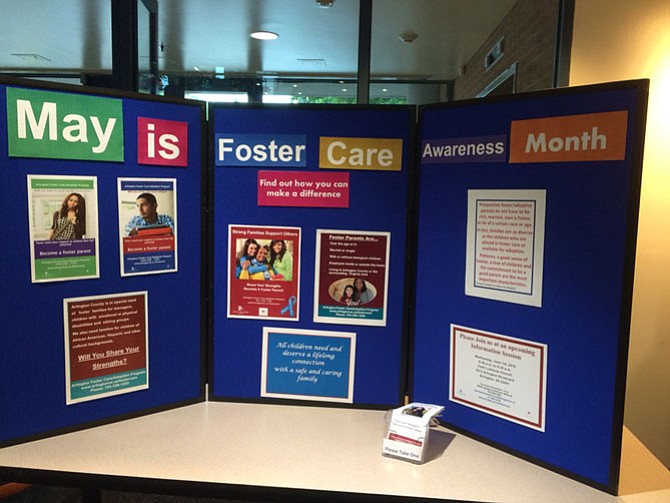 One of the attendees asked an honoree at the May 16 gala dinner for foster parents how long she and her husband had been foster parents. "Oh, since Saturday at 10 a.m.," replied Shelly Porter. She and her husband Rob smiled at each other with a look of mutual amazement: "We had just finished the certification course … and then the phone rang, and they had a first grade boy who needed a placement." The Porters don't have children so they are relieved their first child was an easy one.
Shira and Ben Simon said they had come to the dinner to support the Burkas, Arlington's Foster Parents of the Year, who were receiving their award. They said they had been fostering children for 6 years. The training Arlington County gave them was invaluable. For instance, Arlington's Foster Care team taught them how to talk about loss. "I'd never had any loss in my life," Simon said. "It really helped when I had to talk to kids who had lost a parent." He and his wife take breaks from fostering when they have to so they will stay energized, and they recommended that to the newer foster parents at the table.
The Simons described their journey to becoming foster parents: Shira was interested in going to the information session. He went with her and on the way home she was interested in taking the training. He said, "You've got to be crazy." They did the training, and when it was over, he said: "We have to do this."
Arlington's Department of Human Services told the assembled crowd, which included County Board member Katie Cristol, that they were happy to see a 62 percent increase in people taking the training. "We are honoring you here tonight because you share your families, you answer the phone when we call even when it's not convenient, and you even adopt kids when no one else is able."
Cristol issued a proclamation that noted there are 4,700 children in foster care in the Commonwealth. She praised the community-based organization which makes it possible for Arlington's foster children to get a chance to live in a family and be safe, and proclaimed May Foster Care Month in Arlington County.
Christi Donoso and Zack Best, a speech therapist and lawyer respectively, were also on their first placement. They had put down the ages 0-6 years as their preference, feeling the toddler range was more their speed as first-time parents. Their phone call came not long after and they were asked to come to the hospital to pick up a newborn boy … they knew nothing about taking care of a baby and had no equipment, but agreed, with a quick stop at Target to pick up all the newborn layette. They have had their foster son for three months, said he is sleeping nicely at night now, and declined to provide any further information as they hope to reunite him with his birth mother some day and want to protect her privacy.
The Burkas commented upon receiving their award that they were proud to be counted in a group like the one assembled in the Hilton last Monday. These are people who are willing to stay up all night with a placement whose parent was addicted: one has to wean the child off drugs that first night. They were thankful for the strong support network that made it possible for them to continue fostering, including their birth children, and their immediate families, who sometimes had to step in, like Burka's father, who once had to drop what he was doing and drive to Arlington to take care of the children and get them off to school. Burka praised the Arlington County Foster Care program, which they said is what keeps them coming back.
All the couples at the dinner noted that the county helps to arrange day care for children so that the whole burden is not cast on parents. Many of the couples were dual working couples who early on in the process became believers in day care.
The next information session for interested potential foster parents is on Wednesday, June 1, from 6:30-8:30 p.m.
See: https://family.arlingtonva.us/foster-care/