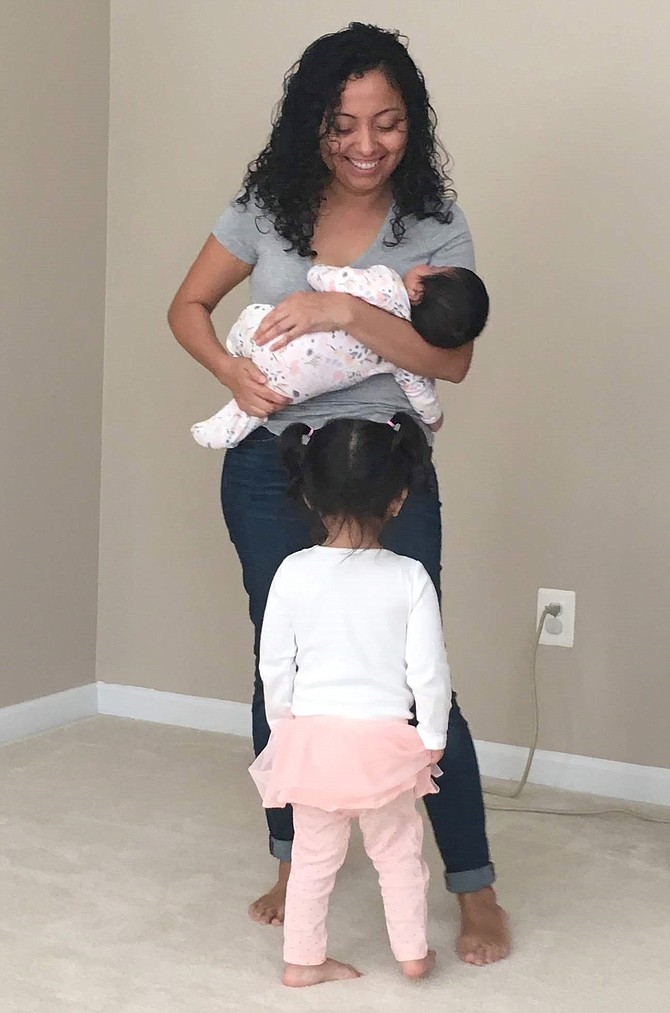 How often does a young, single, professional person have the desire and capacity to become a foster parent? Claudia Morales of Arlington did. Nine times. Morales was officially approved in 2015 to become a foster parent, and since then she has had 9 children join her family. All these children, except the one currently joined with her, have successfully returned home, which is always the outcome Claudia, and the foster parent program, work for and desire.

A Guatemalan native, Morales understands some of the struggles immigrant families and children go through when trying to understand how this country works, according to Erica Serrano, the Outreach and Recruitment Specialist for the Child and Family Services Division of Arlington County.
Morales says multiple factors made her decide to become a foster parent: the first stemmed from childhood. An American family took her family in when they immigrated to the United States and that personal experience made her want to "pay it forward." Her need to fulfill the social responsibility to contribute to her community played a part, and her love for children, especially babies, made fostering a good way to do that. Claudia says she enjoys the infant and toddler stages — sleep deprivation, tantrums – and that is why she works mainly with children infant to four. Although it can be a rollercoaster ride, she enjoys watching them grow and helping them achieve their developmental milestones.
Morales said the lessons fostering has taught her are: patience, not to sweat the small things, picking her battles wisely, and "it truly does take a village."
About Arlington's support team she added, "It is a God-send and definitely part of my village. From coordinating respite or challenging pick-ups, to calling to check on me after a child has gone back to the birth parents, they've always been available or found a way to make things work."
Working with birth parents has been very positive, Morales said. "Birth parents almost always have a rocky start when separating from their child at the start of the fostering phase," Morales noted. She relies on the support of the social workers to slowly begin to interact with the parents with the goal of partnering with them to give the best care she can to the children and to keep the parent-child connection strong if deemed safe.
"The hardest part of working with birth parents has been to not take it personally." Usually when the birth families see that the child is well taken care of and that as a foster mother, Morales wants their child to keep the bond with the family, they put their guard down and begin to develop a relationship with her.
According to Serrano, one of the reasons Morales was nominated to be Foster Parent of the Year was that "everyone who has worked with her describes her as incredibly flexible, a true nurturer of both the children and their families, and someone always willing to go above and beyond. She is a young woman who lights up the room and always has a smile on her face."
Serrano added, "As children continue to be in foster care, we must continue making sure we have safe homes and foster parents for them, pandemic or no pandemic. One important issue is that we are getting a lower than usual volume of calls to our hotline. We know this is because children are not attending regular school, after school programs, camps or extra curricular activities where it is mandated to report when teachers or counsellors notice'something is going on with the child." Serrano said they are expecting an influx of calls once things go back to normal. "Suddenly all these children will be noticed, and we will need to be ready with enough foster homes approved and certified to run."
Serrano and her staff have continued to work during the pandemic to offer support services to foster parents. "We have migrated several of our support services to a virtual platform so we have been offering virtual training and support groups. Some of our more seasoned foster parents have been hosting a virtual hang out and we have also hosted our first ever Zoom telehealth Information Session."
Serrano depends on her webpage promotions and Facebook page to highlight the constant need for foster parents to volunteer. The next (virtual) information session can be found on the web page. See https://family.arlingtonva.us/foster-care/ and https://www.facebook.com/Arlington-Foster-CareAdoption-Program-801286416737841
As for Morales, she offers this to those considering becoming foster parents: "Go to an information session and ask questions. I would say fostering is NOT the easiest way to help your community, but it IS rewarding and has a lasting impact in the lives of children in need of a stable and loving environment. And what a privilege it is to be able to provide that for the children of our community. So if you have a desire, pursue it and become part of our team."
May is National Foster Care Month.