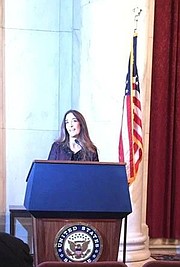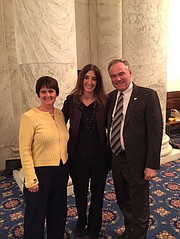 Del. Eileen Filler-Corn (D-41) was honored by Jobs for America's Graduates (JAG) with their National Network Leadership Award in Washington, D.C. This annual awards event recognizes a select number of national, state and local leaders for their support of the mission of Jobs for America's Graduates, as well as the activities of their respective state organizations and local JAG programs.
JAG is a national nonprofit organization with state partners, dedicated to preventing school dropouts among young people who are most at risk. Governor Terry McAuliffe and U.S. Rep. Don Beyer both serve on JAG's national board of directors. JAG recognized Filler-Corn for her work as chair of their Virginia affiliated organization, Jobs for Virginia Graduates (JVG), which she has chaired since 2012, succeeding Congressman Beyer.

The festivities began on Wednesday night in the Kennedy Caucus Room at the Russell Senate Office Building. Following an introduction by Beyer, Filler-Corn had the opportunity to address the crowd. "One of my principal goals for JVG is to become Virginia's 'Program of Choice' for dropout prevention and obtaining good job opportunities for at-risk students," said Filler-Corn. "On a personal level, I am committed to continuing to expand the ability of Jobs for Virginia graduates to reach a growing percentage of the many thousands of our students who remain at high risk of dropping out of school before graduation, and thus become likely to remain on the sidelines of an otherwise growing economy throughout their working lives," she added.
In addition to Beyer, Sen. Tim Kaine and Virginia Secretary of Education Anne Holton also attended Wednesday night, as well as Mississippi governor and current chair of JAG, Phil Bryant. The following day, JAG held its national awards luncheon where Filler-Corn was presented with a plaque commemorating her efforts on behalf of JVG.