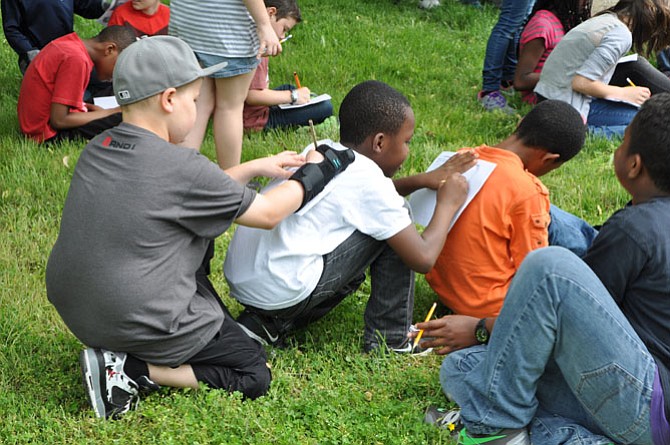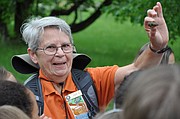 Potomac — An estimated one million children attend school along the Chesapeake and Ohio Canal, which stretches from Washington, D.C. through Virginia and Maryland and out to Pennsylvania and West Virginia. Through the C&O Canal National Historic Park, children have the opportunity to spend hours out in nature learning the importance of the canal to the nation's capital and surrounding region.
The National Parks Service has created a program in which volunteers help make field trips through the park relevant to what's being taught in the classroom, incorporating science, math and history themes customizable for visits that can last most of the course of a school day, said Hollie Lynch, educational specialist with the National Parks Service. She has been looking for a few good volunteers to lend their talents to the Canal Classroom Corps for this summer, as the program looks to expand its reach to Great Falls, building on successes in Williamsport and Cumberland.
The group is largely comprised of "retired teachers and educators, not only teachers but people with a background in history or science who are looking for an opportunity to help students" learn about and appreciate the canal, Lynch said.
The canal stretches 185 miles from end to end, with even more miles of hiking trails and places to watch for birds and learn about the history of the waterway contained within the park. One of the more popular locations in the park, and a favorite activity for students on field trips is watching the Mercer Boat go through the locks near Great Falls, she said.
But there's more to the park than watching the boat, originally pulled by mules, rise and fall as water is added or taken out of the specially designed passageways.
For the first summer, the Canal Classroom Corps program at Great Falls will be focused on elementary school students, with the goal of following in the footsteps of expanded pilots in Cumberland and Williamsport and adding educational materials for middle and high school students later, Lynch said.
The volunteers help teachers during field trips by incorporating information that supplements what's being discussed in the classroom, she said. Rock formations, along with plants and animals, spotted along the canal can easily support a lesson on the Earth's geology, while the transfer of goods and people into Washington during the city's early days makes for a different kind of view on the area's history.
Students who have had the chance to take field trips to the park and learn from the volunteers have been enthusiastic about what they've seen and learned, Lynch said. Many report they've never been in the park before and are eager to return with their friends and family.
"We're pretty excited about it too," she said.
As are the volunteers.
When Carol Nase retired from teaching elementary school after 30 years, she was looking for a way to keep herself busy. A notice in a newspaper looking for volunteers with the National Parks Service caught her attention, and the park's close proximity, just three miles from her home, piqued her interest.
With one summer under her belt, she's eager to get back into the park and working with children.
"It's wonderful," Nase said. "I like the age group and making the stories of the past come alive for them. Many children have never been there before, and there's a lot of history."
It's important for the students to understand the history of the canal, but she's got a loftier goal.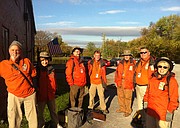 "If they learn about the canal and the park, maybe they'll start to love it," she said. "If they love it, they'll want to take care of it."
Last year, Nase helped develop the curriculum used for elementary students who visit the park during field trips, which can last from one hour to most of a school day, depending on how much time the school can allow the children to spend in the park. Whenever possible, the educators try to incorporate science, technology, engineering and math, better known these days as STEM, with activities that keep the students engaged.
Nase has also found herself in the role of student in this new activity.
"Teaching this, I've done so much more research on the canal," she said, further deepening her appreciation for the park in her own backyard.
Deena Barlev is a new volunteer this year and is eager to get started.
A recent retiree herself, Barlev taught middle and high school for nearly 30 years and went back and forth about signing up for the Canal Classroom Corps.
"My first thought was, oh, that's perfect for me," she said. "My second thought was, no, maybe this is a terrible idea, but my third thought was, no, it's a great opportunity for kids to discover this treasure in our community."
She feels her own interest in the park and the outdoors will help inspire a passion for nature in students.
"One of the qualities of an effective teacher is passion. If I have passion for what I'm teaching, the kids will get that as well," she said. "Kids don't care how much people know, but they know how much you care."
Barlev said she's seen firsthand how exposure to the outside world can change students. When she was a student teacher in Boston, she took a group of fourth and fifth grade students on a field trip to a nature center and the students were initially very uneasy.
"They were freaked out," she said. "They wouldn't set foot on the grass. They were afraid of what was in the grass. It broke my heart."
An avid hiker, Barlev already volunteers as a trail steward for the Billy Goat Trail in Great Falls and sometimes spends her weekends riding portions of the bike trails where people can borrow bicycles for free to ride for up to two hours to see the park in a new way.
"I think this is a really important thing," she says of the Canal Classroom Corps. "I relish this park. I cherish it and the opportunity to help kids enjoy the park in their backyard."