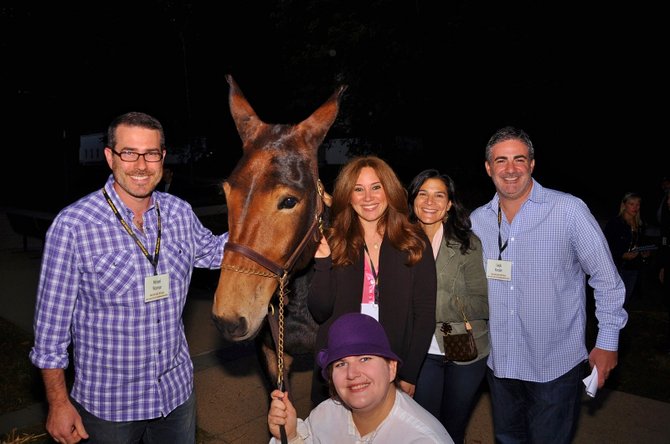 Potomac — About 50 hours before the entire 185-mile length of the C&O Canal National Historical closed because of the shutdown of the federal government, more than 300 people gathered at Great Falls Tavern to celebrate its beginnings 75 years earlier.
Director of the National Park Service John Jarvis called Great Falls an "extraordinary place."
Kevin Brandt, superintendent of the C&O Canal National Historical Park, expressed gratitude to the visionaries in 1938 who bought land from the C&O Canal Company and B&O Railroad that became the C&O National Historic Park.
Secretary of the Interior Sally Jewell said there is "nothing like" the work of volunteers and employees for the park who connect us to our public lands.
"What you give tonight shouldn't be the margin of critical function for the C&O Canal, it should be the margin of excellence for the C&O Canal," said Jewell.
The 3rd Annual Park After Dark benefit coincided with the 75th Anniversary of the park.
The event, with a 300-person maximum guest list, was sold out, and raised more than $37,000 specifically for the Canal Classroom's education program. The overall amount raised was still being calculated when the U.S. Government shut down midnight on Oct. 1.
Patrons were given photos of history 75 years ago, including one depicting this event:
"On Sept. 28, 1938, the United States Secretary of the Interior, Harold L. Ickes, handed a check over to representatives of the C&O Canal Company and the B&O Railroad to purchase the C&O Canal. This check was the first investment in what would become the C&O Canal National Historical Park almost 33 years later," according to Park Service documents.
"We are all co-owners of this national treasure that is often referred to as the nation's backyard."
The C&O Canal Trust is raising money to implement its Canal Classrooms Program.
"We're investing in youth as stewards of the park," said Brandt.
The park service will hire retired school teachers to deliver curriculum-based education programs to PreK-12 students, supporting the increasing demand of school audiences using the park as outdoor classrooms.
"With over one million school children living within a short ride of the park, the C&O Canal provides perfect 'Canal Classrooms' to teach history and Science, Technology, Engineering and Mathematics curricula," according to the park service.
Award winners Saturday included Paul Chod and Andrew Chod of Minkoff Development Corporation who were honored as recipients of the C&O Canal Trust's William O. Douglas Award for Stewardship "for their stalwart support of the park through personal and corporate financial contributions, the donation of supplies, the provision of in-kind services, and volunteering."