Multiple event victories by sophomore Devyn Jones and domination of the relays, led the South Lakes High School indoor track teams to Liberty Conference championships in both the boys and girls divisions Thursday, Jan. 30 at the Prince George's County Sports and Learning Complex Landover, Md.
SLHS girls team scored 147 points for its fourth consecutive title. James Madison was second with 86 while Langley and McLean tied for third with 54.50 points each. The Seahawks boys team won its seventh consecutive title, massing 195 points with McLean second (68) and James Madison and Washington-Lee tied at third (48).
Jones teamed with fellow sophomore Jessica Lister, junior Golden Kumi-Darfour and senior Claire Nieusma in winning the girls 4x400 relay in 4:09.63. Jones finished fourth in the triple jump (33-07.00) and sixth in the 500 meters (1:23.64). On Day 1 of the championship (Jan. 22), she led a SLHS sweep of the girls 55 meter hurdles, winning the event in 8.85. Seniors Maya Rodriguez (9.44) and Nieusma (9.88) finished second and third, respectively, Jones also won the long jump (16-08.50).
Senior Comfort Reed, who finished third in the long jump (16-03.50) won the triple jump with a leap of 34-11.25. Reed and seniors Ozioma Chinaka, Samantha Webb and sophomore Nikayla Hoyte finished third in the girls 4x200 meter relay (1:48.83). Chinaka also finished third in the pole vault (8-03.00).
Senior Delaney Wickman finished second in both the 300 meters (41.96) and 500 meters (1:18.52). Kumi-Darfour was third in the 1,000 meters (3:07.82).
SLHS juniors, led by Eric Kirlew, dominated the boys triple jump. Kirlew won the event with a jump of 44-06.50. Skander Ballard was second (41-08.75), Anas Fain finished third (41-06.00) and Alex Rudison took fourth (39-10.00). Kirlew also led the SLHS boys' long jumpers on Day 1 with a winning distance of 19-10.00. Ballard was second (19-06.00) and Fain finished third (19.-05.00).
Photo Gallery
South Lakes Wins Conference Championship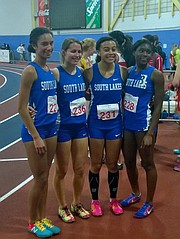 Both boys and girls win indoor track and field Liberty Conference championship.
Click Photo for Flash
Fain also contributed to the boys' championship finishing tied for second in the high jump (5-11) and winning the 55 meter hurdles in 7.94 on Day 1.
Kirlew, third in the 55 meters (6.84), sophomore Timiebi Ogobri, who was second (6.68) on the first day of competition, teamed with Ballard and Rudison on Day 2 to win the boys 4x200 relay in 1:35.66.
The 4x400 team of senior Sam Arpee, juniors John LeBerre, Nikolai Waithe and Ballard won the event in 3:35.59. Arpee also won the 500 meters in 1:08.81 and Waithe was second 1:09.58 in that event. In the 300 meters, Ballard finished second (36.73), Arpee was third (37.21) and Waithe finished fourth (38.21).
Highlights from Day 1 of the competition include:
*Senior Nathan Stone, second in the 55 meter hurdles (8.01).
*Senior Jordan Lozama won the 55 meters (7.45) and finished fourth in the shot (27-01.50).
*Senior Ozioma Chinaka won the shot put with a throw of 28-04.50. Senior Natalie Schauer was second (28-01.50).
*In the boys 3,200 meters, senior Andrew McCool ran a 10:04.65 for second and teammate Sean Miller, also a senior, took third (10:11.99).
*Sophomores John Swecker, Ashton Reinhold, juniors Connor Smith and LeBerre finished second in the 4x800 meter relay (8:33.16) .
*Freshman Olivia Beckner, Kumi-Darfour, junior Monica Lannen and senior Augusta Durham were third in that event with a 10:00.09.
The top six finishers in each event and the top three relays advance to the Northern 6A Regional Championship Feb. 19 at the Prince George's County Sports and Learning Complex in Landover, Md.