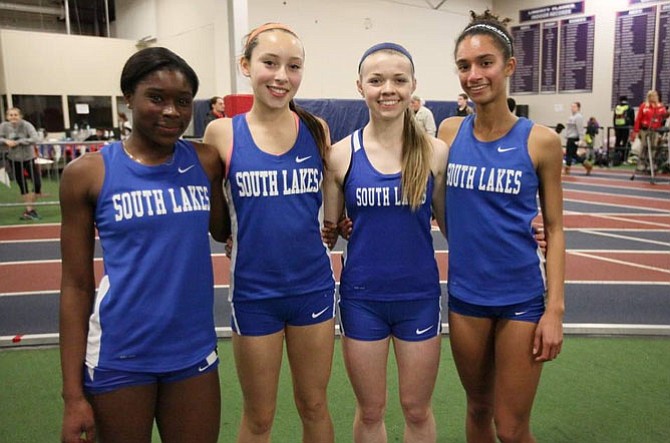 Seniors Golden Kumi-Darfour, Anas Fain and Skander Ballard closed out their regular season high school careers with wins at the Liberty Flames High School Invitational indoor track and field meet Jan. 15-16 at Liberty University in Lynchburg.
South Lakes finished second in the 53-team girls field and third among the 55 boys teams at the meet.
Kumi-Darfour won the 500 meters (1:17.50) and teamed with freshman Sophie Halkett, sophomore Olivia Beckner and junior Devyn Jones to win the 4x400 meter relay in 4:00.94. Halkett finished third in the 500 with a region meet qualifying time of 1:19.42 while Beckner won the 1000 meters in a state meet qualifying time of 3:01.51.
Jones won her second consecutive 55 hurdles race with a 8.60 in the preliminaries and a 8.51 in the finals, both of which are state meet qualifying times. She also finished fifth in the long jump with a region-meet qualifying jump of 16-04.75. Jones, Halkett, freshman Cara Hutson and junior Nikayla Hoyte finished second in the 4x200 meter relay with a region standard time of 1:48.08.
On the boys' side, Fain's victory in the 55 meter hurdles (7.71 prelims, 7.68 finals) has him undefeated in that event this season. In each race, he has won with a state meet qualifying time. Fain also finished 13th in the long jump (19-08.50, conference), 10th in the triple jump (41-08.75) and 21st in the 55 meters (38.01, conference). Senior Eric Kirlew finished second in the triple jump (45-05.50) and also has had a state qualifying jump in every meet this season. He also got conference meet standards in the high jump (5-06.00, 12th), 55 meters (6.76, 10th) and 300 meters (37.77, 18th) at the Flames meet.
Ballard won the boys 500 meters with a state meet qualifying time of 1:06.50. He also finished seventh in the triple jump (42-03.25, conference qualifier). Junior Timiebi Ogobri's 6.68 in the preliminaries of the 55 meter dash qualified for the region meet. He was fourth in the final (6.70).
Fain, seniors Nikolai Waithe, John LeBerre and junior Ashton Reinhold's time of 3:32.97 in the 4x400 meter relay placed SLHS third. The team has already met the state-meet standard.
SLHS track team member who achieved conference qualifying standards at the Liberty Flames meet include:
senior Alex Rudison (triple jump, 38-03.50, 23rd; pole vault, 10-06.00, 8th); senior Connor Smith (500 meters, 1:11.96, 24th); senior Christopher Byron (300 meters, 1:11.72, 22nd); junior Nikayla Hoyte (300 meters, 42.97, 6th); junior Peter Sepulveda (1000 meters, 2:44.67, 6th); sophomore Alex Wallace (500 meters, 1:11.66, 21st); sophomore Sarah Wolfe (500 meters, 1:25.42, 17th; 1600 meters, 5:27.49, 14th);Waithe (300 meters, 37.36, 11th; 500 meters, 1:09.21, 6th); and Reinhold (500 meters, 1:10.95, 19th).
South Lakes begin defense of its Conference 6 titles this Friday at the Prince George's Sportsplex in Landover, Md. The two-day meet is scheduled to conclude Thursday, Jan. 28.