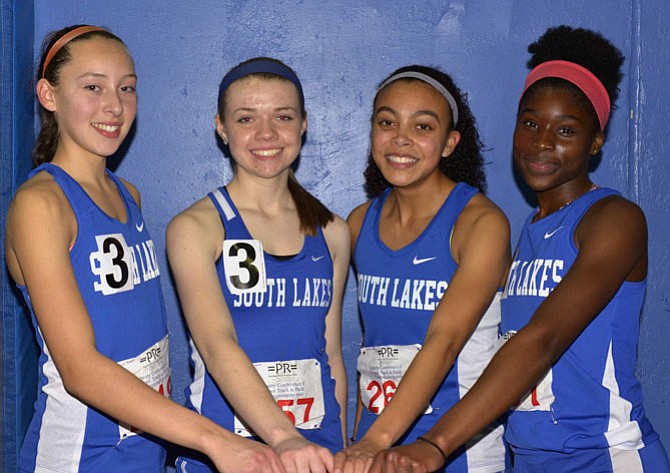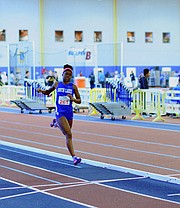 Paced by record-setting performances in the 500 meters, seniors Golden Kumi-Darfour and Skander Ballard led the South Lakes High School indoor track and field teams to Liberty Conference titles in both the boys and girls divisions Friday, Feb. 5 at the Prince George's County Sports and Learning Complex in Landover, Md.
The South Lakes girls team scored 138.50 points and placed in 13 of the 15 events in winning its fifth consecutive conference title. James Madison finished second with 89 points and McLean was third with 64. Langley scored 49.50 points for fourth, followed by Fairfax (44), Washington-Lee (39), Yorktown (21) and Hayfield Secondary (17).
SLHS boys team finished with 190 points, placing in 14 of 15 events, for its eighth straight conference championship. James Madison, again, was second with 55 points. Fairfax and Washington and Lee tied for third with 49 points followed by McLean (40), Hayfield Secondary (30), Yorktown (29) and Langley (23).
Fourteen SLHS girls and 15 boys contributed to the team scoring.
Kumi-Darfour was unbeatable in all of her events, especially in the 500 meters where her 1:16.55 broke the meet record of 1:17.92 set in 2005 by Claire Zimmeck. Kumi-Darfour began her win streak teaming with senior Monica Lannen, and sophomores Olivia Beckner and Sarah Wolfe to win the 4x800 meter relay (9:43.55). She finished the meet with a win in the 4x400 meter relay with teammates Beckner, freshman Sophie Halkett and junior Jessica Lister.
South Lakes will send more than 30 athletes to compete in the 6A North Region Championship, Thursday, Feb. 18 at the Prince George's County Sports and Learning Complex in Landover, Md.
--Photos by Harry Lister, Jr., Meredith Tighe, Brenda Wallace