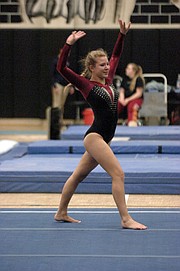 Herndon gymnast Alexa Bradley won the all-around title by a comfortable margin during the Conference 5 championship meet, finishing more than two points ahead of the competition.
Herndon's place in the team standings wasn't as clear-cut, but the result left the Hornets in a pleasant state of shock.
Bradley's individual effort helped Herndon earn second place and one of the conference's two regional berths on Feb. 5 at Centreville High School.
Robinson repeated as conference champs with a score of 136.55. Herndon finished with a total of 131.925, edging Oakton (130.225) for second place.
"We knew it was going to be close ... but I was shocked," Bradley said. "I thought Oakton was going to beat us."
The top two teams advanced to the 6A North region championship meet to be held at 4 p.m. on Wednesday, Feb. 11 at Lake Braddock Secondary School.
Herndon entered the meet as the conference's No. 3 seed behind Robinson and Oakton, and had finished behind the Cougars at a recent meet.
"We showed steady improvement from the first meet to where we are now," Herndon head coach Keith Naquin said. "It was gradual with each meet. Everybody was kind of stepping up and it showed tonight."
Bradley lead the way for Herndon. The sophomore won the all-around with a score of 36.175. Robinson's Caroline Burda finished runner-up with a total of 34.05, followed by Oakton's Natalie Weaver (34) and Robinson's Bailey Young (33.975).
The top four all-around finishers advance to regionals.
"I was surprised by some of my scores," Bradley said. "I thought I was going to get lower than I got."
Bradley won three events, highlighted by a score of 9.575 on floor. She also finished first on bars (9) and beam (8.5).Bradley tied for third on vault (9.1).
"She's a hard worker and it showed tonight," Naquin said. "... To be that consistent in all four events" is a strong overall performance.
Herndon's Alyse Johnson placed second on floor (9.25), sixth on beam (8.1) and tied for sixth on vault (8.9). Bailey Hubble finished seventh on bars (7.825).
Johnson tied for fifth in the all-around with a score of 32.65.