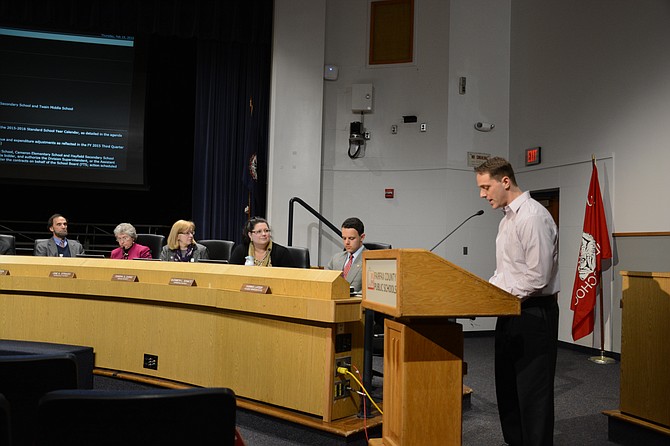 Greenbriar West Elementary School is far from the only Fairfax County Public School with an overcrowding problem. Though with its student body of over 1,100 running 265 over capacity, the school is in danger of not being able to taken on any new students for its Advanced Academic Program (AAP) Center.
Greenbriar West in Fairfax is one of 27 elementary schools in the county that offer full-time gifted and talented centers, with a more complex and difficult curriculum for students in grades 3-6 that are specially selected based on high academic performance. According to FCPS, the school has 600 students currently enrolled in its center.
As a solution to allow students to continue to be added to the center, FCPS recommended creating a new center at Poplar Tree Elementary School in Chantilly, effective beginning in September of this year.
Dr. Sloan Presidio, assistant superintendent with the FCPS Instructional Services Department, presented the recommendation to the school board at their regular meeting on Thursday night on Feb. 19.
"The rationale is pretty straightforward," said Presidio. "Clearly capacity exists at Poplar Tree: They're currently at 96 students under capacity."
Under the proposed plan, eligible students from Poplar Tree, Brookfield and Cub Run elementary schools could attend the Poplar Tree center, the Greenbriar West Center would serve students from Greenbriar West, Greenbriar East and Colin Powell elementary schools, and the Bull Run Center would serve Bull Run, Virginia Run, Deer Park, London Towne and Centre Ridge elementary school students.
Currently most Poplar Tree students and Greenbriar West students living within the school's base boundary (not those attending the center from other areas) feed into Rocky Run Middle School and Chantilly High School.
Though the center covers grades 3-6, Presidio said it would be difficult to implement the new center in all three immediately. One of the challenges would be ensuring staff readiness for each grade.
So for the last two months, Presidio and FCPS staff conducted a survey of parents that they believe could be affected by the change. Specifically, the asked which grade or grades a new center (if created) should start with.
The survey went out to 2,549 parents, of which 589 responded. Of those, over 60 percent were positive towards creating the center. When asked to choose between opening with just third grade, just third and fourth grade, or all three grades, 36 percent of the 589 answered they would prefer all three. Eighteen percent said only third grade, 13 percent said third and fourth.
Based on the survey and other community outreach, Presidio said the staff recommendation was to start in September with third grade only and allow for fourth grade pupil transfer. The two grades would stay at their current centers.
The recommendation drew concern from parents in the audience: 7 out of the 10 citizen speakers at the meeting addressed the proposal.
"We support the recommendation that Poplar Tree become an AAP center," said Christopher Ferragamo, the father of a Poplar Tree student, "but disagree that the placement should be given to third grade only."
Some parents with children in different grades raised the logistic difficulties of driving students to different schools with different start times. Others were frustrated about losing the ability for siblings at the same school but in different grades to challenge each other.
Former school board member Tina Hone used the topic to address what she sees as an achievement gap between Caucasian and Asian students and African American and Latino students in FCPS.
"We have no quarrel with creating a new center to relieve overcrowding," said Hone, who has been chair of the student-parent interest organization Coalition of the Silence. "But what troubles us is the lack of strategy to end the separate and unequal sub-school system comprised of largely segregated level 4 GT centers."
After Presidio's presentation, which FCPS superintendent Dr. Karen Garza reminded board members was new business rather than an action item up for voting, there was discussion as to the extent of the data collected in the public survey.
"I understand the measure behind why you start the AAP center with a slow roll out," said Springfield representative Elizabeth Schulz, "building the program, knowledge of administration, building a staff." And as for starting with just third or just third and fourth grades, "the conversation has to continue to develop," she said. "I'm not sure we're there."
"The hardest part in all of this is you have all different communities with different wants," said Sully representative Kathy Smith. "I'm hoping to hear from more of the community as soon as possible."
At-Large board member Ilryong Moon questioned whether the survey responses gave a strong enough reflection of parents by grade level that would be affected.
Presidio acknowledged the grade breakdown was an additional step the study did not have, but offered at one point that, "No matter what we do, if board were to adopt the staff recommendation, we have to query our families."
"This is not up for action tonight," Garza reiterated. "We want to make a recommendation that is strongly supported by our parents."
The board's next meeting will be held March 5 at Luther Jackson Middle School, 3020 Gallows Road in Falls Church, beginning at 7 p.m. Citizens can mail comments to the School Board Office, 8115 Gatehouse Road, Suite 5400, Falls Church, VA 22042, or e-mail fairfaxcountyschoolboard@fcps.edu.