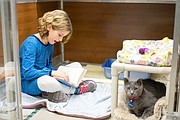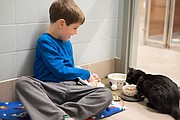 Schoolchildren in the Northern Virginia and Washington D.C. metropolitan areas have an opportunity to improve their literacy by reading books to shelter cats through the Paws and Read program, which will launch on March 2 to coincide with Dr. Seuss' birthday and to celebrate his world renowned book, "The Cat in the Hat." The Paws and Read program is an Animal Welfare League of Arlington educational initiative designed to help children improve and enhance their reading skills, while at the same time provide shelter cats with socialization and TLC.
Unlike human listeners, the cats are nonjudgmental, and animals can be a source of comfort and support for children as they learn. According to a study conducted by Tufts University Paw for People Visitation Team, "Kids who did this improved their reading skills compared with those who read to human volunteers."
"Children that have difficulty reading are often self-conscious when reading in front of other classmates," said Jennifer Pickar, director of community programs, AWLA. "Having a playful, purring companion around can make reading more fun and help to build the child's self-esteem."
The Paws and Read program benefits the shelter cats as well. Each year AWLA receives about 900 cats with an average length of stay of 35 days. With no time limit for any of its animals, some cats may live at the shelter for months before finding permanent homes.
"Cats are inherently social creatures and enjoy human interaction," said Kevin Simpson, director of behavior and adoptions, AWLA. "The rhythmic sound of a child's voice can be soothing and provide our shelter cats with an outlet for human socialization while they await adoption."
There are plans for the Paws and Read program to expand to include dogs and small companion animals. But for now, children in kindergarten through fifth grade are invited to participate, for free, in 20-minute reading sessions with shelter cats on Mondays, Wednesdays, Thursdays and Fridays from 1-5:20 p.m. Parents must accompany their children to the reading sessions. Children may choose a book from AWLA's selection of stories or bring their own. AWLA will feature Dr. Seuss books in March to honor the late author's birthday. Cats participating in the program are identified with "Purrrfect Reader" signs on their cages.
"It is satisfying to see the children engaged with the shelter cats in a relaxed and fun environment, where they don't have to worry about someone telling them they pronounced a word wrong or skipped part of the story," said Pickar.
To register for the Paws and Read program visit, www.awla.org or 703-931-9241 ext. 213.