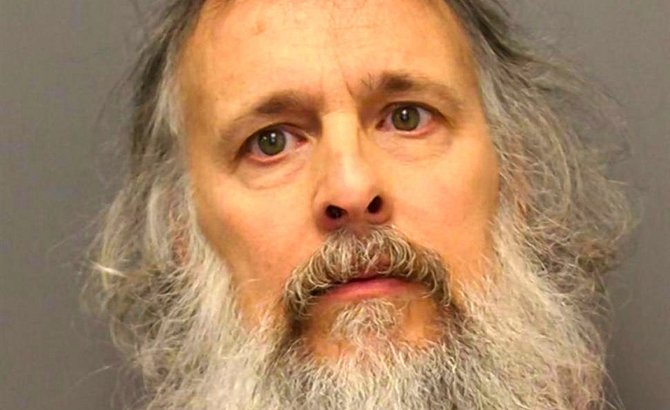 For much of Alexandria's law enforcement, 2014 was defined by a manhunt across state boundaries to catch a suspect in killings that haunted the city's streets for 10 years. In 2015, the most immediate concern for the police and sheriff's office is the no less complicated task of finding a way to maintain their efficiency with the prospect of a tightening budget from the city.
For Alexandria Deputy Chief Huchler, the biggest challenge of 2014 was the Charles Severance case. Arresting Severance, who is accused of the murder of three Alexandria residents, required the Alexandria Police to compile investigations that spanned 10 years.
"The investigation involved every aspect of the [department]," said Huchler. "Last year, the challenge was bringing as many resources as possible together to solve these cases. That involved an internal investigation of the murders and cross collaboration."
The 2013 murder of Ronald Kirby reignited the investigation into the similar 2003 slaying of Nancy Dunning. While police said there was no single breakthrough in the case, a description by a witness in the Feb 6 murder of local music teacher Ruthanne Lodato greatly aided the investigation. As the investigation continued, Huchler said it became apparent that Alexandria Police would benefit from outside assistance.
"We realized it was bigger than Alexandria," said Huchler. "We relied on our federal partners, our state partners, and other local agencies to assist with this investigation. It made me realize we need to be flexible as a department. Teamwork was necessary to make this [investigation] successful."
Huchler said the Alexandria Police still need to capitalize on the networking that emerged during the Severance case.
"We need to continue to build the relationship with our partners," said Huchler. "If we have another incident, we can now pick up the phone and call those partners."
Severance was arrested in West Virginia in March on a weapons charge and was officially charged with the Alexandria murders in September.
"As big a challenge as that was, we made an arrest, and it was a success," said Huchler, but said the police can't lose focus now that the case has gone to trial. "It's not over yet."
The Severance case is being prosecuted by Alexandria's Commonwealth Attorney Bryan Porter. The Severance trial is set for October 2015.
"We will continue to focus resources on the most serious violent offenses," said Porter, "homicide, sexual assault, robbery and felonious assaults such as shootings and stabbings."
But Porter also said there are deeper issues in Alexandria that are just underneath the surface.
"I believe that human trafficking is a real problem in our community, and my office will zealously prosecute traffickers," said Porter. "And, as always, we will focus on domestic assault cases. One domestic assault victim is too many, and we will do our part to combat this scourge in our community."
2014 was Porter's first year as Commonwealth Attorney, following his election in November 2013. Looking back, Porter said the work hasn't been easy, but that he's proud of the work his team has done.
"The biggest challenge was taking over the office from Randy Sengel, a highly-respected career prosecutor with 34 years of service to the City," said Porter. Sengel decided in 2013 not to seek reelection to his office as Commonwealth Attorney. "That huge challenge was made even more difficult because our office was tasked with the prosecution of several high-profile matters. I am blessed to have an office filled with outstanding attorneys, victim witness advocates and support staff who have truly stepped up to the plate to do an incredible job in 2014."
The Charles Severance case also had an impact on the Alexandria Sheriff's Department. Sheriff Dana Lawhorne chose to transfer the accused murderer to the custody of the Arlington Sheriff's Department to avoid any appearance of a conflict. Lawhorne is a friend to retired General District Court Judge Robert Giammittorio, whose sister was Lodato.
"[We are] preparing for successful re-accreditation by the Commission on Accreditation for Law Enforcement Agencies in April," said Amy Bertsch, communications specialist for the Alexandria Sheriff's Department via email, "[We are] maintaining critical services and programs and staffing with ongoing budget limitations and cuts."
"We have great public trust, but we want to make sure we engage and have discussions with the community."

— Alexandria Deputy Chief Huchler
Budget constrictions were a shared concern across Alexandria law enforcement departments.
"As we move into fiscal year 2016 budget, one of the things we're going to be considering very closely is what resources we need to do our job," said Huchler. "We'll soon be developing budget discussions on where the resources are going to go. For us that's in line with our ability to engage the community. That's the biggest challenge moving forward. We're working very closely with Office of Accountability and we've been developing a department work plan to meet those goals and strategies we've put in place."
For 2015, Huchler said the police department needs to refocus on building its relationship with the community.
"We have great public trust," said Huchler, "but we want to make sure we engage and have discussions with the community."
Part of that discussion in 2015 will revolve around whether or not Alexandria Police Officers should carry body cameras. At a public hearing on Dec. 13, local citizens voiced their hopes that Alexandria would be at the forefront of the national trend on body cameras.
"I approve of body-worn cameras to record every police-civilian encounter," said Cynthia Dinkins, president of the Northern Virginia Urban League. "We can combine an accountable police force with public safety to bring down crime and reduce friction between police and the community. We cannot and will not tolerate officers who take it upon themselves to participate in blatant misconduct; whether excessive force or otherwise. We need a new generation of policing that ensures the safety of our citizens and communities but does not violate the civil rights of anyone."
Some on City Council voiced support for mandating body cameras for the Alexandria Police.
"Body cameras, improved technology, improved communication, improved training, I think they're all needed," said City Council Member John Chapman at the Dec. 9 City Council meeting. "Is it tough to fund? Is it tough to create policy around? It can be, but what I look at for us in Alexandria … is we have the opportunity to bring that conversation to the community."
But Mayor William Euille urged the council not to make a hasty decision on body cameras, which he said are not the cure-all solution for police and civilian conflicts.
"I support the use of body cameras," said Euille, "but I don't want to see us invest and waste money on 20 body cameras when we have a need for 10 or 15 more police officers, or when we may need millions of dollars for more improved training or technology that helps build and enhance community and police relations."
Huchler said the department is open to the idea, but that the conversation, and the decision, will ultimately require community input.
"It's a national conversation right now, and we're absolutely thinking about that," said Huchler. "As we're doing our research and looking at how it impacts the police department, this is less a decision for the police department and more for the community and the city. This will have a major impact on the community, and as we move forward we want to make sure we research this well and make a collective decision."
Huchler says a good opportunity to start that conversation will be the Community-Police Forum on Jan. 20, 7 p.m. at the Durant Recreation Center.