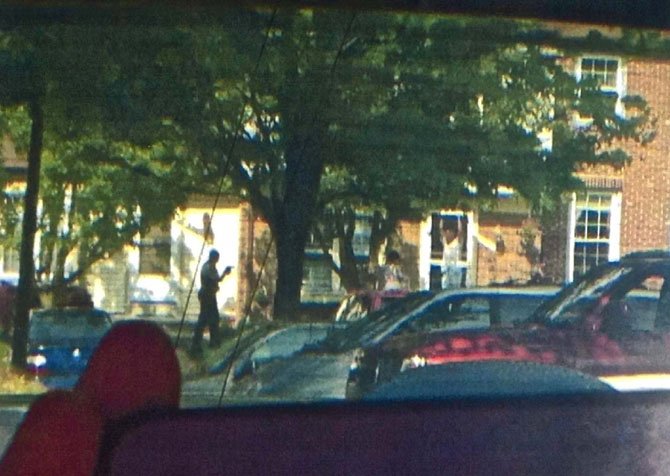 It's been more than 16 months since John Geer of Springfield was shot and killed by a Fairfax County Police Department (FCPD) officer. And since the Aug. 29, 2013 shooting, scant information on the incident has been provided by the FCPD or the county Board of Supervisors, such as an explanation of what transpired up to and following the shooting, and the identities of the officers involved. They've kept this information from the media, the public and the Geer family, citing an ongoing federal investigation into the death.
That was until Jan 5, when Fairfax County released a 304-word statement regarding the events surrounding Geer's death. For the first time, the officer who shot Geer was named: PFC Adam Torres, who the statement said, "fired a single shot that struck Geer."
"We've had policies in place regarding when a police officer's name and information is released," Board of Supervisors chairman Sharon Bulova said Monday night. "Usually it's a matter of weeks. In this particular case it turned out to be an unusual situation that took longer."
Police had been called to Geer's house by his partner and mother of his two daughters Maura Harrington, over a domestic dispute. The statement says officers, "including a trained negotiator," talked with Geer for over half an hour while he stood in the doorway of his house, arms raised above his head and resting on the doorframe.
"Geer was reported as having multiple firearms inside the home," the statement says, "displaying a firearm that he threatened to use against the police, and refused the officers' requests that he remain outside and speak to them."
Torres then shot Geer in the chest when he began lowering his hands.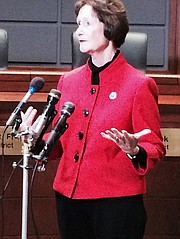 ACCORDING TO THE STATEMENT a SWAT team entered Geer's house, after Geer died, and found a loaded, holstered handgun on the stairs by where he had been standing.
"A large amount of citizens have guns in their home. Does that give them the right to come and shoot you?" said Jeff Stewart of Chantilly, a friend of Geer's for over 25 years who witnessed the shooting.
"At the time he was shot he wasn't bearing any arms. He owned them. Why is it relevant to the release? Does a loaded gun show intent? The burden fell on the police to defuse the situation, let the guy go inside, chill out."
Geer's father Don didn't hear about the county's release until someone called to say it was happening on television.
"The press release I felt was very tainted towards the police department," he said. "It depicted John as being a terrorist or something, had all these guns in the house. He was a hunter. It didn't sound like that."
THOUGH THE COUNTY'S STATEMENT refers to a Circuit Court ruling that they "may release some information pertaining to the Aug. 29, 2013, officer-involved shooting of John Geer," the Dec. 22 opinion from judge Randy Bellows was a court order.
After a Dec. 19 hearing in Fairfax, Bellows quickly turned around a response forcing the county to produce more than 100 documents being sought by lawyer Michael Lieberman in a $12 million civil suit over Geer's death. According to Lieberman, the county had previously objected to all but six of 127 requests for documents.
"That's pretty amazing to have a judge turn around and give you a 12-page opinion over a weekend," said Lieberman. "He obviously worked on it all weekend, he listened carefully."
The documents include everything from 911 calls and witness statements to the medical treatment of Geer and blood pattern examination. Bellows is holding off granting or denying production of several documents as they relate to the county's internal investigation or the federal investigation. He gave the county 30 days to produce all the others.
The FCPD has defended their silence so far through the criminal investigative privilege afforded by the Virginia Freedom of Information Act (FOIA). The department declined to comment for this story and the Fairfax County Attorney's office didn't respond to an interview request.
In his opinion piece, Bellows wrote: "The entity seeking to assert the criminal investigative file privilege is no longer responsible for any aspect of the criminal investigation and the entity that is now solely responsible for the criminal investigation has made it clear that it has taken no step to discourage the custodian of the criminal investigative files from disclosure of most of the files at issue."
Bellows referred to correspondence between U.S. Sen. Charles Grassley of Iowa and Assistant Attorney General Peter Kadzik, acknowledging that the case currently sits with the U.S. Department of Justice, not the state's attorney or the FCPD. Grassley, ranking member of the Senate Judiciary Committee, sent formal inquiries to FCPD Chief Edwin Roessler and U.S. Attorney Dana Boente about the case in November 2014. He sent another letter to Fairfax County Commonwealth's Attorney Raymond Morrogh in December.
Kadzik answered Grassley that the FCPD wasn't instructed to withhold information about the shooting, only the federal investigation.
Lieberman has continued to criticize the Board of Supervisors, who have authority over the FCPD and allowed the silence from that department to continue.
For Stewart and the Geer family, the continued silence, even with this recent disclosure, has been frustrating and painful.
"It's surreal enough to watch your friend get shot," said Stewart. "It goes to a whole different level when no one's held accountable."
"I can't figure out why I've had to go through this miserable 16 months in order to hear anything being done at all," said Don Geer. "Closure would be why someone pulled the trigger and killed my son, that's as much as I can expect at this point in time. A better idea of why did it happen."
SUPERVISOR Pat Herrity (R-Springfield) agrees transparency has been a problem.
"We need to be transparent and we haven't been," he said in a recent interview. "The county attorney is supposed to provide advice, we make decisions. I think we've been following overly protective legal advice instead of making the right decision in this case, is really what it boils down to."
Lieberman said he sees this action by the county as "preemptive damage control." He continued, "The only positive thing I take out of it is some claim they're finally going to change the policies."
Bulova admitted the Board of Supervisors, FCPD and County Attorney's policies on information sharing all need to be examined. "In retrospect," she said, "our policies need to be changed to provide information sooner if there is a delay like this."
She also addressed the possibility of revisiting creating a citizen's police advisory council.
"At least it's getting their attention," Geer said. "The idea of the police investigating the police just doesn't work. That's all there is to it."
Lieberman is optimistic that future hearings will help produce more documents, and for now at least some answers to 16-month-old questions are coming forward.
"The nightmare of John's shooting isn't ever going to end," he said, "but the nightmare of what the county's done, at least we can see the light at the end of the tunnel for getting over that part."