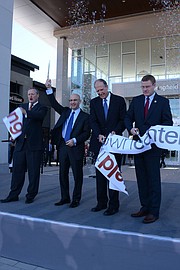 Springfield Town Center
A crowd of eager shoppers gathered Oct. 17, 2014, for the grand opening of the Springfield Town Center, a completely revitalized version of the long dilapidated Springfield Mall. The first in a multi-phase redevelopment plan for the area that includes new residential and office space, the born-again retail now destination hopes to draw diverse clientele from around the region with higher end vendors like British fashion brand Topshop, designer Michael Kors and a fresh batch of restaurants including Maggiano's Little Italy.
"People in this end of the county have waited literally decades to have their mall returned to them," said Supervisor Jeff McKay (D-Lee). "This is by order of magnitude biggest thing that happened last year."
"Folks in Lee District were just euphoric," said Board of Supervisors Chairman Sharon Bulova. "It's breathed new life into that part of Springfield."
Wegmans at Hilltop Village Center
The grocery heavyweight should be opening its doors in March or April of 2015, according to McKay, though no official date has been announced. A 350,000 square-foot facility will anchor the developing Hilltop Village Center at the corner of Telegraph Road and Beulah Street and looks near-completion, but McKay said more complex permits and inspections are required because of the store's included sit-down restaurant.
"It will change the nature of the district, as people come across Jeff Todd Way," said Del. Mark Sickles (R-43). "Wegmans tends to draw from a larger radius than typical grocery stores do. Businesses that surround it in that shopping center are in a good position to also benefit."
Vying for FBI Headquarters
In October 2014, the Greater Springfield Chamber of Commerce submitted a petition inviting the FBI to relocate its headquarters to the GSA Franconia Warehouse Complex in Franconia. The FBI is considering the site, in a "fact-finding mode," according to Springfield Civic Association president Bruce Waggoner. "It would be such a game-changer for us," he said.
"Even though we wouldn't see it for four to five years," said chair of the Springfield District Council James Kirkpatrick, "the customer base is relevant to a lot of the businesses around here. It's the prestige factor, the kinds of support you would get when you have an extra base of people.
"Within a decade we're going to see a well-developed, designed area," said Delegate Vivian Watts (D-39). "It's good to see steps taken properly."
Opening Jeff Todd Way
After a closure dating back to Sep. 11, 2001, the three-mile, four-lane stretch Jeff Todd Way opened in August 2014, re-connecting Mount Vernon and Lee Districts via Route 1 and Telegraph Road. Named for the late businessman and well-regarded civic leader, the passage was a collaborative effort among government officials, the Department of Defense the National Trust for Historic Preservation.
"It's been so hard to get from the Route 1 corridor over to Springfield and vice versa," said McKay. "That really hampered our development."
"For anyone that lives south of the Costco, trying to escape Route 1 traffic was virtually impossible," said Delegate Scott Surovell (D-44). "The cross-connectivity brought by Jeff Todd Way has been a huge relief to anyone who lives in 22309, and was a long time coming."
Transportation Improvements
With money finally coming in from the 2013 transportation bill delegates Tom Rust (R-86) and Dave Albo (R-42) helped bring about, as well as the county's passage of a transportation bond referendum in 2014, roads like the Fairfax County Parkway and Old Keene Mill Road are being repaved. "The state was so broke, there wasn't not enough money to put in one stoplight," said Albo. "This bill, Bob McDonnell's big achievement, basically cut the gas tax, raised sales tax and created billions of dollars for roads." Other developments going forward in 2015 include extending Shirley Gate Road to the Fairfax County Parkway and updating the connecting Popes Head Road interchange, widening Rolling Road, and improving the intersection at Kings Highway, Van Dorn Street and Telegraph Road.
"In terms of mileage, we don't talk that way," said Congressman Gerry Connolly (D-11). "We talk about time: How long does it take? Our congestion is such it's immaterial how far it is. We haven't passed a long term transportation and infrastructure bill; we've only been doing it year by year and need immediate reform."
Additional Highlights
*"Obviously it's an election year," said McKay. "The entire Board of Supervisors, school board, delegates. That's exciting. It gives us an opportunity to get a good exchange of ideas out there, get the public more civically involved."
*"Our $168 million budget shortfall," said Supervisor Pat Herrity (R-Springfield). "Our poor economic growth, dealing with that is going to be a big thing in 2015. Our region ranks below Detroit, and has for the last three years. We have to open Fairfax for business again."
*New turf fields installed at Edison High School in 2014 and renovation design moving forward for West Springfield High School in 2015 for construction in 2016.
*Phase I construction of the Silver Line Metro and securing financing for Phase 2.
*New 95 Express Lanes opened in 2014.