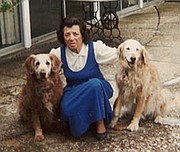 Elizabeth Weil Oberdorfer died peacefully on Sunday, Jan. 4, 2015, surrounded by two generations of her family. She lived 96 vibrant years. Elizabeth was born in Montgomery, Ala. in 1918. She graduated from Smith College in 1939 and worked and lived in New York City for a short time following her graduation. She married Louis Falk Oberdorfer of Birmingham, Ala. in 1941. After World War II, they moved to Washington, D.C. and then to McLean, in 1966. Together, they enjoyed their beach cottage at Sussex Shores, Del. Judge Louis Oberdorfer passed away in 2013.
Elizabeth loved dogs, particularly her many generations of golden retrievers. Late in life she earned her veterinary technician's degree from Northern Virginia Community College. Elizabeth was an indefatigable tennis player and skier, an avid Washington Nationals fan, a skilled sculptor, a devoted Election Day poll watcher, a lifelong Democrat, and a passionate conservationist. She was deeply committed to wildlife preservation and land conservation efforts in Yellowstone National Park and the Virginia Coast Reserve on the Eastern Shore of Virginia. Elizabeth took great joy in her family and loved hosting four-generation holiday gatherings and attending concerts and baseball games with her children, nieces, grandchildren, and great-grandchildren. Affectionately called "Bibet" by her grandchildren and great grandchildren, Elizabeth is survived by her sister, Mary Lynne Levy, her four children, John, Kathryn, Thomas and William Oberdorfer, five grandchildren, and three great grandchildren.
A family burial was held on Jan. 10. Those wishing to make donations in Elizabeth's memory may do so through the Simile-Finale Fund (grreat.org/donatesupport/the-simile-finale-fund) created by Elizabeth at GRREAT (Golden Retriever Rescue, Education and Training), the Virginia Coastal Reserve (PO Box 158, Nassawadox, VA 23413 ) or the Greater Yellowstone Coalition (greateryellowstone.org).
More like this story