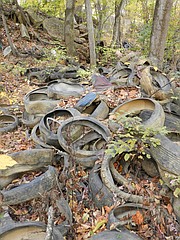 In early December 2014, the Fairfax County Fire Marshal issued a notice of violation to AAAACo Used Auto Parts in Lorton for more than 1,000 used tires on their property and overflowing into Giles Run, according to Fairfax County Fire & Rescue Department spokesman Dan Schmidt.
The company was given 30 days to remove the hazardous tires, which Schmidt said were "inherited" by the company.
"It's not a small clean-up," said Schmidt, but the company and the fire department have been working daily on clearing the site. They're about halfway there, he said.
"We anticipate it should be complete in the next few weeks," said Schmidt, who added that the tires "are being disposed of properly. They're doing everything they can to complete the process and ensure this eyesore is gone."
Residents can report dumping by calling the county's police and fire non-emergency number 703-691-2131.