More than 100 family members and friends gathered Sunday afternoon, Jan. 18, in Centreville United Methodist Church's fellowship hall to celebrate Claudette Ward's 80th birthday.
"Her love of family, church, history, gardening and mankind in general have kept her young," said son-in-law Dave Mellott. "People may see her as 80 years old, but we see her as 80 years young."
Ward has also packed a slew of achievements in her eight decades, and she's not done. The longtime Willow Springs resident has been an active, community volunteer since the 1960s and has fought to preserve and promote the area's history.
She's secretary of the Historic Centreville Society and has written many articles on Virginia history for its publication, Millrace. And she's a member of both the Stuart-Mosby and the Fairfax County historical societies.
Ward and her husband John, who died in October 2002, were married 53 years and had eight children — four boys and four girls. Celebrating her birthday with her on Sunday were John Jr. and Ted Ward, Linda Mellott, Judy Ward, Norma Apone and Karen Sica.
Photo Gallery
Claudette Ward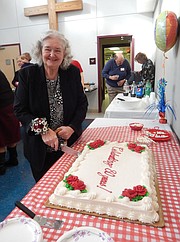 Family, Friends Celebrate Claudette Ward
Click Photo for Flash
Also at the party were Claudette Ward's 11 grandchildren and seven great-grandchildren (with one more on the way). Youngest son Jimmy died in an accident in 1978, and Bill, 63 — who was disabled after an accident — died Dec. 29.
John Ward was one of the first members of the Centreville Volunteer Fire Department (Station 17), and Claudette served as its Ladies Auxiliary president and vice president. She was also president of CUMC's United Methodist Women and served on the Springfield District/Fairfax Center Land-Use Committee.
In 1992, Supervisor Michael R. Frey (R-Sully) selected Claudette Ward as the very first Lady Fairfax from the Sully District for her contributions to the Centreville area. She also dedicated countless hours to the Crouch School relocation, moving the Legato School and expanding the Centreville Historic District.
In June 2008, the Lane's Mill Chapter of the Daughters of the American Revolution (DAR) presented her with its Community Service Award. And in December 2009, she received the Clinton Hatcher Award from the Sons of the Confederacy Camp 21. Both honors were in recognition of her "outstanding service and efforts for the educational, historical and patriotic preservation of history."
Sunday afternoon, a roomful of relatives, as well as longtime friends such as Kenyon Davis and Pete Kirby — both of whom served as fire chiefs of Station 17 — and their respective wives, Kathleen Davis and Lauren Kirby, who served on the Ladies Auxiliary, recalled fond memories and shared in the birthday festivities.
Others expressed their thoughts in a birthday booklet of "special moments and treasured memories" created for the occasion. Ed Wenzel, who's known Ward for 30 years, said she's "always been among the first responders on historic-preservation issues, be they at Centreville, Ox Hill, Fairfax or elsewhere, including cemeteries, historic buildings and earthworks. She has been a tremendous advocate for the preservation of Fairfax County's heritage. She is a gracious and beloved lady and a treasure to all."
Sue Clark noted "special memories of working [with Ward] in the kitchen, every Tuesday and Saturday, at Centreville Volunteer Fire Department bingo." And county Planning Commission Chairman Pete Murphy called Ward "a wonderful woman who has dedicated many of those 80 years to serving Fairfax County citizens."
During the party, Ward's children presented her with a pendant of a family tree adorned with her children's birthstones, and several people got up and spoke about what she meant to them. Daughter Judy read a poem she'd written, and daughter-in-law Nancy Ward (John Jr.'s wife) said, "I couldn't ask for a nicer person or a softer heart. She welcomed my family into hers, and that meant a lot to me. I love her with all my heart."
Pete Kirby said Claudette Ward was part of the Ladies Auxiliary while he was chief, and "the contributions they made to the community can't be measured. We don't often get to see the impact we've had on people's lives — and this is just a fraction of it for Claudette."
Her grown granddaughter, Gretchen Ward (Bill's daughter), said, "Growing up, I always had a good relationship with my grandparents. I have wonderful memories of playing at grandma's house, walking in the woods, playing with homemade Play Dough and making cookies. Happy birthday, Grandma — love you."
Lastly, Claudette Ward told the crowd, "How much I appreciate you being here. My birthday's just an excuse to get my extended family and some of my friends together. As I look around the room, I love you all; thank you so much." Then, acknowledging her son Bill, who'd died just three weeks earlier, she said she knew "he's here with us in spirit."