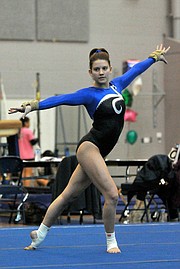 As Rachel Barborek waited to start her floor routine during Saturday's Barbara Reinwald Invitational, the Fairfax senior looked around at the gymnasts and spectators inside the Washington-Lee High School gymnasium and realized most of them were looking right back.
"Today on floor, in one corner I could see everyone was staring at me," Barborek said. "I was like, that's cool, I guess. It doesn't bother me, especially not on floor, because I like to perform."
Barborek put on a show, earning a score of 9.3 and causing onlookers to say things such as "she's so good" and "she's fun to watch." Barborek's performance on floor helped her overcome a sub-bar performance on beam and eventually capture first place in the all-around on Jan. 24.
Barborek produced a score of 36.525, edging Washington-Lee senior Sophie Hatcher (36.35). W-L's Annie Hatcher placed third (35.35), followed by Yorktown's Juliette Mitrovich (34.975), T.C. Williams' Cailyn Lager (34.925) and Hayfield's Molly Overstreet (34.55).
Barborek's day started with two falls on beam, resulting in a seventh-place finish and a score of 8.55. She bounced back with a second-place finish on floor, a third-place finish on vault (9.2) and first-place performance on bars (9.475).
"It really was not my best at all," Barborek said about her overall performance. "I started with two falls on beam and I really thought that Sophie was going to beat me. It was a nail-biter at the end."
Washington-Lee won the team title with a score of 105.75 (top-three format). Yorktown finished runner-up (101.55), followed by T.C. Williams (97.725), Fairfax (93.45) and Woodson (90.975).
The ultra-competitive Conference 6 championship meet is scheduled for Monday, Feb. 2 at McLean High School. Barborek is the defending conference all-around champion. She finished second at the 2014 6A North region meet, earning a trip to states.
"I'm pretty confident that I'm going to do well," Barborek said. "I'm just going to practice hard."
McLean senior Lizzy Brown-Kaiser, who finished conference runner-up last year, Washington-Lee's Sophie Hatcher and Annie Hatcher, and Yorktown's Mitrovich could also be in the running for the conference all-around title.
Hayfield's Overstreet, a junior, captured a three-way share of the AAA vault state championship as a freshman and won the 6A bars state title as a sophomore with a state-record score of 9.925, but has battled a back injury this year. She finished third on bars (8.85) and floor (9.05)Saturday.,
The team competition will likely come down to Washington-Lee, the three-time defending region champion, McLean, last year's conference champion and region and state runner-up, and Yorktown. Only the top two teams advance to regionals.
"Our conference is the hardest by far because McLean and W-L" have been the top two teams in the region each of the last three years, Yorktown head coach Joanne Price said. "Going up against them in an entry-level meet is a hard position to be in. They're both excellent teams."
The 6A North region meet is scheduled for Feb. 11 at Lake Braddock Secondary School.