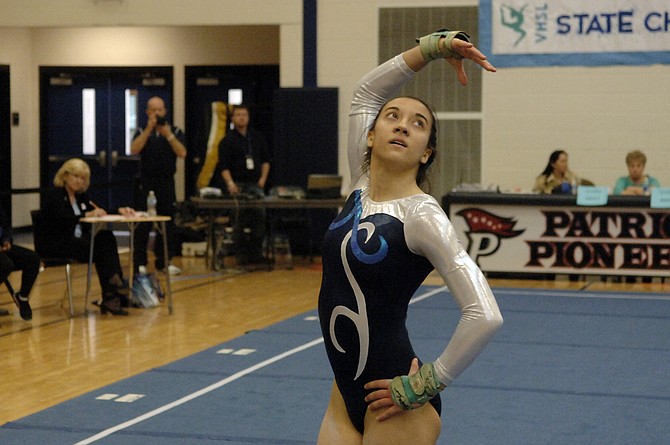 In 2012, Washington-Lee gymnast Sophie Hatcher was a freshman in awe of teammate Mary Lynn Clark, who won state championships that year on bars and vault.
Clark scored 9.9 in each event, her bars score at the time tying the state record. Hatcher was part of a W-L squad that finished state runner-up in the team competition that year, but doubted she would ever experience the type of individual glory Clark had achieved.
Three years later, Hatcher made multiple trips to the medal stand at states, putting the finishing touches on a successful senior season.
Hatcher medaled in the all-around, placing fifth with a score of 37.325 at the VHSL individual state meet on March 8 at Patriot High School. She also medaled on floor, placing third with a score of 9.55, and vault, tying for fifth with a score of 9.6.
"In my freshman and sophomore year, we had Mary Lynn Clark, who was amazing," Hatcher said. "She would get 9.9s at states. ... It's really exciting to be able to actually place in the state meet. As a freshman, I don't think I ever thought that I would be able to get there. It's just really exciting and I'm really happy with how it ended."
Hatcher finished 12th on beam (9.15) and 14th on bars (9.025).
Hatcher's performance at states capped a stellar ending to her four-year high school career.
On Feb. 2, Hatcher won the Conference 6 all-around title with a score of 37.625, including vault and floor championships.
Nine days after finishing atop the most competitive conference in the 6A North region, Hatcher won the regional all-around championship with an even better score — 37.65.
"I'm proud of myself for having two really good meets in a row at conferences and regionals," Hatcher said, "... and I'm proud to get fifth [in the] all-around here, too."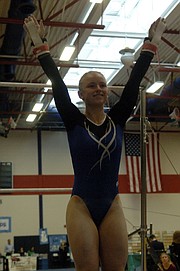 Yorktown's Juliette Mitrovich also earned more than one trip to the medal stand at states. The sophomore earned all-state on bars (seventh, 9.15) and beam (tied for seventh, 9.275).
"For both bars and beam, I was very pleased with my performance!" Mitrovich wrote in an email. "There were some skills that I knew were not the best in my routine and I knew I could have done them better, but no one is perfect, especially in gymnastics."
Mitrovich tied for ninth on floor (9.3).
Washington-Lee's Annie Hatcher and Jennifer Laredo, and Yorktown's Olivia Zavrel and Sophie Zidlicky also competed at states.
Annie Hatcher tied for 10th on vault (9.55) and 13th on floor (9.225). Laredo tied for 34th on beam (8.475).
Zavrel tied for 10th on bars (9.075) and Zidlicky finished 34th on vault (8.95).
Fairfax senior Rachel Barborek won the all-around championship with a score of 38.7, including first-place finishes on bars, beam and floor. She became the first Fairfax County gymnast to win the all-around state title since Herndon's Maria Hayden accomplished the feat in 2010.
Barborek competed in the all-around as an alternate after Yorktown freshman Bella Kane scratched due to a knee injury she suffered during a club meet. Kane qualified for states with a runner-up finish in the all-around at regionals.
"I heard that Rachel did really well, and I'm really happy for her," Kane wrote in an email. "That was great for her to end her last meet with a win, especially because she is a senior. I am extremely upset about missing the state meet, but I know in the next years of high school there will be other chances to compete at the meet and represent Yorktown."
The individual competition was originally scheduled for Feb. 21, but the VHSL postponed the meet three times due to inclement weather concerns.