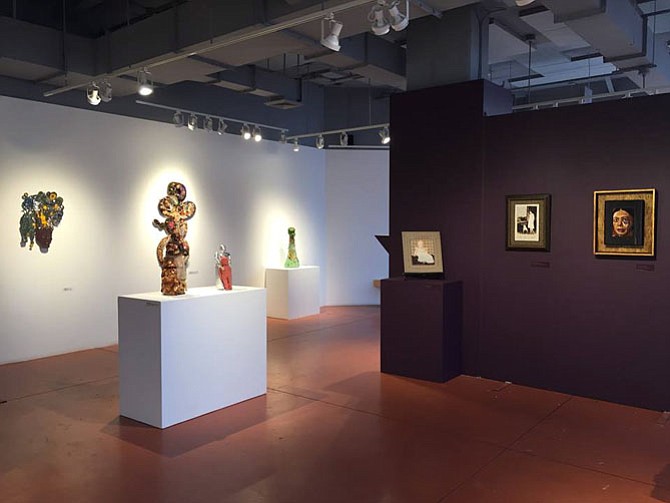 In January, both the ArtSpace Herndon and Reston GRACE community art galleries opened new art exhibits at their locations. ArtSpace Herndon located at 750 Center Street in downtown Herndon opened the soloist exhibit "In Warm Observations: People and Places" by artist Jill Banks. Banks hones in on private and public worlds, exhibiting intriguing interiors, people out and about with friends and loved ones, dancers in rehearsal, artists at work, and urban street paintings created in oils. The paintings feature locations from Kidwell Farm in Herndon and Great Falls to Florence and Alba, Italy.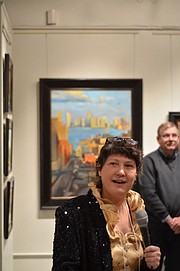 Banks' works have gathered awards on both the regional and national level including three Best in Shows at the Art League, Honorable Mention in Salon International, and two-time awardee with the Strauss Fellowship Grant by the Arts Council of Fairfax County. Says Banks, "More and more, I've been setting up my easel in bustling spots, watching the action as it occurs in front of me, drawing people into the scene (and my life) through my paintbrush."
AT THE RECEPTION the evening of Saturday, Jan. 17, Banks thanked her husband for helping frame her paintings. A resident of Fairfax, Banks has taught a painting workshop the summer of 2014 in the wine region of Italy. Several pieces from that tour are on display at ArtSpace Herndon. "On the last day of the workshop, I knew I wanted to go to the market," said Banks. One popular piece on display is "Market Day."
"It is one of the most dynamic shows we have had in a while," said Mercia Hobson, a resident of the Town of Herndon. "Her ability to capture the light is amazing. I really like the 'Market Day' piece." In 2011, Banks launched her 100 Faces in 100 Days Project, inviting local friends and strangers to sit to have their portraits painted. For the first 100 consecutive days of 2011, Jill painted 100 different faces from life and posted photos of the paintings and reflections on the sitter and sitting on her blog. One of the face portraits on display at ArtSpace Herndon is of Reston founder Robert E. Simon.
"I just love Jill's works," said Herndon resident Robin Caroll. The art exhibit will continue to be on display until Feb. 22. ArtSpace volunteers recognized Airbus Group, a global leader in aeronautics, space and related services for sponsoring the art exhibit.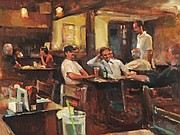 BANKS WILL OFFER a free public demonstration of a similar scene set within the gallery space on Saturday, Jan. 31, 2 to 5 p.m. Guests are invited to watch or draw, too.
Reston GRACE, located on Market Street at Reston Town Center is currently showing an exhibit called BEAD, which investigates the breadth of ways in which contemporary artists can incorporate beads into their work. GRACE specifically sought out beaded works that address concerns beyond simple adornment or decoration. The show will continue until Feb. 28. The exhibit consists of art by 15 artists.
ArtSpace Herndon was created by the Herndon Foundation for the Cultural Arts. On Thursday, Feb. 5, ArtSpace Herndon will host Art as a Business, a part of Creative Connections, programs for arts professional development. The event is free and begins at 6 p.m. Presenter Marc Willson will offer information on how to sell your art, define and engage collectors, and master merchandising basics. For more information on ArtSpace Herndon, visit www.artspaceherndon.com.