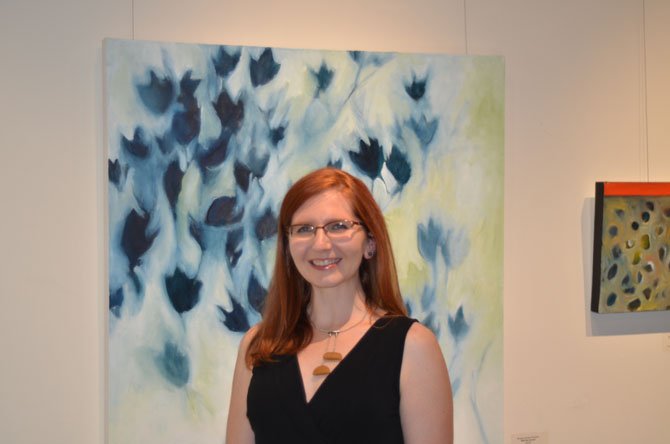 In June, visitors to the community art gallery ArtSpace Herndon will see an array of paintings making an artistic ring of fire in the main gallery. The paintings are a solo exhibit by artist Morgan Johnson Norwood. Born in Orlando, Fla., and raised in Atlanta, Ga., Morgan J. Norwood has lived in the Washington, D.C. area for nearly a decade. Before moving to Northern Virginia, Norwood focused on contemporary art and education through her work with school programs at the High Museum of Art in Atlanta. Since then she taught art to pre-K – fifth grade students at John Adams Elementary School in Alexandria, Va., and elementary students in Arlington, Va.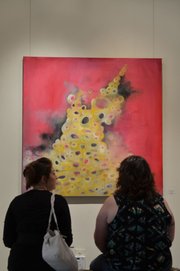 "I have known Norwood for at least eight years and have watched her grow as both an artists and as a person," said Cheryl Parson, a Herndon resident and local artist. "I think this is a wonderful accumulation of her talents into one theme." Parson has been painting for more than 40 years. "We are excited to have this exhibit here, it is a wonderfully different art exhibit," said ArtSpace staff member Brenda Page.
THIS IS NORWOOD'S FIST TIME exhibiting at ArtSpace Herndon. "The work is about a year in progress in working through a traumatic experience," said Norwood. A resident of Reston, Norwood brought her two young daughters to the June 7 artist reception at the gallery. "ArtSpace Herndon has a fantastic hanging crew, they were wonderful to work with," said Norwood. Thirty-five art paintings are on display in her solo exhibit, and many of her works are available for purchase.
Norwood studied art and art education at Mercer University and the University of Georgia, and museum education at George Washington University. She exhibited recently at the JoAnn Rose Gallery, and the US Geological Survey in Reston and Artomatic in Washington D.C. In 2012 she began showing in the Reston outdoor art market at Lake Anne. In addition, Norwood was a participant in the 2012 Sketchbook Project, an international traveling exhibition of sketchbooks that became a part of the Brooklyn Art Library's permanent collection at the tour's conclusion.
"Intriguing, organic, tenuous these are three words that instantly come to my mind when I view Norwood's paintings," stated Mercia Hobson, Vice President of the Herndon Foundation for the Cultural Arts operating ArtSpace Herndon. "In Norwood's oil paintings of fire and destruction, there are no coarse severe lines, no strong geometric shapes nor splashes of hot colors, there is no anger. Instead her brush stroked vapory, curvaceous shapes in watery subtle tones."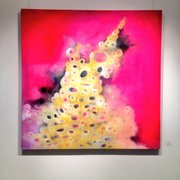 SOME VISITORS commented the art movement and mood although guarded, is uplifting.
"I typically call my style nature inspired abstract," said Norwood. "When I was a new mom, I was fascinated with the idea of a seed pod…You send out your child into the world and you have the shape of them in your heart or soul. Our environment echoes us." Norwood has also worked with other mediums, including sculpture and ceramics. "I am really proud of this show," said Norwood. "It is nice to see it come to fruition. I think there is still some more of paintings in this series that are yet to come out, so we will see how it works."
"Through Ms. Norwood's unique artistic talent I see fire, generally viewed as masculine with destructive and malicious intent, become life giving, mellow and soft," said Hobson. "Destruction becomes life giving. Burnt Offerings is a provocative exhibit of the first class," said Hobson. The exhibit will be on display at ArtSpace Herndon until June 29. The exhibit is free and open to the public. To learn more about ArtSpace Herndon, visit www.artspaceherndon.com.