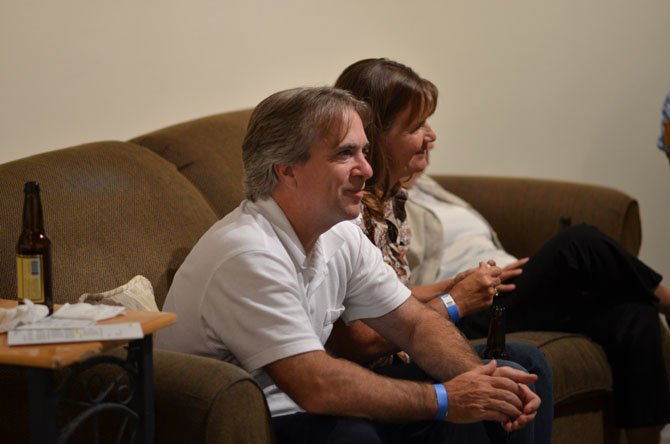 On Friday, Sept. 6 ArtSpace Herndon hosted its first Art House Cinema and Brew. The movie selected to kick off the new series was the cinema classic "Metropolis." Directed by Fritz Lang, Metropolis was the first feature length movie of the science fiction movies genre. Giorgio Moroder, a music producer, released a version with a soundtrack by rock artists such as Freddie Mercury and Adam Ant in 1984. Ann Rust, wife of Delegate Tom Rust, and a board member for the Herndon Foundation for the Cultural Arts, welcomed everyone to the event.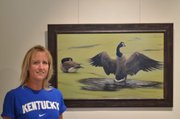 "The development committee came to develop the idea of the movie series and they presented it to the Board of Directors for the Herndon Foundation for the Cultural Arts. It is a fundraising event for the new art center," said Harlon Reece, president of the Herndon Foundation for the Cultural Arts. Sofas and chairs were set out at main gallery, and popcorn and microbrews were available for purchase: 37 people attended the first movie event.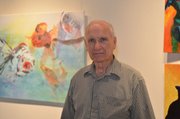 The first Friday of the month, September through May, ArtSpace will show an important piece of film history by the finest producers and directors in the world. The next movie will be Oct. 4 with a showing of the 1941 movie Citizen Kane, with tickets going at a price of $20 each.
On Sept. 7, the ArtSpace Herndon held an artists reception for the new art exhibit, "Menagerie." The exhibit displays the work of five local artists, focusing on the fun nature of animals. Painters Jill Banks, Lori Goll, Mireille Molette, Jeanne Treschuk and sculptor Jackie Ehle-Inglefield have renderings of goats, cows, peacocks, horses and even a lion. Over 90 people attended the reception.
Painter Lori Simmerman Goll has previously had artwork on display at the ArtSpace Herndon, and was excited to return again. "I get some of my drawing inspiration from the Frying Pan Farm Park in Herndon," said Goll.

"I think this is a very well rounded exhibit and have some good techniques including oils, pastels, mixed media and glass," said Dorothy Donahey, a resident of Reston and volunteer with ArtSpace.
Painter Jeanne Treschuk has brightly colored paintings with glittering surfaces, colorful visions of air, land and sky. Treschuk has a studio in Building 9 at the Lorton Workhouse. She has exhibited in many places in the Metro Area including at Art a la Carte on Mill Street in Occoquan, Va.
Painter Mireille Molette was born in France, and now resides in Northern Virginia. Molette works in oil and pastel in a realistic/impressionistic style. Molette has exhibited in Northern Virginia, Maryland and locations throughout the world.
Reston artist Jill Banks is an award-winning oil painter who exhibits extensively regionally and nationally. Banks started painting in 2003, and now teaches through the Great Falls School of Art, and shares a studio with 14 other artists at the Artists' Atelier in Great Falls.
Sculptor Jacqueline Ehle Inglefield studied at the Virginia Commonwealth University. While at VCU, a professor suggested she use non-traditional materials and sparked a new interest in sculpting. Inglefield enjoys creating with things discarded, experimenting with trash and non-traditional materials, to create her sculptures. Inglefield intends to be at the ArtSpace Herndon again for the upcoming Paint Herndon event on Sept. 21.
The Menagerie art exhibit will continue to be on display at ArtSpace until Sunday, Sept. 29. To learn more about ArtSpace Herndon, visit their webpage at http://www.artspaceherndon.com.