While spending a month in Philadelphia, Catherine and Serena Lommasson of Lorton found the best cheesesteak in town. Beck's Cajun Cafe, a vendor in the train station won their favor with andouille sausage added to the iconic sandwich.
The Lommassons (mother and daughter respectively) would haul cheesesteaks back from the City of Brotherly Love on the train home for periodic visits. On the pair's final homecoming, they brought enough for a party.
Catherine and Serena spent the end of 2014 and beginning of 2015 away from home so Serena, 16, could undergo a 30-day cancer treatment. The proton radiation therapy she endured in Philadelphia was meant to specifically target the tumor in Serena's adolescent brain.
DOCTORS FIRST DIAGNOSED Serena the month before she turned 2 years old. She had surgery almost immediately and began her first round of chemotherapy when she turned 3. That treatment lasted a year.
Serena had another year of chemo at 5 years old and has gone through numerous subsequent surgeries to remove fluid buildup in her brain, replacing the brain's fourth ventricle with a device called a ventriculoperitoneal (VP) shunt.
"In a six-month period in 2009, she had 15 surgeries to replace the shunt," said Catherine, Serena's mother. "That was almost scarier than anything else I have to deal with."
Save another surgery to go at the tumor, Serena's options for chemotherapy or new drugs were limited. And she didn't have the right mutation required to take part in a clinical trial.
One other opportunity was radiation.
"As she's nearing adulthood, I wanted to be able to be there 100 percent for her," said Catherine, "and do this before it disrupted her adult life. We decided to go ahead and try, and hope that ends our fight with this."
The Lommassons went to the radiology department at Inova Fairfax Hospital. There they received a recommendation for a second opinion in Philadelphia, one of the few locations in the country that does pinpoint radiation therapy on brains.
Catherine said they were told that type of treatment would do less overall damage to the brain than traditional radiation, and patients typically see fewer negative side effects.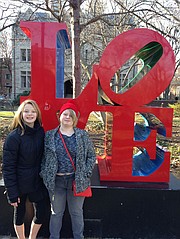 They decided to go through with the treatment, beginning in December 2014. Catherine took off work and Serena took a break from South County High School while they relocated to Philadelphia. Catherine's younger daughter Stella, 11, stayed home with family friends.
Catherine's friend Bridget Kelly has known Serena since she was born, since she was diagnosed with cancer and began having surgeries. She knew the strain of cancer on the Lommasson family, and the added pressure on Catherine of having to take a month off work, pay for train tickets to Philadelphia and hotel rooms.
A former Vienna resident, Kelly used to bank with Burke & Herbert Bank. When one of Kelly's friends told her about the bank's Dreams Do Come True giveaway contest, she immediately thought of Catherine and Serena.
"I didn't know what the giveaway was," Kelly said, "it was something, it was anything. Catherine was off work the whole time and a single mom. It can't hurt."
The online promotion from Burke & Herbert Bank ran in November 2014, through Facebook and the bank's website. Kelly used Facebook to nominate Serena and Catherine for the giveaway, and encouraged other friends to do the same.
On Dec. 10, 2014, Burke & Herbert Bank announced that the Lommassons had won and would receive $1,000. The support Kelly raised on Facebook helped distinguish Serena's story.
"It's obviously a tough situation on the entire family," said Burke & Herbert Bank Senior Vice President Terry Cole, "one of those where you could really feel the passion and care for these people."
"It blows my mind a mom could survive something like this," said Kelly. "And Serena, dealing with this as a teenager -- there's no way she could've taken cancer on top of it. She has this quirky sense of humor. Somehow, she's just been fine through the whole thing, she just adapts. I have no idea how they do it."
"You get used to whatever you have to deal with," Serena said, about the new treatment. "All the stuff that seems really unpleasant. You don't have a choice."
THE NEXT STEP for her is an MRI to see how effective the radiation was. Serena has to wait three months for that; to do the scan now, her brain would look inflamed.
One of the hardest parts, she said, was missing school and friends. "I just miss talking to people," said Serena. "I'm a talkative, social person. That's my element."
After taking classes at home for a week, Serena went back to South County on Monday, Jan. 26.
While Serena and Catherine were in Philadelphia, they tried to make the most of the trip anytime Serena was feeling up to moving around, taking in the Liberty Bell, museums and movies.
"We did whatever we could to make it an adventure," said Catherine. "That's what life is."