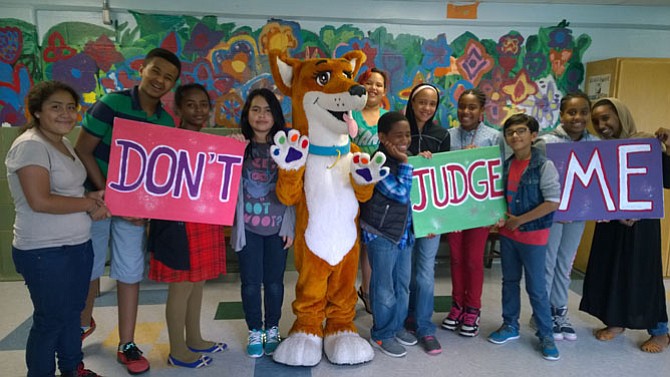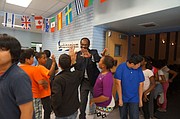 Their voices were timid at first, but one by one students at William Ramsey Elementary School spoke up when asked how they have been judged by their friends and classmates.
"I keep being told that my skin is not dark enough, that I am too light to be a real Hispanic," said one young girl from Guatemala. "It hurts my feelings but there is nothing I can do about the color of my skin."
Taunts about looks and body image were a common theme as the students took part in a school-wide assembly June 11 to premiere "Don't Judge Me," a music video written and produced by participants in the Kids Empowering Kids program of the DreamDog Foundation.
"From start to finish, this project was done by kids and for kids," said DreamDog Executive Director Lorraine Friendman. "When the kids were asked what are the big issues facing them at school, judgement surfaced as the biggest issue. So that became the theme for this year's Kids Empowering Kids program — stop judging each other."
The experiential learning program teamed students with Friedman and Edom Tilahun, a T.C. Williams student doing her Senior Experience internship. Together they worked for three weeks writing and producing the music video, which featured the entire student body of William Ramsey ES, teachers and guest appearances by ACPS Superintendent Alvin Crawley and Mayor Bill Euille.
"It was an honor to be a part of this video," Crawley said following the premier showing in the school's auditorium. "It was a lot of fun working with the kids but it also sends a powerful message. Everyone did a great job."
Once the students completed the music and lyrics, Friedman worked with musicians to record the soundtrack. When it came time for the final production, the entire school was invited to participate in the video — all 855 students and teachers, who are seen together dancing in the halls, on the auditorium stage and in the library and gymnasium.
"This experience was something totally new," Tilahun said." It was great to see a learning process that did not involve repetitive instruction and lack of interest from the students. The fact that it involved various things like music, writing and art made the learning a lot more multidimensional and fun for everyone."
Friedman is proud of what the students accomplished and the message contained in the video, which contains the refrain: "Don't judge me. I'm more than you can see. I'm not the color of my skin or the clothes I'm in so don't judge me."
"What Dr. Martin Luther King started years ago with his philosophy of non- judgment, our Ramsey students are continuing today with a catchy tune and powerful lyrics," Friedman said. "I hope everyone shares the video link so we can continue to empower others with their words."
A link to the video is available on the DreamDog Foundation's Facebook page and can be seen on YouTube.