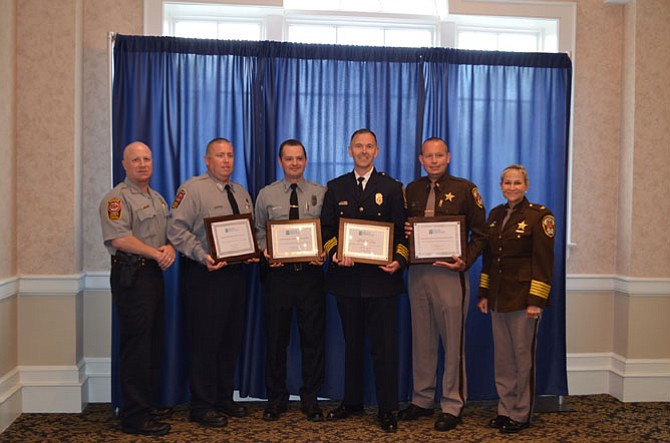 Honoring first responders for their actions off-the-clock is the focus of the the Greater Springfield Chamber of Commerce Above & Beyond Luncheon. More than 50 community members attended the luncheon on Monday to honor four service members who went above and beyond in their service to the community.
"They are paid to act with valor, I want to honor them for going above and beyond the job," said Michael Drobnis, a board member of the Greater Springfield Chamber of Commerce. Drobnis created the event three years ago, wanting to recognize service members who acted beyond the call of duty in their off hours.
First honored was Chief Daniel Dusseau for his work with the Northern Virginia Community College Police Department. Dusseau has increased the number of sworn officers on campus and created a 24/7 dispatch center that unified the police patrol and responses. In addition to his work improving campus safety, he is a volunteer and president with the Peace Officer's Ministry. He also volunteers with the Via de Cristo throughout Northern Virginia.
PFC Matthew Dannemann of the West Springfield District Station was recognized for his volunteer hours as a member of the Virginia Search and Rescue Dog Association. He trains K9's in the area search discipline, but he doesn't see it as work.
"I like to joke that it's a day to go out in the woods to play with dogs like a perpetual 14 year old," said Dannemann. He has responded as a volunteer for 20 missions.
MPO Jason Thompson of the Franconia Station has been part of the Police Department's Search and Rescue team in 2009. Thompson also volunteers with the Virginia Search and Rescue Dog Association, he joined the team two years ago and acts as a K9 escort. He has been involved in notable deployment including the search for missing UVA student and Fairfax County resident, Hannah Graham.
Finally, 2nd Lt. Kevin Timothy with the Fairfax County Sheriff's Office was recognized for his volunteer hours with the Leadership Fairfax's Emerging Leaders Institute since 2009. After graduating, Timothy was asked to chair the Curriculum Committee. He saw a great opportunity to be part of a non-profit organization that can have a positive impact on community and business leaders. Currently he is co-chair of the ELI Program Committee and volunteers countless hours to help young business leaders strengthen the community.
All the award recipients were applauded for their actions and granted an overall total of $4,000 for charities of their choosing. Project Lifesaver, Fairfax County Fallen Officers Memorial and the NVCC Education Foundation each received $1,350. Additionally, $500 was donated to the Greater Springfield Chamber of Commerce Foundation, which provides scholarships to area students.
"This is just a good thing for the community," said Dennis Hogan, Greater Springfield Chamber of Commerce Treasurer. The Chamber stressed the importance of recognizing first responders for their work after their shifts are done. "All the proceeds go to the community and its shows what a special community we have where people give back," said Hogan.