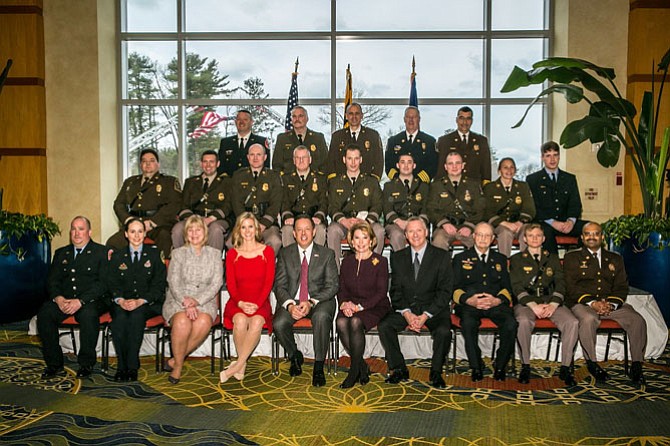 The Montgomery County Chamber of Commerce brought nearly 1,300 business, government, and public safety leaders together at the 42nd Annual MCCC Public Safety Awards Luncheon on March 11 to thank the men and women who protect the community.
During the ceremony, the stories of the heroic acts by the 12 Valor Award recipients were shared by emcees Tom Costello, NBC News Correspondent, and Melissa Mollet, NBC News4 Traffic Reporter:
Car fire on the Beltway responders Police Officer 3 Brian Nesbitt (Gold) and Police Officer 1 Cody Fields (Gold)

Murder/suicide at Germantown gas station responder Police Officer 2 Andrew Bock (Silver)

Car crushed by tree in Takoma Park responder Lieutenant Shibu Philipose (Silver)

Safeway suicide response responder Police Officer 3 Nathan Kane (Bronze)

Ocean City water rescue responder Master Fire Fighter/Rescuer Timothy Beatty (Bronze)

Collision on I-495 split at I-270 responders Fire Fighter Rescuer III Meghan Quinn (Honorable Mention) and Fire Fighter Rescuer II Wyatt Smith (Honorable Mention)

Suicide response in Damascus responders Police Officer 1 John D. Durham (Honorable Mention) and Sheriff Deputy 3 Robert Balser (Honorable Mention)

Murder in Germantown responders Sergeant Ray Moran (Honorable Mention) and Police Officer 3 Dawn Wenner (Honorable Mention)
Two Unit Citations were awarded:
To the Montgomery County first responders to the Baltimore riots who helped Baltimore restore peace after days of violence: the responding officers of the Maryland-National Capital Park Police Montgomery County Division, the Montgomery County Sheriff's Office, and the Montgomery County Department of Police.

To the collective responders of a sexual assault in Rockville who stopped a violent sexual assault in progress and demonstrated care and professionalism in dealing with a traumatized victim: Deputy Sheriff 3 Keith Brubacher, Deputy Sheriff 3 Douglas Orr, Deputy Sheriff 3 Alan Summers, Deputy Sheriff 2 Christopher Moxley, Deputy Sheriff 2 Nelson Rosales, and Deputy Sheriff 1 Donghae Thompson.
Two MCCC Public Safety Community Service Awards were presented:
To Fire and Rescue Chief John W. Hartley for his lifelong devotion to the fire and rescue community over the past 66 years.

To Police Officer 1 Amber Richard for her commitment and acts of kindness on her own time, and at her own expense, towards a 7-year old boy who was admitted to the hospital after a child abuse call.
Attendees also took a moment of the ceremony to make a line of duty death tribute to Police Officer Noah Leotta who is among the fallen officers memorialized at the Montgomery County Public Safety Memorial in Gaithersburg after being struck by a drunk driver near the intersection of Rockville Pike and Edmonston Drive.
The Public Safety Corporate Vital Link award, sponsored by TD Bank, recognized Lee Development Group for allowing public safety agencies to conduct simulated emergency training free of cost for several years.
The National Institute of Standards and Technology (NIST) received the Public Safety Government Partner of the Year award, sponsored by Motorola Solutions, for being a federal public safety partner as an advocate for the research and training of the fire and rescue service and law enforcement communities.
The Annual MCCC Public Safety Awards is the largest of its kind in the region. Forty-two years ago, the MCCC was chartered by Montgomery County to host an annual event where the community, colleagues, families, citizens and officials could honor first responders from the public safety agencies. Since the event began, MCCC has recognized 39 Gold, 134 Silver, 232 Bronze, and 174 Honorable Mentions for a total of 579 Valor Awards.