Summer days are great for lounging by the pool, laying in the sun and relaxing with a good book. The Fairfax County Public Library is helping to make reading even more fun for families through the Summer Reading Program.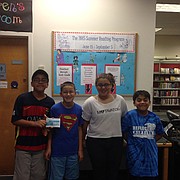 "The Summer Reading Program is a wonderful partnership with Fairfax County Public Schools," says Ted Kavich, Program and Educational Services manager. "We have a reading challenge for kids, so that when they read a certain number of books, they receive a prize. In addition, we have other things going on, such as performers and many events. All of the fun and excitement is all about reading."
Reading becomes a fun summer activity through this competition for prizes. Upon completing the program, each student receives a coupon book to places such as Clay Café Studios, Six Flags America and Splash Down Waterpark.
Recommended reading lists are provided by the library, that gives a list of books appropriate for a specific age or reading level. This can be a very helpful tool for both children and parents, but following the list is not mandatory. Children are able to read whatever interests them to participate in the program, making the venture even more enjoyable. It is also impossible to be too young- children from birth to sixth grade may sign up, and each student must read 15 books (or have the books read to them). For students in grade 7-12, six books must be read. Reading logs can be tracked online via the Fairfax County Public Library website, or on paper that can be picked up at your local branch library.
What students do not know is that by reading over the summer, they are better preparing themselves for the upcoming school year. "Studies have shown that when kids come back to school in the fall, their reading levels dip, so we want to keep them reading over the summer!" said Kavich. "So we do all this fun stuff and are delighted to get people excited about reading."
From book sales, music shows to creative writing clubs, the library has events for all ages, all summer. More information about registration, books, events and prizes can be found at http://www.fairfaxcounty.gov/library/srp/.