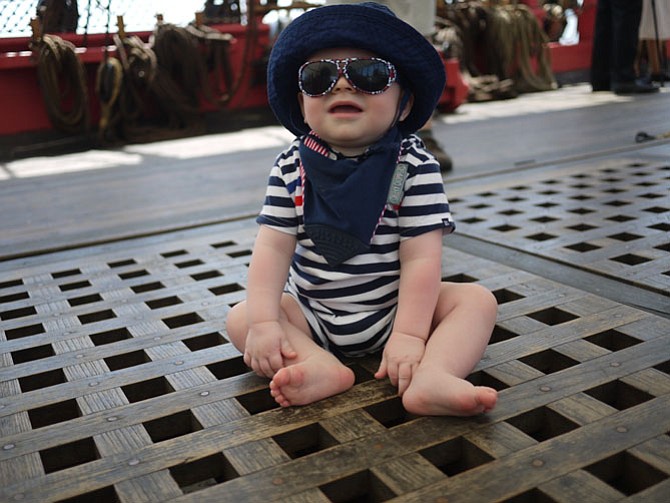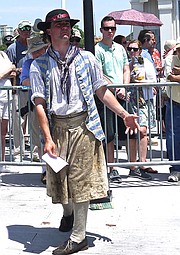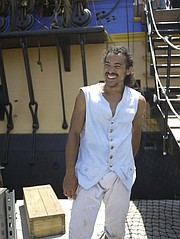 Students from the Lycee Rochambeau looked up at L'Hermione and called it "a ship with feelings."
The children in Marie Comninos' class at the Lycee had spent the year following the L'Hermione blog, studying the relationship between the U.S. and France, and learning sea shanties. Comninos said after months of trying, they "lucked out" in finding their way on board the ship after a parent at the school got them in touch with city of Alexandria contact, Gretchen Bulova; "Without her, the kids would not have gotten this chance," Comninos said.
The student greeted the French ship last month like an old friend, having studied the blog and followed its itinerary. They even recognized the faces of the seamen and women they had seen on computer screens over the past year.
"Last March, when she took her maiden voyage, there were French design experts who thought the Hermione wouldn't sail," said Adam Hodges-LeClaire, who was with L'Hermione when it set sail for the first time out of Rochefort, France. "But the ship was built according to the same design as the original Hermione, so the sailors had faith in her," he said. "There are very few things that are different about Hermione today: modern toilets and a few other items that were installed because of international maritime laws. But it is very much the same ship, and there are very few like it. She sits much higher off the water than most frigates of the time, and was one of the fastest ships of her era, the first one to arrive during campaign season in 1780." Hodges-LeClaire, who is an 18th century tailor and public historian in Lincoln, Mass., creates original clothing of the era in his workshop, and joined the ship last March with no knowledge of either French or sailing. He is now quite good at both.
Hodges-LeClaire explained the seaman's outfit he wore: layers, because one never knows about the weather; cotton, to absorb sweat; over-breeches, to keep clean the more fashionable breeches and act as an apron for tar and dirt. Dressed as he was, he said, he could go into any drinking establishment in Alexandria and people would know he was a sailor. It was a hot day; he said he was thirsty and ready to find such an establishment and test that theory.
On board with the crew of volunteers and professional sailors were a few Alexandrians who decided to join the fun. Steve Diatz, looking like Captain Bligh, carried off a few revolutionary era grenades from the ship after a brief demonstration, and Lucas Krummenacker, a French-Alsatian, American-Swiss baby of 8 months, joined his Alexandrian parents on board. He, like the other children, was most interested in the quarter deck's lattice-work view down to the galley.
Yoann Helard, who is from Rochefort, joined the ship "as an adventure." He is 26, recently finished university, and having grown up with the construction of L'Hermione in his town, decided to take the "trip of a lifetime". He liked his time onL'Hermione so much, he has decided to take advantage of the French Navy's training program to sail tall ships, and make this a career.
Before disembarking, the middle-schoolers from Comninos' class gathered on the quarterdeck and sang "Santiano," about a ship setting sail from France to the U.S.:
"C'est un fameux trois mats, fin comme un oiseau.
Hisse et ho, Santiano.
Dix-huits noeuds, quatre cents tonneaux,
je suis fier d'y etre matelot.
Hisse et ho, Santiano!"
(It's a famous three master, as delicate as a bird.
Heave ho! Santiano.
Eighteen knots, 400 tons,
I am proud to be a sailor on board.
Heave ho! Santiano).
For the hermione blog in French and English, see: www.hermione.com/blog-de-l-hermione/ and www.hermione2015.com/blog.html
More like this story