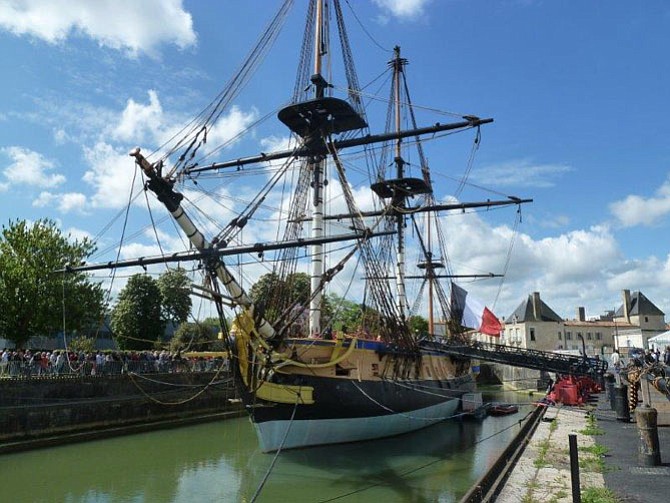 Alexandria will soon welcome the French tall ship L'Hermione to its shore. L'Hermione is an exact replica of the Hermione, originally constructed in 1779, that carried the Marquis de Lafayette to George Washington with news of France's full support for America that would ultimately help defeat Cornwallis at Yorktown in 1781. From concept to construction, L'Hermione took more than 20 years to complete. After a series of sea trials in 2014, the ship set sail from France on April 18, 2015 with a crew of 84. L'Hermione will have traveled 3,819 miles across the Atlantic from Aix, France to Yorktown, Va. to commemorate Lafayette's historic 1780 voyage.
After a short stop off the shore of Mount Vernon on June 9, L'Hermione will dock behind the Torpedo Factory Arts Center after midnight on June 10. The ship will be in port June 10, 11, and 12, with public tours each day. Visitors can also take part in a variety of pier-side festivities and exhibits including historic shipbuilding and navigation demonstrations, costumed characters, French 18th-century musical performances from Opera Lafayette, interpretive stations with the 1st Virginia Regiment and Alexandria Seaport Foundation, and a traveling photographic exhibition that tells the story of Hermione, its reconstruction, and Lafayette's role in the American Revolution. This "Heritage Village" will be open daily from 9 a.m. until 7 p.m.
A limited number of timed walk-up tickets will distributed at 8:30 a.m. and noon on the dock until sold out. At this time, advance and group tickets are sold out. A dock-side opening ceremony is planned for 10 a.m. on June 10 with all welcome to attend.
In addition to the ship and the Heritage Village, Historic Alexandria is commemorating Lafayette and L'Hermione through a variety of special programs, tours, and exhibits. Don't miss this opportunity to learn more about Lafayette's 1824 visit to Alexandria in an exhibit at the Alexandria Archaeology Museum, Lafayette's lasting friendship with George Washington at The Lyceum, and the role African American soldiers (both patriot and loyalist) played during the Revolution at the Alexandria Black History Museum.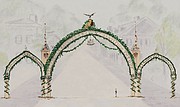 On Tuesday, June 9, a special 55-minute film screening of the play "Lafayette" will be shown at The Lyceum with a historical forward and talk-back by author and noted historian Marc Leepson. Doors open at 7 p.m. for the free, general admission show that begins at 7:30 p.m. The following evening, June 10, author Harlow Giles Unger will lecture and sign his book "Lafayette." Unger will describe how Lafayette left a life of luxury to fight for America and how Washington embraced the boy-general as his "adopted son." Then, conclude your historical week with a special "Lafayette Ball" on Saturday, June 13 at Gadsby's Tavern Museum. This ball will feature popular dances from the time of the American Revolution, 18th-century style refreshments, and a dessert collation. Tickets for the lecture and historic ball can be purchased at shop.alexandriava.gov.
As the hometown of George Washington, local restaurants are offering special "Lafayette-inspired" French menus and special offers between June 5 and June 14. Some of these restaurants include La Bergerie, La Madeleine, Bastille, Fontaine's Caffe and Crepery, Del Ray Café, Delia's, Gadsby's Tavern Restaurant, and Union Street Public House. Check out VisitAlexandriaVa.com/Hermione for the full listing of restaurants.
To learn more about Lafayette and this commemorative voyage at www.historicalexandria.org and www.hermione2015.com.