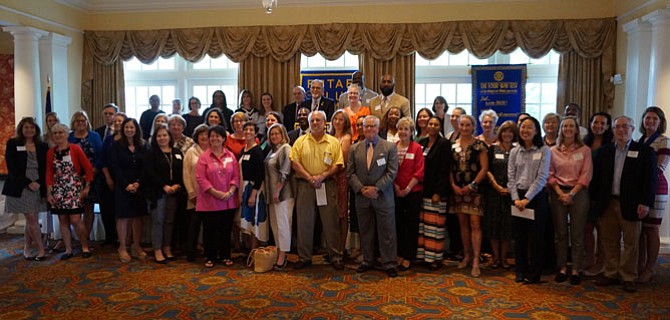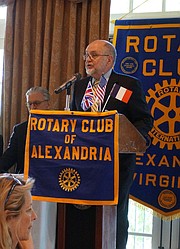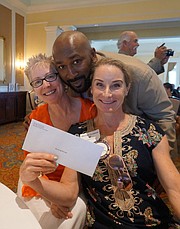 "The organizations here today do what they do not for accolades but because they care about others." — ACT president and CEO John Porter
The Rotary Club of Alexandria, in partnership with the Alexandria Day Nursery and Children's Home, continued its decades-long tradition of awarding grants to local nonprofit organizations with the presentation of $108,000 to 46 organizations at the annual Contributions Day luncheon June 6 at Belle Haven Country Club.
"There are many unmet needs in our community," said ACT president and CEO John Porter in his keynote remarks. "The organizations here today do what they do not for accolades but because they care about others."
The Alexandria Rotary Foundation donated funds to local organizations dedicated to serving an array of needs in the community. The Alexandria Day Nursery and Children's Home, originally established in the 1930s as part of the Rotary Club, awarded grants to nonprofits primarily focusing on the needs of children. Grant applications are reviewed with consideration given to the sustainability of the project, how it is helping those most in need and how the project contributes to the community.
The grants support organizations as diverse as Casa Chirilagua (seed funding for a new Summer Kids Club program), Neighborhood Health (the purchase of needed pediatric equipment for the Arlandria health clinic), and the Ratcliff Thomas Foundation (financial support for RTF's Community Outreach Initiative and Sports Services Division).
Grant funds, which were presented at the luncheon by Rotarians Pam DeCandio and John Woods, are raised each year through Rotary's signature "Taste For Giving" event, a fundraiser featuring Alexandria restaurants, a wine tasting from local vineyards, live music and live and silent auction items donated by local businesses. This year's event will be held October 20 at the U.S. Patent and Trademark Office.
The 2017 Alexandria Day Nursery and Children's Home grant recipients are: ALIVE!; Beverly Hills Church Preschool; The Butterfly House At The Virginia Theological Seminary; The Child and Family Network Centers; The Campagna Center's Early Childhood Programs; Emmanuel Preschool; Fairlington Preschool; Grace Episcopal School; Saint Clement Episcopal School; Upcycle Creative Reuse Center; Valley Drive Cooperative Preschool; Washington Street United Methodist Church Preschool; Westminster Weekday Preschool; and The Kathy Wilson Foundation.
The 2017 Rotary grant recipients are: Alexandria Police Foundation; Alexandria Seaport Foundation; Alexandria Symphony Orchestra; Alexandria Tutoring Consortium; ALIVE!; Boys & Girls Clubs of Greater Washington; Bridges to Independence; Bryce Project; Campagna Center; Carpenter's Shelter; Casa Chirilagua; Community Lodgings; First Night Alexandria; Focus Music; Friends of Guest House; Literacy Council of Northern Virginia; Neighborhood Health; Next Step Pilates; Northern Virginia Family Services; Operation Warm; Ratcliff Thomas Foundation; Rebuilding Together Alexandria; RunningBrooke; SCAN (Stop Child Abuse Now); Senior Services of Alexandria; Space of Her Own; The Arc of Northern Virginia; The Reading Connection; Together We Bake; Urban Alliance; Volunteer Alexandria; and Wright to Read.