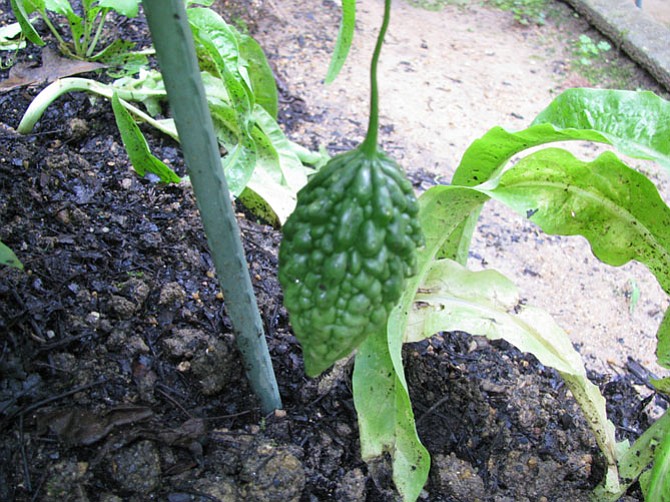 There's nothing like a juicy red tomato fresh out of the backyard garden to brighten up a summertime salad or a sandwich — or a bittermelon, aronia berries or "paradise apple," as persimmons are known in Bulgaria. The multi-cultural population in Fairfax County has grown roots in the backyard vegetable garden.
"In my country, the name is paradise apple," said Jiuka, an Alexandria resident from Bulgaria, as she held a small, green persimmon fruit on a tree in her yard. Jiuka's yard was full of cucumber plants, eggplant, green peppers, squash, tomato and okra, as well as aronia berries and drenka, another Bulgarian favorite. Planting her own fruits and vegetables "is very important, I came from a country where we had good agriculture," she said. She does all the gardening herself. "I learned from my mom," Jiuka said.
It's not just the "backyard" garden for Springfield resident Henrey Nguyen, who lives in a corner lot that is full of vegetables, herbs and fruit, mostly of an Asian variety. His grandmother "does all the work when it comes to the garden," Nguyen said. There are Bartlett Pears growing on a few trees in the yard, with melons, red peppers and bittermelon, an Asian specialty that gives soup its flavor. Bittermelon has another unexpected use in the garden, said Nguyen. "We used to have deer, they took a bite of the bittermelon and never came back," he said.
Some of Nguyen's vegetables and herbs go to local Vietnamese restaurants too where they know the owners, he said, like the Golden Cow, Pho Factory and Bangkok Noodle, all in Annandale.
JIUKA AND NGUYEN are not alone in the backyard garden craze. In fact, there is a surge of gardeners growing their own food in the last few years, according to the National Gardening Association, based in Williston, Vt. In its report, "Garden to Table: A 5-Year Look at Food Gardening in America," Americans growing their own food in home or community gardens went from 36 million households in 2008 to 42 million in 2013, an increase of 17 percent. The NGA attributes the increase to federal agencies increasing awareness and educational efforts, and by First Lady Michelle Obama's "Let's Move," initiative that features food grown in the White House Kitchen Garden.
In Fairfax County, tomatoes are a staple of local gardens along with peppers, cucumbers, potatoes, beans, and herbs like mint, oregano and cilantro. Tomato gardening is what most of the questions the county Master Gardeners get, said Adria Bordas, a senior extension agent at the Virginia Cooperative Extension Master Gardener helpdesk.
The Fairfax County Master Gardeners Association, Inc. is a nonprofit organization of volunteers who provide research-based horticultural information, tips, techniques and advice to home gardeners in the community.
Bordas noted that one of the strong points about vegetable gardening in Fairfax County is that gardens "can be a four-season veggie garden if you work at it with frost protection," she said in an email.
In Jiuka's garden, she has the tomatoes and cucumbers, but also a variety of fruit she likes to eat because by growing her own, she knows what goes into them as far as pesticides and fertilizers. "I try to be organic," she said. Bordas noted this as a possible healthier aspect of homegrown vegetables too.
Although Jiuka doesn't have bittermelon to fend off unwanted guests that nibble on the fruits and vegetables like Nguyen, she constantly battles with the local animals over the garden, especially the okra. "I have one rabbit that likes these leaves," she said. She puts nets over her blackberry and raspberry plants, but it's a constant struggle. "I'm fighting with birds, they like it a lot," she said.
BESIDES BEING FRESH AND ORGANIC, some of these exotic fruits and vegetables have health benefits that are not known to many in this area. Bittermelon, known as bitter gourd to some, has been known to be used for gout, cholera, eye problems and even hangovers. Aronia berries are used for urinary tract disorders, and another Bulgarian vegetable, drenka, helps digestion.