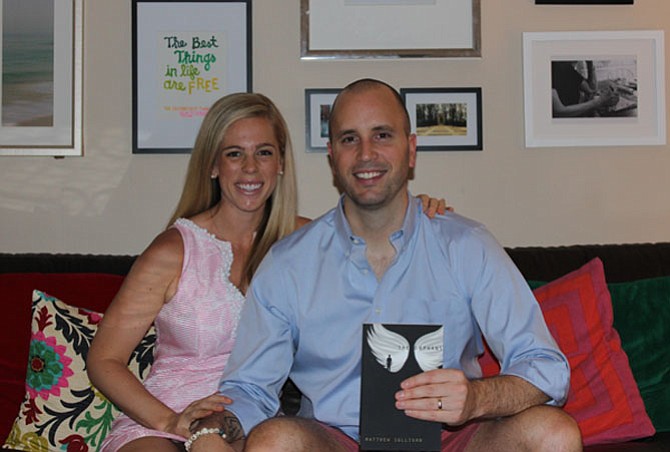 Arlington — When author Matthew Sullivan decided two years ago to write his debut book, "The Orphans," it wasn't the first time he had crafted a story for the public. The Arlington resident, who just made his official entrance into the world of Young-Adult (YA) literature, has been writing professionally for more than a decade. Sullivan, who officially launched "The Orphans" on June 15, said this novel is just the first of many he has brewing for young readers.
"The Orphans" is the first book in a trilogy about a high-school aged protagonist, Charlie Kim, who is forced to realize what is really important in life when a tragic accident derails his plans for post-graduate success.
"When writing this book, the story just fit the message," Sullivan said. "The message drove the story more than anything."
It's a lesson that Sullivan learned in his early 20s, after beating cancer and quitting an investment banking career to pursue his passion: writing.
"I was exactly like Charlie in high school," Sullivan said. "I had a 20-year plan. My mindset was, 'I wouldn't let cancer affect my career,' which is exactly like Charlie, who is so focused on the future that he's incapable of experiencing the present."
Where many authors start with novels, waiting years or lifetimes until they see their plots played out onscreen, Sullivan began his writing career with screenplays. Writing for TV and film was the first medium Sullivan pursued after quitting a coveted yet rigorous investment banking role at a Baltimore firm. His first stop: Hollywood.
"I didn't really know what I wanted to do," he said. "All I knew was that I wanted to live by the beach, and I wanted to write a book about my experience going through cancer. I wanted to share how that changed my perspective on life and how I wanted to live. Of course, I quickly decided that writing a book would be a lot of work and it might be easier to write a movie."
Instead of writing that specific movie, though, he was sidetracked with other ideas and opportunities for less personal creative projects. His focus became scripts for both movies and television. He was no stranger to a live audience, either, and had a stint in stand-up comedy.
"I did all of that for about six years, mostly focusing on standup," he said. "Then a college friend of mine from Johns Hopkins University ended up moving out to Los Angeles, and that is when I really devoted myself to writing and film full-time."
So, for over four years, Sullivan and his creative partner lived and breathed film-writing, and enjoyed the fruits to their hard labor. Sullivan had a cameo in "30 Minutes or Less," which he co-wrote in 2010 and was released in theaters in 2011.
Sullivan decided it was time to return back home to the East Coast. As a native of Fairfax County, he moved home to be closer to family and to live a more balanced life. This is when he finally had the time to write what he wanted all along: a book that would encapsulate the lessons he learned since he was first diagnosed with cancer, the very day of his graduation from Johns Hopkins.
"'The Orphans' is the fantasy young adult fiction story of the original novel I set out to write," he said. "Going through cancer completely changed my perspective on life. In 'The Orphans,' Charlie goes through the same changes, except instead of cancer, he's fighting the battle of good and evil."
The germ of Sullivan's idea came to him while he was sitting in a movie theater less than two years ago, watching the previews for films targeted for young adults.
"I had been getting frustrated with writing films and said to myself, 'I should write a book,'" he said. "From that moment, I started thinking about the best story to present the message. In the end, I decided to do YA because I believe the message is something that young adults needed to hear, probably more than anyone else," he said, "especially in areas like Fairfax County, Northern Virginia, and the San Francisco Bay Area, [where "The Orphans" takes place]. "These are places that are known for being highly competitive and full of high achievers."
It's a trilogy because not many epic stories can start and clean up nicely in just one book.
"You can't tell a big, epic story in just one book," he said. "The way I viewed it, it's three acts. One book for each act. The first book is to set you up for this path you don't see coming. The second is the escalation and the third is the culmination."
Sullivan said the reception has been great so far. On top of the rave reviews, people have another incentive to read it soon: it might not be long before Sullivan once again sees his work on the silver screen, as he already has an agent and a manager on the film side, who are working to sell the rights to "The Orphans."
Through the creative and publishing process, Sullivan has been busy in his personal life. He recently got married to a supportive wife who said she is thrilled that her husband did not fulfill the stereotype of the obsessive, all-consumed writer, sacrificing everything to get his book done.
"I feel like when you imagine a writer, you think they are glued to their computer, all day, every day, and can't be interrupted," Matthew's wife, Michelle Sullivan, said. "Matt, though, has done a really good job with prioritizing his life and being able to balance work and play. He's very consistent in what he preaches, and what he practices and is always a good reminder for me."
Michelle Sullivan said the balance probably makes him not only a better husband, but perhaps a better writer, too.
"His career is very important to him and he takes it very seriously but spending time doing other things he loves with the people he loves is definitely his first priority," she said. "It probably makes him more effective because he's able to focus better."
She said she was proud to have played at least a small part in the process of a book.
"There were definitely times when he couldn't figure out a scene or a paragraph for days because it just didn't feel right, and he couldn't pinpoint what exactly didn't sit well with him," she said. "I acted as his sounding board for a lot of things. I don't consider myself to be his writing mentor by any stretch of the imagination, but I think it was helpful for him to bounce ideas off me."
Matthew Sullivan has another book, "Stealing Christmas," that will be sold on Amazon later this summer. While "Stealing Christmas" is intended for younger audiences than "The Orphans," Sullivan said they both come with many valuable lessons.

"I love expressing my creativity this way, and the freedom that writing books gives me," he said. "Hopefully, at the same time, I can have a positive impact on other people's lives."
"The Orphans" is available on Amazon.com as a paperback book or for Kindle.