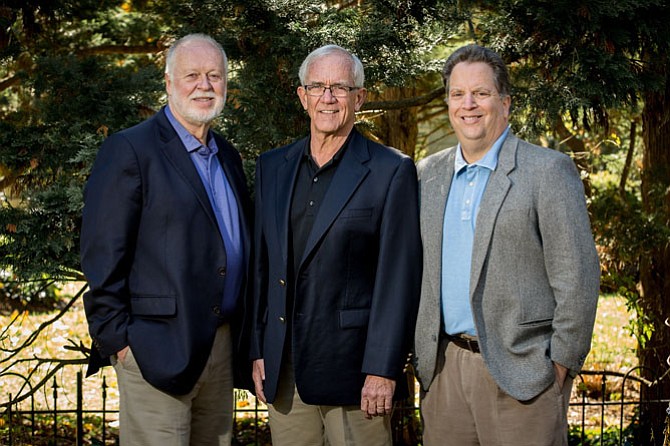 It's not often that an award-winning journalist, a world-renowned scientist and a retired senior government official come together to write a spy thriller.
This Thursday, March 10, at 6 p.m., James Rosen, Centreville resident and the McClatchy News Group's Pentagon and Washington correspondent, along with one of his co-authors, NIH scientist Curtis Harris, will be at Clarendon's Barnes & Noble to promote their new book, "High Hand," a novel that highlights the dangerous situations that journalists find themselves when covering foreign issues.
Published last month by Copper Peak Press, "High Hand" is about a political conspiracy, shedding light on the frequent and complex relationship between international journalists and spies. It has already sold several hundreds of copies.
Rosen, a Fairfax County resident for more than 22 years, said that while he has wanted to write a novel for years, his own journalism career was not the inspiration for "High Hand."
"The book's inspiration came from Curt Harris, a co-author who in his day job as a world-renowned cancer researcher travels the globe giving lectures and collaborating with other scientists," Rosen said. "Curt and I met in 1995 playing squash at our club in McLean. Over the next decade or so, he listened to me complain that my challenging job as a journalist left me no time to write the book I so wanted to write. One night over beers at the club, after a spirited squash match, Curt handed me a three-page, single-space sketch and said, 'Here's your book.' In short order, we pulled in our third squash partner, Jim Ellenberger, and launched an amazing joint creative journey that produced 'High Hands'."
While each of the three squash buddies had been published several times for their respective "day jobs," they got together to write their first fictional novel. With three different areas of expertise, they made Rosen the lead editor and split the book into thirds.
"We each wrote about one-third of the book, and I served as lead editor with the task of fusing our different styles into a single voice," Rosen said. "Our friends and colleagues have told us that it reads as if a single author wrote it, which is quite satisfying. Each of us naturally ended up identifying more with one or more characters. Since Frank Adams, who is one of the main characters, is a journalist, I naturally gravitated toward him. Like me, he had been a Moscow correspondent, and we also have both covered major political events and presidential politics. So a lot of my professional experience is reflected in him, although, of course, he is a completely fictional character and there is much about his past and present lives that diverge sharply from my own."
Even though the book took years to write, Harris found the process of writing with his fellow authors to be a valuable, bringing so much more to the novel than if any of the authors had individually penned it.
"Each member of this collaboration brings their unique skills, talent, skills and experiences that are complementary to each other to make this combination synergistic," Harris said. "Jim Rosen was also used to writing non-fiction in the style of a reporter. This experience and expertise gave Frank Adams, one of our fictional characters, authenticity. Jim's posting in Moscow and being fluent in Russian also provided authenticity to venues in Russia and the former Soviet Union. Also, all three of us are international travelers and had visited and knew all of the venues in 'High Hand'."
Harris said that finding a writer's lair for a group getaway was crucial. Initially a screenplay, the co-authors found that immersing themselves in their project together, and away from the distractions of home, was imperative in getting their brainchild in development.
"We realized that three co-authors writing a novel would be challenging," Harris said. "We decided to spend three days in a mountain cabin to storyboard a screenplay. We generated 50 scenes. After writing the screenplay, we divided up the scenes and each wrote the initial chapters of 'High Hand.' After rounds of revision, Jim Rosen was given the essential task of harmonizing the novel into one voice. Afterward, we hired an editor to provide guidance for yet another round of revisions. My scientific background contributed to the tradecraft of spies."
To promote the book as a truly cohesive novel, they published the book with the author's name being a pseudonym.
"We were advised by our publisher and other book professionals that having three authors listed for a single book was quite rare, especially in fiction," Rosen said. "So we decided to use a pseudonym. It is an amalgam of our three names — Curtis, James and James [Ellenberger]."
Rosen started his writing career as a teenager, writing Op-Eds to his local newspapers in Detroit, writing about problems at his school amidst the Vietnam War-related protests that plagued cities across the country. Even then, he said, calling local legislators and other politicians didn't intimidate him in his quest for answers. His journalistic journey took him all the way from Michigan, to college at University of California – Berkeley, and finally to Columbia University, where he received his Master's Degree in Journalism in 1986.
"Since then, I've been a Moscow correspondent, covered state government in Michigan and the federal government in Washington as a political and national security reporter," he said. "It has been a great ride."
Aside from reading his prose in "High Hand," people can find his news stories both in print and online for McClatchy newspapers – including the Miami Herald, the Kansas City Star and the Sacramento Bee. His experience with McClatchy has brought him head-on with more than a few dangerous international assignments.
"I am one of a couple dozen reporters based in the Washington Bureau of McClatchy," he said. "It owns 29 daily newspapers nationwide. Before starting my new beat for the Miami Herald, I was McClatchy's Pentagon correspondent for two-plus years. When I began that assignment, my editors and I thought that I would be covering a downturn in Pentagon spending and activity after two wars — in Iraq and Afghanistan — spread over a dozen years. But some nine months into the beat, the Islamic State declared a caliphate and began a bloody terrorist march across broad swaths of Iraq and Syria. The rest of my time covering the Pentagon was dominated by reporting on the U.S. and allied effort to combat the Islamic State."
And, that position just produced some of the many heart-pounding professional situations he's found himself in. His experience with Russian politics was an asset for the writing of "High Hand."
"Now many more people are following the Kremlin's adventures abroad, and we believe they will be drawn by the almost eerily lifelike events in 'High Hand,' many of them based in Moscow, other Russian locales or exotic sites in nearby lands," Rosen said. "Finally, many of the book's interpersonal relationships among journalists, politicians, spies, oilmen, oligarchs and high-tech businessmen do reflect the personal experiences not only of myself, but also of Curt and Jim [Ellenberger]. All three of us have traveled widely throughout the world and come to know a broad range of senior folks from the diplomatic, military, intelligence, corporate, labor and scientific world. These relationships inform a good deal of the book's interactions, although again in the end it is entirely a work of fiction."
Visit https://stores.barnesandnoble.com/event/9780061762515-0 for more details on the March 10 event.