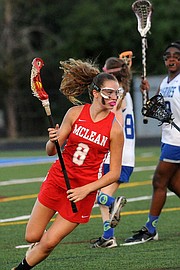 Elise Koehl was a three-sport athlete at McLean, but the lacrosse field is where she made her mark.
Koehl spent four seasons on the Highlanders varsity lacrosse team, tallying more than 200 goals and 300 points during her high school career. As a senior in 2015, she helped McLean earn its first regional tournament victory in more than a decade, according to results on laxpower.com, scoring a career-best 10 goals against West Potomac during an 18-10 win in the opening round. She finished the year with 76 goals and 44 assists, and received first-team all-conference honors for the fourth time in her career.
Koehl, who also played field hockey and competed for the track team, graduated from McLean High School in 2015. She will continue her lacrosse career at the University of Louisville.
Koehl recently participated in a Q&A via email with The Connection.
Connection: You'll be playing lacrosse at Louisville next season. What made Louisville the right choice for you?
Koehl: I knew Louisville was the right school for me after they asked me to visit. I loved the coaches, fellow recruits, campus, training facilities, sports teams, dorms and the heart and city of Louisville. It's incredible how much academic and athletic support I will receive when I am there.
Connection: What position(s) will you play?
Koehl: Midfield/attack.
Connection: What are you most looking forward to about going to college?
Koehl: I am mostly looking forward to being a part of the Louisville lacrosse family.
Connection: At what age did you start playing lacrosse?
Koehl: 11.
Connection: When did you realize playing college lacrosse was an option for you?
Koehl: I started getting interest from schools and realized I could actually have the opportunity to play in college.
Connection: What is your favorite memory of playing lacrosse at McLean?
Koehl: My favorite memory of playing lacrosse at McLean was being on the team with my younger sister Julia (a freshman named Conference honorable mention on defense!) my senior year.
Connection: How would you describe the McLean/Langley rivalry?
Koehl: The McLean/ Langley rivalry is unlike any other rivalry in the region. The students and faculty all participate in the events and the rivalry exists beyond the fields.
Connection: Have you ever tried a sport and found out you were embarrassingly bad at it?
Koehl: I tried out for the gymnastics team my senior year and my only skill was that I could do a cartwheel.
Connection: Looking back, if you could change one thing about your high school lacrosse career, what would it be?
Koehl: I wouldn't change anything about my high school lacrosse career because it's helped me get to where I am today, and I wouldn't trade that for anything.
Connection: You're sitting around playing a board game with family/friends. Do you play to have fun or play to win?
Koehl: There have been countless fights and tears over games of Monopoly and Scrabble in my family. I can't stand losing!
Connection: What do you like to do when you're not playing a sport?
Koehl: I like being active every day, whether it's hanging out with my friends, going on hikes, or finding good food around the DMV.
Connection: Are you a pro sports fan? Which team(s) do you root for?
Koehl: I prefer watching college sports more than pro sports, but my family and I are Redskins and Nationals fans.
Connection: What location is the farthest you've traveled from the Washington, D.C metro area?
Koehl: The Dominican Republic.
Connection: What's your favorite food?
Koehl: Pizza and chocolate. I can eat it every meal of every day.
Connection: Who is your favorite music artist? Why?
Koehl: I love music. I don't have one favorite music artist but my favorite genre is alternative rock.
Connection: What is your favorite movie? Why?
Koehl: Any movie with Will Ferrell. He's so funny.