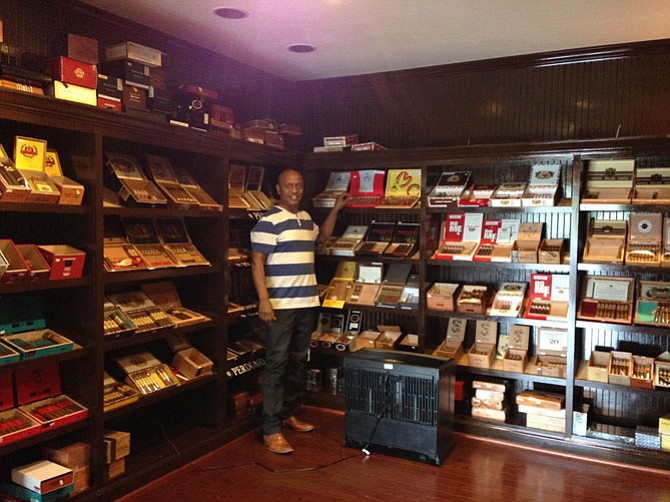 There's a bespoke new store in Vienna, right on Maple Avenue, and here's the unique aspect of Cigar & More: it is cigars and more. From the ample walk-in humidor protecting its cigar stock to the shoe-shine chairs and the vintage newspapers laid out for perusal, Cigar & More lives up to its name. And, if a shopper expresses interest, owner and cigar expert Lemma A. Lemma from Ethiopia provides cigar farming and production videos on a mounted television. Oh, and music legends such as Sinatra, Dean Martin, and Tony Bennett play in the background music.
"Cigars are not like cigarettes," said Lemma. "They are made by hand, the good ones, and the leaves are aged like wine. The taste comes from the leaf and the filler. Cigars are a combination of art."
Lemma is affable, always with a ready smile. He's as eager to show a patron around the shop as he is to chat about his life in Ethiopia and his life in the U.S. Ethnic artwork and classic movie posters decorate his walls, and, two comfortable shoe-shine chairs hold court. To the back is the cigar room, temperature and humidity-controlled. Eventually, there will be a cigar-smoking room.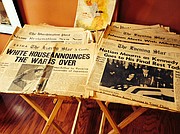 After the cigar selection, the shop's "stars" are the original, vintage newspapers that Lemma bought and collected over the years. One headline announces Japan's surrender to MacArthur; another posts that President Kennedy is laid to rest, his mourning wife on the cover.
Lemma smoked his first cigar after arriving in America in 1998 and he's been hooked since. He worked initially with his brother, who brought him from Ethiopia to America, in Atlanta, then bought an ice cream truck to earn money for his own shop. His family opened the first supermarket in Ethiopia 50 years ago. Lemma is one of 11 children born to an entrepreneurial family.
The expansive shop, opened the week before Christmas in 2014, offers cigars in diverse price-points, from bundles of lower-priced cigars priced at about $70 for a package of 20 to the premiere selection of completely-handcrafted Padron Nicaraguan cigars at $265 for an elegant box of 10. Even the box is handcrafted.
The pricier cigars are aged for years, Lemma said, and some have secret recipes. The cigars in Lemma's shop are all-natural, no added chemicals. Cigar prices fluctuate.
Padron's cigars, a family operation, has its leaves picked and deveined by hand. Camacho cigars from the Dominican Republic are American barrel-aged for six years and finished in a bourbon barrel for five additional months. For anyone who has ever wondered how it is that cigars can swing dramatically from price-point to price-point, Cigar & More is an adventure in learning.
Lemma lives with his wife and three children, ages 12, 14, and 16, in Vienna.
Cigar & More, located at 320 E. Maple Avenue, unit E, between Beulah Road and Glyndon Street, is open Monday through Saturday 10 a.m. to 8 p.m., and on Sunday noon to 6 p.m. Phone number is 703-255-4785; email Lemma at viennacigarandmore@gmail.com.
More like this story