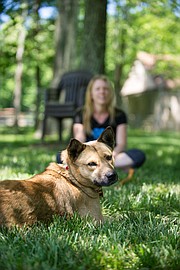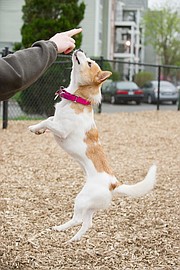 Alexandria — It is hard to imagine that dogs in some parts of the world are being prepared for brutal deaths to become human food.
In December of last year, the Humane Society International (HSI) contacted the Animal Welfare League of Alexandria (AWLA), in need of a place to send nearly 23 South Korean dogs who would otherwise suffer such a fate. AWLA Deputy Director Abbie Hubbard said there was no question that the Alexandria non-profit would take in the dogs.
AWLA had about two weeks to prepare its shelter for the mass canine arrival. The dogs ranged in breed, behavior and also in age. It took just until the spring of this year for AWLA to find homes or further rescue programs for all 23 dogs.
"We are an emergency placement partner for the Humane Society of the United States (HSUS)," Hubbard said. "Their affiliate is Humane Society International. Because of our partnership, they contacted us when they knew that they would have 23 dogs that they needed to place somewhere in the United States."
This was the first time that the AWLA worked with HSI, and Hubbard said the staff and volunteers happily took the 23 dogs into the Vola Lawson Shelter on Eisenhower Avenue, which is operated by the, AWLA.
"This is the first time our shelter has collaborated with HSI, but we work with HSUS usually twice a year or so, as they contact us as one of their Emergency Placement Centers," Hubbard said. "Seeing an animal get placed into an amazing home is such a great feeling. To be a part of that is so rewarding. It is the thing that drives me."
Megan Webb, executive director of AWLA, said the organization has worked with HSUS for several years but only became a formal Emergency Placement Partner last year.
"We feel that our work with HSUS is mutual aid," Webb said. "We help other communities when we can and we know that HSUS will help us if we are ever in a crisis."
Hubbard, who adopted one of the puppies herself, a shaggy dog named Minnow, said the AWLA's undertaking with HSI offers a great opportunity to start a local conversation on every country's animal treatment policies, procedures and outlooks.
"We all struggle with our animal welfare laws," Hubbard said. "Dog meat farms are part of some Asian cultures, so it is a sensitive topic in some ways. The way that the animals are kept and slaughtered is really inhumane, though. That is something very concerning. The way I came to see it, it is an opportunity to have a discussion about animals all over the world and how we treat them."
The AWLA received the dogs, who came to the United States on two different flights, on Jan. 5 and 6 of this year. The dogs were taken in and processed with the on-staff veterinarian and with behavioral specialists. After each of their needs were assessed, they were distributed among five additional local shelters.
"We took the 23 dogs and held them at our shelter for a week," she said. "Our vet on staff did a lot of diagnostics, including testing them for parasites, vaccinating them and making sure all their health records were up to date."
It also gave them time to acclimate after their 14-plus-hour-long flight.
"These dogs had endured a pretty long flight," Hubbard said. "It must have been long and stressful. These dogs had lived in a cage their whole life and hadn't had a lot of human interaction so suddenly they find themselves in a smaller cage — and people are handling them — and then they are on an airplane. I can't even imagine what was going through their heads."
AWLA kept some of the dogs at Vola Lawson, and the rest were split up between the Animal Welfare League of Arlington, Washington Animal Rescue League, Loudoun County Animal Services, Manassas City Animal Shelter and Fairfax County Animal Shelter.
"We were able to make room in the shelter for the 23 dogs by moving dogs around the shelter and into foster homes," Webb said. "Our staff all worked together to take in the dogs, provide them with comfortable kennels, food and medical care. We had not anticipated the huge response from the public about the dogs — we received hundreds of phone calls from 21 states and Canada from people interested in adopting the dogs. Our adoption staff jumped in to help with responding to these inquiries."

The group of dogs included specific Korean breeds as well as other mixed breeds. Some were quite uncomfortably in social settings, while some of the dogs were more receptive to human interaction. As a result, each shelter in the area had a different process for getting the dogs into safe places — whether going home with local families or going to American Society for the Prevention of Cruelty to Animals (ASPCA) rescue programs.
Regardless of where they went, by the end of the spring, each of the 23 dogs had been transferred to adoptive homes or to other places for further support and rehabilitation. Hubbard said she saw a lot of progress made in just a few months: one of the more feral puppies made so much improvement that he was able to be adopted by a local family.
The dog meat operation at the particular farm these dogs came from has been shut down. HSI subsidized the farmer so that he could expand his blueberry farm for complete livelihood.
"Everybody kind of lucked out," Hubbard said. "We are really proud of our partnerships with HSI and HSUS. Our focus and work is about the animals and the community. But, when we have the opportunity to be involved on a more global scale, it helps animals across the world and in turn makes us better advocates and caretakers."
With Minnow as a new addition to her family, Hubbard definitely lucked out. She said she had been looking for a terrier for her brood at home, and Minnow had been described as a "shaggy terrier."
When Hubbard laid eyes on Minnow, it was clear that although shaggy, she was certainly no terrier. Most likely, Minnow is a Korean breed of dog called a sapsaree. Still, Hubbard fell in love and Minnow is now a happy member of the Hubbard household, which includes four parrots and other foster animals.
Another positive turnout for an AWLA employee was for Alex Cooke, an Animal Control officer, who also adopted one of the dogs.
"My fiancé and I adopted Harper on Feb. 12 after fostering her for a few weeks," she said. "Harper came into the shelter loaded with parasites and severe dandruff. We brought her home as a three to four month old, and she is now nine months. Harper has been social from the beginning which is why we were attracted to her. She is very loving to her 'brother' Dexter, a shiba inu, my cat and horse."
Cooke said she is so happy that Harper maintains such a friendly, happy disposition despite all she seemed to go through back in South Korea.
"It's amazing to me how healthy and happy she has turned out to be," Cooke said. "We couldn't be happier with her personality and how well she fits into our family. I try and use her as a platform to speak about the meat farms in South Korea every time someone stops to tell me how cute she is."
Webb said the undertaking undoubtedly had a positive impact on the global community, and agreed that the operation certainly benefitted the AWLA's immediate community in more ways than one.
"We value our strong relationships with the animal shelters in the region and feel that this was a real-world opportunity for us to collaborate," Webb said. "We are continuing to work together. Also, all of the shelters in the region that we organized to participate in the rescue of these dogs reported an increase in adoptions immediately during and after taking the dogs."