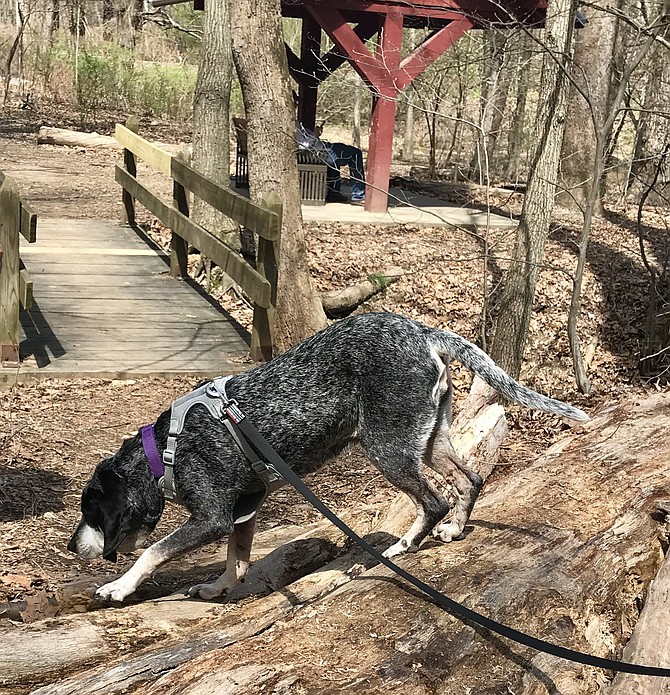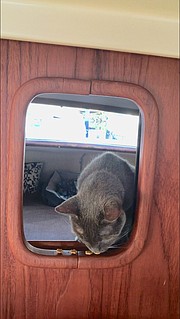 What kind of future does a 14-year-old cat who has been returned to the shelter by his adopters have? Just ask a soft-gray, short-haired cat named Jack. He's now captain of a 34-foot catamaran sailboat docked in the Washington area, living there with his adopter, Abbey D. (name withheld to protect privacy), and her son, Greg, 15.
Abbey had decided a senior cat would be just the right addition to her floating family, and it didn't take long for her to spot Jack at the Animal Welfare League of Alexandria (AWLA) back in June. Jack, who had been returned to the shelter because he was not properly using his litter box, had few teeth and no front claws. "It was an instant love affair," Abbey says. She adopted him that day.
Jack, whom she has rechristened Capt. Jack Sparrow after the "Pirates of the Caribbean" film character, quickly took to the nautical lifestyle. "He is in heaven," Abbey says. "Living on a sailboat is like living in a giant cat playhouse — with all of the portholes and spaces to hide in and explore. Even though he's a senior cat, he is able to let his inner kitten out." And he seems to be faring better overall: medicine and a special diet have solved his litter-box issues.
Jack even has come to love the family's other pet, a guinea pig named Strange. Frightened of the little animal at first, Jack lately has been seen cuddling with Strange on a blanket in the boat's stateroom. The cat's at his calmest when they're at sail, Abbey says, soothed by the motion of the water and apparently not at all tempted to jump in.
Like Jack, senior pets are often available for adoption at the AWLA. On arrival at the shelter, senior animals (generally defined as age 8 or older for cats and dogs) receive full checkups with the staff veterinarian, including screening for liver, kidney and thyroid disease as well as dental problems.
The AWLA has found that an older cat, dog or other animal can be a perfect match for certain adopters, especially if they are looking for a calmer animal with more experience living in a home. Often human senior citizens find a senior pet might be the perfect fit for their lifestyle, which is why the AWLA's Seniors for Seniors program waives adoption fees for people 65 and over.
The quiet energy of a senior animal also can be right for people who are away at work during the day. That is what Annie Kraft and her husband, Tom Berube, of Arlington had in mind when they visited the shelter last January. Their previous dog had passed away a few years before, and they had decided they were ready to adopt. "We went to the dog area, and Nanny was just standing there, wearing a red coat and looking scared but so cute. Tom and I saw her and knew we needed her to become part of the family."
Nanny, an 11-year-old bluetick coonhound, has the true markings of her breed, with black-and-white dappled fur and big, black patches over her eyes. She had arrived at the shelter in April 2018 from southern Virginia in rough shape, suffering from ear infections, parasites, poor kidney and thyroid function and several masses under her skin. She also had a nagging cough. Months of medical care and healing time in foster homes addressed her problems, and in the process she became beloved by AWLA staff and volunteers.
"Nanny was a field-trip favorite of our volunteers for a chill afternoon or for puppy gelato in Old Town," recalled Echo Keif, the AWLA's volunteer program manager. "Nanny also became the mascot at our monthly adoption events. We always dressed her up in the prettiest sweater, and she wore every outfit with the carefree confidence of a runway model. Nanny said hello to everyone who passed by and had a delightfully zen vibe. Nanny was and is magical in every way."
What's she like in her new home? "Nanny is a love bug," Kraft said. "She's confident, playful and patient, especially with little kids who play with her ears. We think she is the perfect dog."
One of Nanny's favorite activities is hiking with Kraft and Berube in Glencarlyn and Fort Ward parks — and visiting the Del Ray neighborhood for special ice cream "pup cups." She can walk more than two miles, Kraft says, and will sit by their door at home as if to say, "I want to go on an adventure now."
"We were really excited to give Nanny a retirement home, but she's actually aging backwards," Kraft said. "She has so much energy; she has a lot of life left in her."
The AWLA's Rosemary's Fund supports care of senior animals; go to AlexandriaAnimals.org/Rosemary for information on donating. For more information on the Seniors for Seniors program, go to AlexandriaAnimals.org/SeniorsforSeniors.
The Animal Welfare League of Alexandria is a local 501(c)(3) organization. Operating the Vola Lawson Animal Shelter, which is Alexandria's only open-access animal shelter, the AWLA touches the lives of more than 6,000 animals every year, including strays, lost pets, local wildlife, rescued animals and animals surrendered by their owners. The AWLA is committed to addressing animal homelessness, promoting animal welfare and serving as an educational resource for the community. More information can be found at AlexandriaAnimals.org.